Despite the requests from players to opt for a black controller and console, Sony will bet on white – at least – at launch.
Sony Interactive Entertainment is aware that a segment of the PlayStation community wants to be able to get hold of a PS5 and the DualSense controller in the brand's usual black color. Unlike in previous occasions, the Japanese company has opted for white as the main chromatic element —also on the top of the covers—, but it is a matter of time that this is the only alternative to buy in stores.
During the Summer Game Fest, last Friday Eric Lempel chatted with Geoff Keighley after showing his hands-on with the PlayStation 5 controller. The head of market operations for the brand says that "we will talk about it at some point" when asked asked about this possibility. And he expands assurance that "it is already difficult enough to have the unity that we have shown you. But we will talk about this at some point. "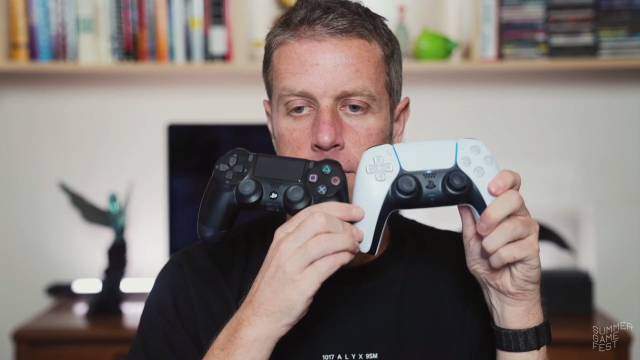 Geoff Keighley shows the DualSense 5 unit he has received and compares it to the DualShock 4 (PS4)
Sony does not rule out the black color for PlayStation 5
We have to go back to last June to know the first mentions of this possibility. It was Matt MacLaurin, vice president of UX Design at PlayStation, who said that "maybe" we will see special editions of the console in the future, color alternatives for both console and DualSense. This is a logical thing that has ended up happening eventually in the previous generations of Sony, but the desire of the fans now takes over their patience and they look for an answer to the "when". In his words: "I am sure there will be special editions for everyone, and I hope there will be a special edition of Horizon Forbidden West"
To this we must add the words of Jim Ryan, CEO and President of Sony Interactive Entertainment, who said on CNET days ago that the only variant that we will see on the market this year 2020 will be the white one with black elements presented this past week.
In the absence of knowing if we will have a new State of Play sometime next August in which the release dates of some of the games confirmed in June are specified, PS5 is still planned to reach the whole world in Christmas 2020 at a price yet to be confirmed in both models (with and without reader). We leave in the following articles an updated list with all the confirmed games for PlayStation 5 here and those of an exclusive nature in this article.