The game was withdrawn from digital stores when the company closed its doors; other games are still in limbo.
Several years have passed since Telltale Games filed for bankruptcy, but Teltalle's The Walking Dead creator studio is back after LCG Entertainment acquired the company and several of the intellectual properties they still owned. Thus, some of the games that were removed from digital platforms have begun to return. One of them is Tales of Monkey Island, one of the studio's most successful productions, which is also the continuation of the LucasArts classic: they are now available again on Steam and GOG (and with a 50% discount)
In this video game, the developers start from the classic graphic adventure, although they modify the gameplay to offer a narrative adventure approach. Dominic Armato, who already gave life to the hilarious Guybrush Threepwood, returns to put himself in the shoes of this character once again, who throughout five episodes, lives another of his crazy adventures.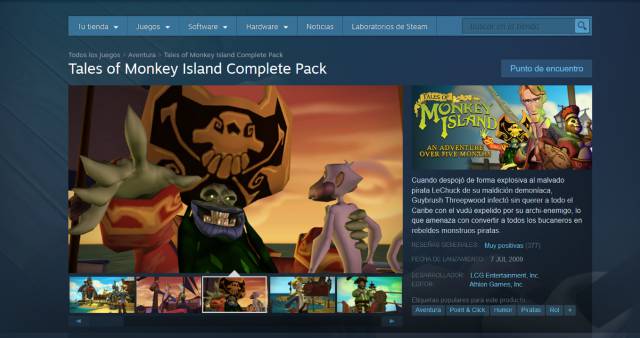 Tales of Monkey Island on Steam.
A new beginning
Telltale Games, meanwhile, returned with the Shadow Edition of Batman, but already works on other video games. One of them is The Wolf Among Us 2, a title whose development began in the previous stage of the study, although the work has been restarted almost completely, according to the words of the new leaders of the company.
"We believe it is best to offer the new creative team a fresh start," Jamie Ottilie, current CEO of Telltale Games, said in an interview with US Gamer. As reported, the team behind the game is AdHoc Studio, made up of some of Telltale's former developers. Anyway, at that time they also pointed out that they were looking to expand the study with more former employees, but since then nothing more has been said about it. Neither has any extra data been revealed about The Wolf Among Us 2 or other additional projects.
Source | PC Gamer