The CEO of the company, Satya Nadella, acknowledges that they are considering the acquisition of new studios to reinforce their brand, Xbox Game Studios.
Microsoft is considering buying more video game companies after going public with the acquisition of ZeniMax Media, which includes all eight Bethesda development studios. Satya Nadella, CEO of what is one of the largest companies on the planet, believes that this purchase is "all about the future of software", because for him video games are the future of digital software.
"You can't get up one day and say: 'let me do a video game studio,'" Nadella said in a meeting with CNET. The ZeniMax purchase, which is estimated at about $ 7.5 billion, is justified on its part because "the idea of ​​having content is that we can reach even larger communities."
"Content is the incredible ingredient on our platform, in which we continue to invest," adds Xbox Chief Executive Officer Phil Spencer in that same interview. "This doubles the size of our creative organization." When asked about the future, Nadella is not hiding: They will value buying more video game companies in the future. "We will always be aware of growing inorganically when it makes sense," he adds. Although names or dates have not been revealed, it seems that the number of 23 teams will not be the ceiling, but Xbox Game Studios will add even more assets soon.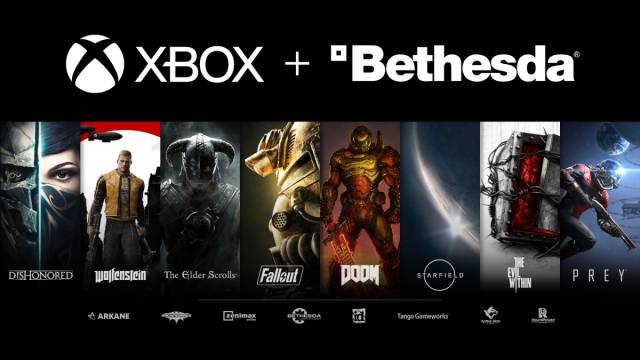 Surely one of the most impressive images of recent years in the entertainment industry
From 15 to 23 internal studios: Xbox Game Studios is strengthened
While Bethesda will be able to continue to operate virtually independently, both in video game development and distribution, one thing is clear from the start: Bethesda Game Studios, id Software, ZeniMax Online Studios, Arkane, MachineGames, Tango Gameworks, Alpha Dog and Roundhouse Studios are already part of Xbox Game Studios, which raises from 15 to 23 the exclusive teams that will be assured the presence of their releases on Xbox Game Pass (DOOM, Fallout, The Elder Scrolls, Prey, etc.
The immediate future of Xbox lies in the launch of Xbox Series X and Xbox Series S, which will hit stores around the world this November 10 at a price of 499 euros and 299 euros, respectively. Reservations are already open in Spain.