We played the new Ubisoft title for four hours, which arrives to follow the playable trail of Origins and Oddyssey, now in a Viking world.
Assassin's Creed is a saga that has managed to reinvent itself in time. After reaping success over the past generation of consoles and trying to evolve into the current one, it was a hiatus in the series' annual production and the arrival of Origins that revolutionized the franchise. The following year, Oddyssey set a very high bar for the series born more than 10 years ago, with a clear shift towards the RPG touch and the creation of worlds much more alive and full of challenges. With this same essence comes Valhalla, the new installment of Assassin's Creed that we have been able to play for four hours in a remote and streaming event. It is time for the Viking invasion.
During our experience we were able to play a part of the map located in the territory of East Anglia, where the Vikings try to settle before the English enemies. This English region, in fact, is devastated by war and our protagonist, boy or girl, both are canon, wants to ensure the arrival of a new King on the throne to restore peace to the area. It is the first mission that we will carry out with Eivor, trying to secure a space to win the favor of a faction facing future challenges and to be able to proclaim the king.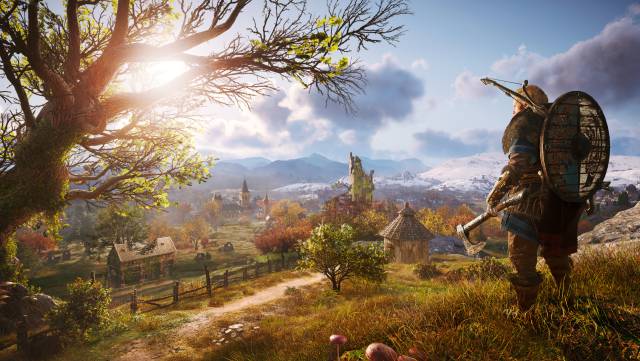 The development of the mission is easily recognizable if you have played the last two installments. We are instructed to go to a specific place on the map on the back of our horse, and once there, we perform familiar tasks that work well. Scan the area with our eagle and propose a strategy to follow. We started stealthily, ending enemies without being detected thanks to the use of the Hidden Blade of Eivor, but quickly a body alerts the rest of the soldiers. It's time to fight hand-to-hand. The combat system maintains Odyssey's hallmarks, being able to mark enemies, counter if we block at the right time and fight with weak and strong blows to try to lower the enemy's energy bar, leave him stunned and hit him better. We also use strong attacks to try to destroy shields on opponents who have them.
One of the most spectacular elements that the game has are the auctions. At certain times we will have the option, by pressing R3, to be able to make a spectacular auction, either to kill the enemy by way of execution or to take away a large amount of life. It is a key action not only for that, but also to try to save ourselves if we are very surrounded, since we are invincible during this animation.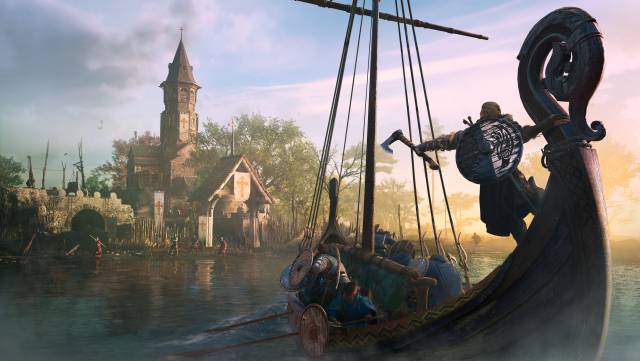 New skills and no regeneration of life
Although the playable base is known, the truth is that it is Eivor's abilities that make us be able to try different ways of facing enemies. We have a load where, as if it were a rugby player, we pounce on an enemy and load it taking us to everything in between. Also an attack at medium distance throwing axes at high speed, or the possibility -this already better known- of poisoning our weapon in order to cause effects and constant damage to enemies.
On the other hand, we also have special abilities at a distance, such as being able to charge an attack with the bow that marks different enemies and shoots them, or a deadly headshot that if we can charge it for a while, is simply lethal and a guarantee. With all this, during the missions we have had to battle enemies from different heights, being able to end groups of archers shooting at jars full of fire or destructible elements on the stage to finish them off. In fact, it is essential to study the scenario before attacking without thinking, because otherwise we will fail in the missions.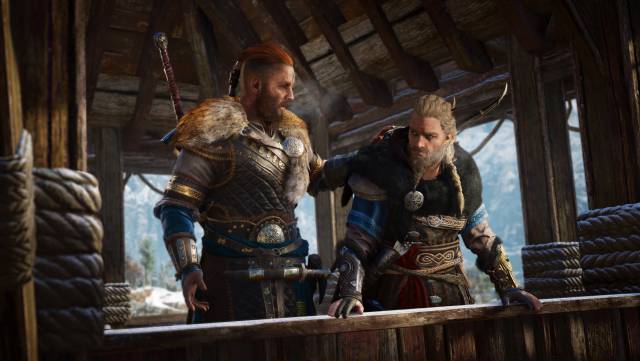 This happens because the large number of enemies that we find in some of them or in the raids is enormous, and because the advance is subject to certain conditions. During the demo, on these missions we had to carry huge battering rams to open locked doors. The problem is that these areas are very guarded, and while we carry the mace, they will fire arrows at us, they will attack us at a short distance … Therefore, trying to clean the high areas and the toughest enemies is more than recommended.
Especially since one of the great changes we have seen in this title is that we abandon the regeneration of life and enter a recovery of vitality by objects. It is not like in Souls, we recharge objects like you, but as we move forward, we can collect all kinds of plants and the like that recharge a life counter. This counter is the one that allows us to regenerate life by pressing the crosshead. And this mechanic is what makes the game seem much more demanding to us than its predecessors, because if you are not in front of it, you will die.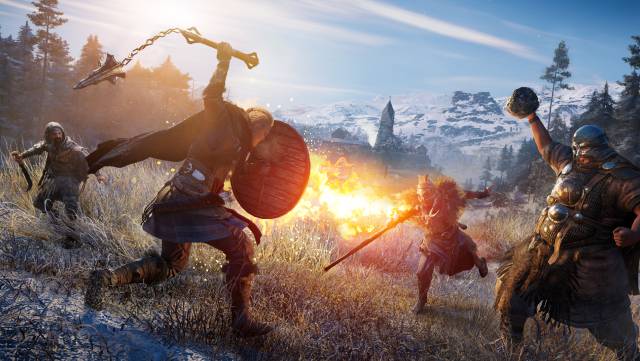 There are also no moments to clear ourselves. When we finish the main mission and proclaim our chosen one as king, it is time to play all kinds of mini-games during a stretch of rest. Among them, a game of drinking beer at full speed, a moment for a romance with a traveling companion or an area to break vases in the shortest possible time.
Assaults, mythological bosses and more
In addition to the main missions, during our progress we have been able to test other challenges in the world of East Anglia. One of them was the assaults, in which we had to clean a specific area of ​​enemies with soldiers from us, arriving by boat and pouncing on the area. This is where we find all kinds of enemies, with double weapons, long spears, archers, much tougher elite enemies with different patterns … The truth is that it is one of the things that we liked the most, seeing how we had We have to face different types of enemies, many times at once, thinking about what strategy to follow.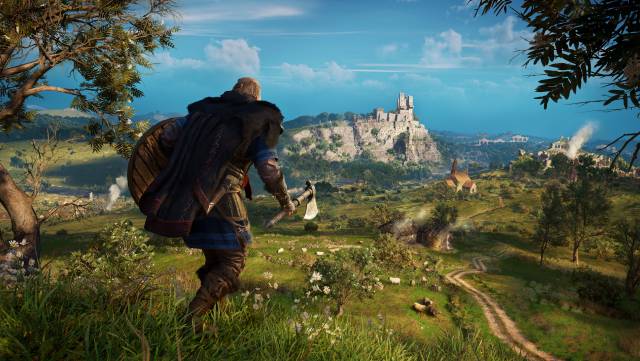 Also the final bosses. From those who are part of the mission and who force us one-on-one where their patterns change in stages, to legendary animals, such as Black Shuck, which we have to look for in a specific area and confront it. to get bigger rewards. Of course, we did not find it too demanding. Yes, bosses like Cordelia and Regan had more difficulty, two specters that appear in certain areas destroyed by war and that demand much more from you, because they have supernatural attacks, such as lightning attacks, teleportations and more, but they ended up falling into our hands .
There were many more items to explore in the demo area. From secondary missions that we met throughout our journey, such as helping a kind of witch to finish a ritual of dubious effectiveness, as well as battles with fauna and flora that we were finding in our path, some puzzles with parkour challenges included , etc.
Assassin's Creed Valhalla is a continuity, and that is obvious. But what he has presented to us, at least during the four hours of session, works more than well. Oddyssey also seemed a continuation regarding Origins, and the reality is that the game managed to surpass its predecessor and offer unique elements. Valhalla wants to do the same: it will take more hours to see how relevant the alliances we are making are to improve and grow our settlement, how to take advantage of the conflicts between kingdoms and factions and what real effect it has on the game, as well as the decisions that will make us make and that will change the geopolitical map of the world we are in.
The different weapons -among them double-handed-, their own abilities and play styles -as we level up we can promote three different paths, one at long distance, another melee and another stealth- are also on top of the table to offer us a more personalized experience, something that only with the final game and the hours we will see how it works. But our first impression is that the base is very solid, inherited from the previous two installments, and has the capacity to offer something different. How much different and if it is enough, we will see later. But what was played, for the moment, convinces.