The new Yuji Naka and Square Enix video game will feature more than 80 different outfits and 12 stories with their own characteristics.
Balan Wonderworld has become one of the next appointments on the calendar for lovers of three-dimensional platform games, who seem to be experiencing a new youth. The Square Enix project, in which Sonic's father, Yuji Naka, is involved, already has an official website (and in Spanish), a space where interesting details are collected that we did not know.
Apart from the detail that there will be 80 different outfits, many of them with different mechanics when it comes to moving and attacking enemies to take advantage of their characteristics beyond aesthetics (freeze time, walk through the air, manipulate objects …), now we know that Balan Wonderworld will have a total of 12 different stories, "each with its own peculiarities", We will be able to explore "all the corners of these labyrinthine scenarios, using all the tricks and gadgets that are hidden along the way to get there at the bottom of each moving story. "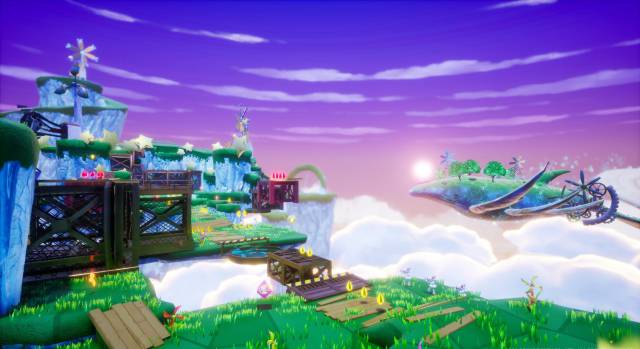 Balan Wonderworld
The protagonists will be Leo Craig, a young man of 15 years; Emma Cole, whose attitude is much more cheerful than Craig's, more apathetic to past problems; Balan, the enigmatic teacher who guides both protagonists to Wonderworld; and Lance, who traps visitors to this fantastic place in their own hearts to create monsters dotted with negativity.
The development is carried out by the Balan Company, where apart from Yuji Naka there are other great acquaintances in the SEGA universe such as Naoto Ohshima, with whom he worked in the 90s for the creation of Sonic the Hedgehog. "Balan Company is a collection of video game developers, visual artists, composers and more, who have joined forces to create a platform game with a moving story," we can read in a new entry on the official PlayStation blog.
Balan Wonderworld will arrive in the spring of 2021; also in the new generation
All in all, Balan Wonderworld will arrive in spring 2021 with 4K resolution for Xbox Series X and PlayStation 5, where it will have a free update in both ecosystems if we get the Xbox One or PS4 version, respectively. We can also enjoy the title on Nintendo Switch and PC on the same date. Soon we will know the exact launch date of the game, between April and June. We do not know if it will be translated into Spanish, despite the fact that the official website does the same.
More information | Balan Wonderworld, PlayStation Blog; Xbox