How the passion for sports opened the doors of Microsoft to Bonnie Ross and how he ended up founding 343 Industries.
Halo Infinite is one of the most anticipated titles of recent times, and expectations are boiling at the next glimpse of campaign mode at the event dedicated to Xbox Series X. Today at FreeGameTips we commemorate one of the most relevant captains leading ship 343 Industries: Bonnie Ross. Founder and director of the studio, this designer aspires to make the industry a more diverse and respectful place for the worker, leaving crunch out of the game. Like other great ladies like Brenda Romero or Brenda Laurel, she has managed to take the video game to new horizons, thanks to which she saved the Master Chief himself.
From sport to video games
Bonnie Ross's passion for sports led her to become interested in her first video game: Mattel Electronics Basketball, a portable console for playing basketball. During an interview for the University of Colorado, he related how his attachment to activities such as basketball, softball, volleyball, and tennis provided him with skills that would apply to the video game world: "Having the ability to fail and learn from your failures, in addition to surrounding yourself with people with other strengths is key. Leadership is changing within the field or track; You can start as an escort, but your role changes. Leadership is dynamic and the leader is not always the one in the lead. It is important to know when to be at the forefront or when to step back. " Ross also recounts how spending so much time with her male teammates led her to earn respect from them, who saw her as an equal.
However, her family encouraged her to seek a more stable professional career than sport, despite the fact that this was considered as a not inconsiderable future. Thus, Bonnie Ross chose to study technical communication and computer engineering at the University of Colorado. In the aforementioned interview with his educational center, Ross points out how she was one of the few ladies in the classroom and how uncertainty clouded her professional vocation: "It is a very common challenge, especially for women in STEM, not being able to see what do with your training. If you become a doctor, you know you're going to end up with a stethoscope around your neck. In engineering, you don't always see how to apply it to a career. It is not such an easy destination to discern. "

Bonnie Ross, founder and director of 343 Industries
Once she got her degree, Bonnie Ross launched networks on tech titanides like Apple, NeXT, and Microsoft, and the latter became her professional home. His first job consisted of working for SQL Server Windows NT, a computer program for databases and operating systems, but Ross wanted something more creative. Finally, an opportunity came along that fit her like a glove, as she recounted in Women in Gaming – 100 Professionals at Play (Meagan Marie): "I applied for a vacancy as head of production for a computer basketball video game. I was given the position because of my technological background and my knowledge of sports. " It was NBA Full Court Press, jointly developed by Microsoft and Beam Software. "I could not have dreamed of a better entry into the world of video games," says Ross in the aforementioned book. "This development involved going hand-in-hand with Beam and sharing leadership, as well as immersing myself fully in development. I landed at Microsoft because of my love of technology, but maybe I wouldn't have stayed if it wasn't for video games. Thanks to them, I discovered a purpose for technology, since it enhances art, narrative and creativity ".
Bonnie Ross found her place at the right time, as the Microsoft video gaming arm was in full swing. Ross was involved in both the development and editing processes, which brought him deep baggage, as well as giving him the opportunity to meet independent studios. Thus, we see his name after titles like Mass Effect, Gears of War (1 and 2), Alan Wake, Zoo Tycoon, Fuzion Frenzy, Jade Empire, Psychonauts, Crackdown or Dungeon Siege II. Over more than 15 years, Bonnie Ross has built her career as a producer, head of production, head of studio, or executive producer. As a curiosity, he was also working with Alexey Pajitnov, creator of Tetris, in titles such as Pandora's Box Game Of The Year Edition. Ross mentions the designer as a key figure who changed his way of viewing video games. And, after all the exciting projects at Microsoft, a new space adventure awaited Bonnie.
Guardian of the Master Chief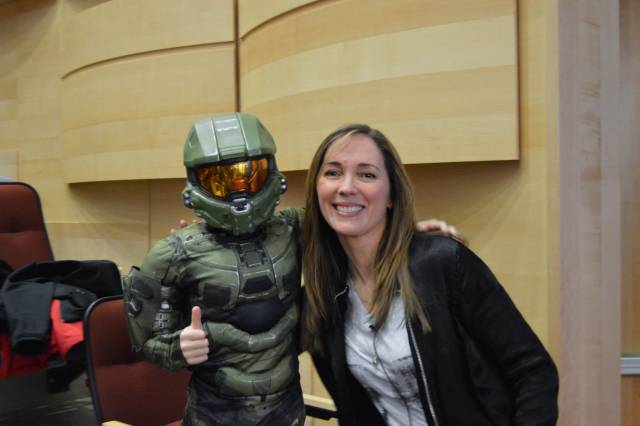 Bonnie Ross poses with a student, dressed as a Master Chief, at the University of Colorado.
In the early 2000s, Microsoft had established itself as a consolidated digital entertainment giant and was expanding its domains. It was in 2001 when the company launched one of its most ambitious projects: Xbox, its first desktop console; and one of its star titles, Halo: Combat Evolved. The success of this saga inspired by the Ring World novels continued with Halo 2 and for more titles that have made the adventures of the Master Chief one of the most valued sagas of digital entertainment. Likewise, Microsoft also revolutionized the medium and online mode thanks to Xbox Live. In 2005, the company launched Xbox 360, and a new direction awaited for the Halo saga: Bungie decided to explore new terrain, with which it separated from Microsoft, but not before creating together with them Halo 3 ODST and Halo: Reach. "We didn't know what was going to become of Halo and what we could do with the saga," says Bonnie Ross in Women in Gaming. "I love science fiction and Halo, in so many ways. I am one of those fans who has read all the books and played all the games. Halo is my Star Wars. " The executive team was committed to bringing the Master Chief story to an end, but Bonnie Ross raised her voice for her adventures to continue: "I came up with a new proposal for the future of Halo. Shane Kim, director of Microsoft Game Studios at the time, went for me and gave me permission to build a new studio and be the guardian of Halo's future. "
This is how 343 Studios was born, which owes its name to 343 Guilty Spark, the artificial intelligence created by the Forerunners and present in the original trilogy. From Bungie's old offices, Bonnie Ross' ship launched an expedition that was not easy, but very exciting, as UsGamer narrates: "When we took over, it was as if we had an established saga and a start-up. Dealing with both turned out to be interesting and challenging at the same time, because we had to get Halo to get ahead, but we didn't have a team, so we had to train one. For Halo 4, we had to start from 0 and we hired people from 55 different companies, from the video game and movie industry. And it was also a challenge to bring together so many people who did not know each other professionally, to create a franchise game that they loved and with a motor that they had never worked with.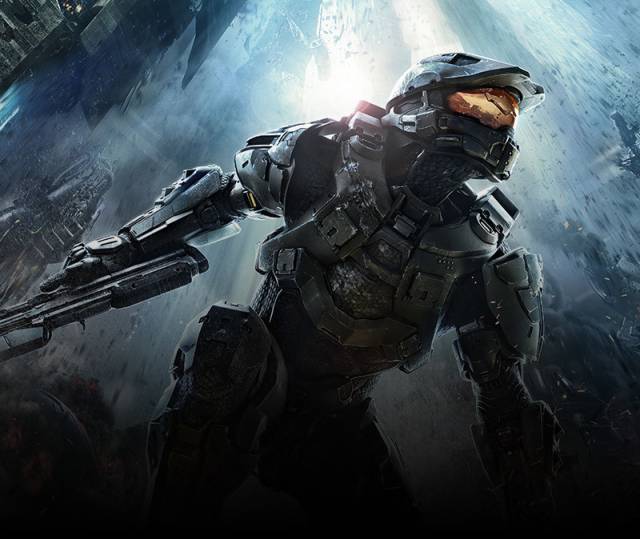 Halo 4's poster
However, it was also an experience that managed to create a very special bond for the team, since everyone was motivated by the idea of ​​not letting the saga sink. Being up to it was very difficult, but I am very proud of what we have achieved. " Bonnie Ross also chose to enrich the saga through diversity, a concept in which she firmly believes, as she tells in 60 Minutes: "I believe that diversity attracts diversity. We now have a more diverse team than in the past, and the same team values ​​it. The diverse teams, in addition, contribute a set of diverse ideas and products, which end up being more innovative ".
The success of Halo 4 was a huge prize for the huge rescue mission effort. During the first 24 hours after launch, it broke the sales record for the saga, and critics praised this new installment. Thus, IGN awarded him a 9.8, qualifying it as: "Halo 4 is not only a success, but has raised the bar for the entire genre of first-person shooting." At Forbes they praised the narrative depth, describing how the story contains "the greatest emotional charge seen in the entire series." Two years later, Halo 5: Guardians broke sales records in Xbox history, and 343 Studios dared with new genres within the Ring World universe, such as Halo: Spartan Assault and the twin-stick shooter. Today, Halo Infinite is one of the projects that raise the most expectations among players.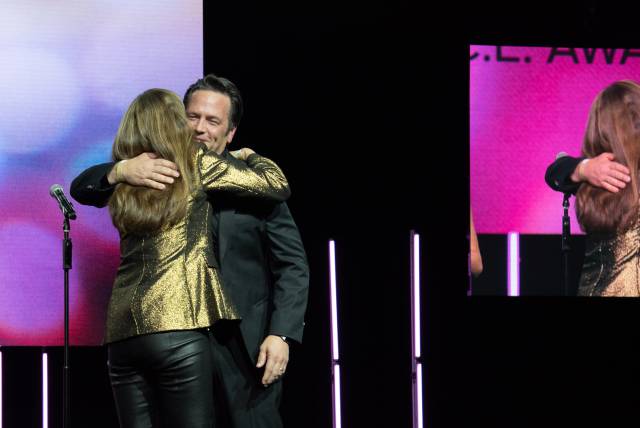 343 Industries and social responsibility
But Bonnie Ross has not only revolutionized the Halo saga, she aspires to do the same with the working system within the video game industry itself. At a time when crunch is seen as an inevitable evil of any creative process, the director opts for a model that optimizes the development phases. In a previously mentioned interview with UsGamer, explaining how to get to a different route was not easy: "With Halo 4, being a new team that had not worked with the Halo engine, we did get into a terrible crunch. Of course, we received a lot of criticism about it. One of the reasons that had led us to that situation is that the Halo engine is very technical, which makes it difficult to create content for artists and designers. So we promised ourselves that for Halo 5 we would engage at a higher level. And we went to great lengths to improve the engine, and we also promised that we would do all the work possible to create tools and process flows that make it easier for others to prevent crunch. But Halo 5 ended up being a bigger game than planned and we didn't have time. "
"When we launched it we had hit rock bottom with the team and we were in a moment of crisis. Maybe crisis is not the right word, but it was a point in the team saying: 'You promised us that we would no longer have crunch' And they were right – that's why we've taken the longest – and that's why about three years pass between Halo and Halo – to make the investment we set out to improve the engine, its tools, and process flows. We're still working on it. But in the end we were able to teach it at E3 2018, and basically it is about creating an environment in which we can develop a game more quickly and optimally and, thus, finally prevent crunch. It is a problem that will always be present with any game, and there will always be a time when you have to spend extra hours. But I think it is an issue that we must take seriously because it is not fair for the team, and the team does not want to fall for it either. So we are working in creating the best environment in hopes of mitigating the crunch. "
Likewise, Bonnie Ross and 343 Industries are dedicated to social and humanitarian work. The study actively collaborates with the Make A Wish Foundation and its director promotes the inclusion of women in the world of science and technology with the #SheCanSTEM campaign. About Halo, Ross expresses in Women in Gaming what is one of the greatest achievements that the saga has achieved: "We offer joy, escapism, incredible worlds, competitiveness, social connections and pure fun. We feel very fortunate to be in this industry and to change people's lives. "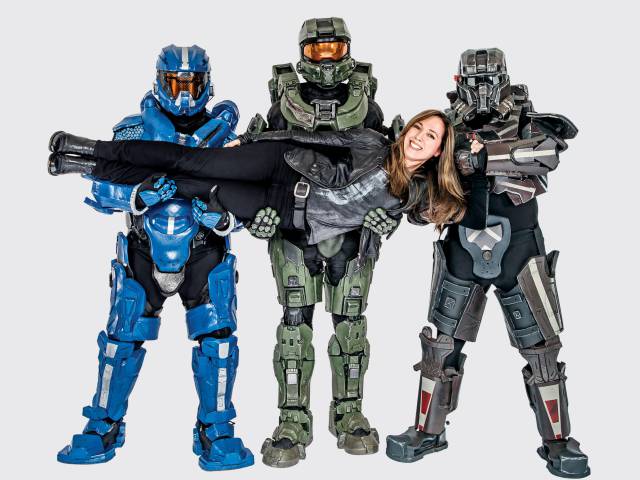 Bonnie Ross posing for Bloomberg magazine.