After more than a year packed with free updates, seasons, and cosmetic content, Beenox switches to other projects.
Beenox Studio has announced that Crash Team Racing Nitro-Fueled will stop receiving new content from now on. The Canadian studio, which is collaborating with the development of Crash Bandicoot 4: It's About Time, is now embarking on a new, unknown project, and therefore the assets that were still holding the CTR updates must participate there as well.
This expanded remake of Crash Team Racing, published last year 2019 on PS4, Xbox One and Nintendo Switch, was expanded almost every month with new content, characters, unpublished circuits in the original work, competitions and organized seasons … completely free. Currently, Crash Team Racing Nitro-Fueled is a version 1.5 of what it was initially; As a result, online servers remain very crowded across all platforms.
"Part of the reasons [de que dejen de actualizar el juego] we are working hard on other incredible projects ", they communicate in the message, issued this Wednesday on the social network Twitter. One of them is the N. Verted mode from Crash Bandicoot 4: It's About Time, but they have more going on.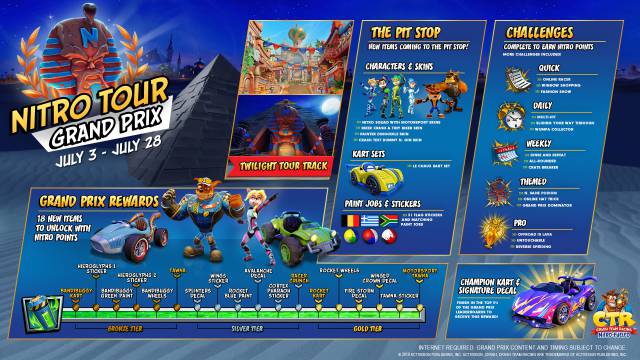 Infographic with all the contents of the Nitro Tour Grand Prix.
Multiplayer, Pit Stop, rankings … nothing changes for the user
What changes from now on for Crash Team Racing Nitro-Fueled? For the player, nothing. Both the Pit Stop (the store to buy cosmetic content that rotates periodically) and the online servers are still active, so you can continue playing online normally on all platforms.
The next date for marsupial lovers is Crash Bandicoot 4, whose release on PS4 and Xbox One is really close, on October 2. The project is led by Toys for Bob, another of Activision's trusted studios in charge of developments and ports related to Crash or Spyro (as well as Vicarious Visions, who are currently working on Tony Hawk's Pro Skater 1 + 2) and Beenox itself. .
Crash Team Racing Nitro-Fueled is available for PS4, Xbox One, and Nintendo Switch in physical and digital formats.