Darius Cozmic Collection reviews a mythical Shoot em Up saga on arcade games and consoles
It has been there since 1986. We are going through a moment with high quality shoot'em ups. To top it all off, it's a saga with compelling reasons to remember often. You should have it all on your face, but Darius is a franchise reserved almost always for true fans of the shoot'em up genre. Those who like to dive in the B faces that do not always come to mind. It is not a matter of getting melodramatic to affirm that it is the greatest injustice in the world, although to get an idea of ​​the journey of this saga we would have to go back to the moment of the great horizontal shoot em up, games with which Darius always had quite juicy differences since those who could look into the eyes without ever getting over them. Let's summarize the story: in 1985 Konami attacked first with the immortal Gradius, with Irem doing the same in 1987 with R-Type. In the middle of both, as this saga has always been, it is fair to remember the first Darius of 1986 as a video game with very solid bases that the saga in which it evolved has been transforming into much more diverse proposals. The two compilations that we now receive are a full-fledged celebration, the party of a saga that has gone through almost all the important systems that have existed since then.
A great start in the middle of the golden age of shmup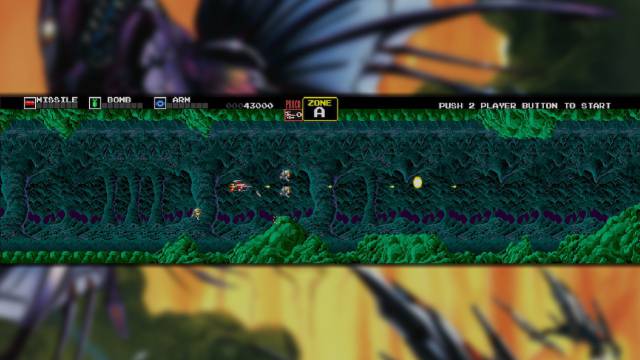 As good a shoot em up as it is, the first Darius from 1986 is a title that can handle the pull very well today. Although it lacked the sensational Gradius progression system or the strategic component of R-Type, it is fair to consider it a colossus of the genre that was shown on three screens to give us an even more pronounced panoramic sensation than what we consider today to be standard. In addition to this hallmark, this seminal title had a very striking final boss design – sea creatures as end-of-phase bosses – and a very distinctive sound whose evolution was a strong point of the saga, but above all it introduced the great distinctive element that always characterized it. At the end of each scenario and unlike its contemporaries, we did not go directly to the next level but to choose the route to follow, which multiplied the content of the game while allowing always different games: if we did not like a level, it was enough not to visit it never more. The sequel delved into all that raising the bar of almost everything we had already seen, to the point that that Darius II of 1989 has ended up becoming a game to which we could already assign a certain cult following. Suffice it to say the fact that it came to Sega Saturn … seven years after its launch. Without reaching the heights of the best in the genre, the first two of the saga are in their history in their own right. Always, let's be clear, considering that Darius does not rank highest on the retro Olympus.
Regarding the console versions of these two installments, we think that time has treated them in a much more unequal way than the recreational versions, and possibly with them we have to talk about the most debatable aspect of these two compilations. Taito has made, in our opinion, a very controversial decision when putting the games for console and arcade in independent compilations, since they were too different experiences to maintain internal coherence when it came to selling them. To give an example, the versions of Sagaia (Darius 2 in the West) can satisfy the cravings of those who enjoy observing the evolution of this genre between the 8 and 16 Bit systems since both are very solvent in their own, but the truth is is that it is difficult to play the version for Master System without being carried away by the conditioner of nostalgia to a fairly high degree. Something similar happens to the versions for Pc Engine, which we also never officially saw in Europe. They are curious, playable and surprisingly diverse, even having versions that are a pure boss rush, but they are too far from the recreational versions to be the main course of a compilation in 2020.
Even so, and despite the fact that all console games have the traditional 4: 3 aspect with the implications that this has for the saga, some of them still seem highly recommended and take their place in the history of the 16 Bit generation. It also seems that they come with the intention of settling old accounts, as happens to some installments for Snes (Darius Twin and Darius Force) that were beaten in their day by critics, but that right now seem to us much more than enjoyable games of the system, something that also happens to the versions for Mega Drive. The problem is that all these titles, as much as we like them, are clearly one notch below what we are offered in the arcade compilation, instead selling at a higher price. Something totally incomprehensible for how well-kept everything is in other aspects, such as the sensational physical collector's edition.
Around with content and pricing policy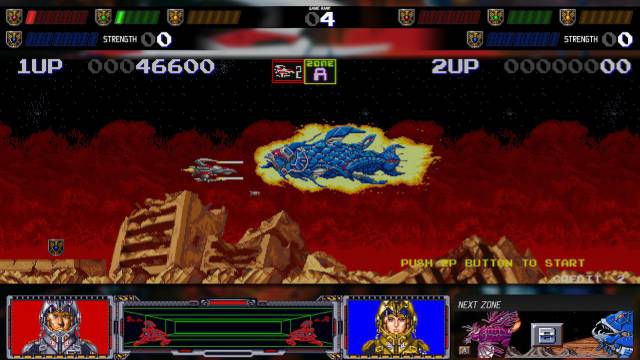 Whenever there is talk of compilations, absences are usually the most controversial issue if it is about paying tribute to sagas with a few decades behind them. As it could not be otherwise, the maxim is applied this time with decisions that are quite difficult to understand -even if we abstract from the sale price-. We will say it bluntly: the amount to be disbursed by the two compilations could only be justified with a complete tour, which does not leave behind any of the great moments of the saga. In the case of Darius, it must be remembered that one of the best -Darius Burst Chronicles- is quite recent, so from the beginning it is logical that it is not yet compilation meat. This being the case, and taking into account – it is not superfluous to reiterate – what it costs to do with both titles, it seems very difficult to justify the absence of a game as monumental as the remembered G-Darius from 1997. It is simply inexcusable in a compilation so ambitious, since we are talking about one of the best installments that also came out both in arcade games and on consoles of its time, with a not inconsiderable critical success if we remember the discredit that the genre suffered at the time.
Darius Gaiden: one of the best shmups ever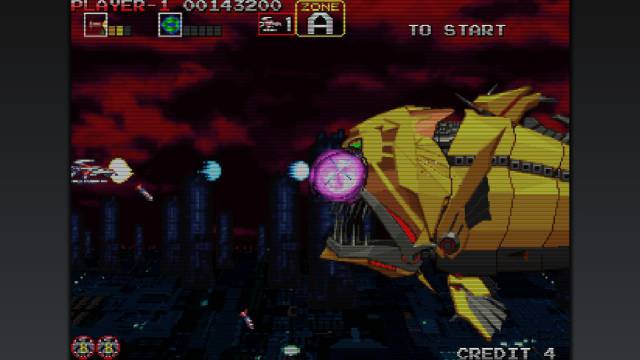 Taking into account this omission, the real highlight of these two compilations in terms of technical and visual muscle is a game that has ended up consolidating itself among the sacred cows of the genre, despite the fact that it dared to cut the umbilical cord with a panoramic perspective that It had worked well until then. Darius Gaiden is undoubtedly the game that the time has best treated of all those who make up both compilations. Although it does not have much merit for being the most recent, it seems to us that it endures much better than other proposals of the same age due to the fact that it was already more than spectacular at the time. Thanks to some effects of transparencies, scaling and funds, it managed to excel in arcade games, but also on PlayStation and Saturn. He still falls in love with his outstanding sound section that influenced so much in subsequent deliveries, but also manages to hook his gameplay today, thanks to many enemy patrons that always amuse you, his moments of approach to bullet hell and a very funny weaponry to control. One of the best installments of the saga, to which this compilation does justice. Something that comes to us wonderfully to talk about the other big important issue in any compilation
Justice for Darius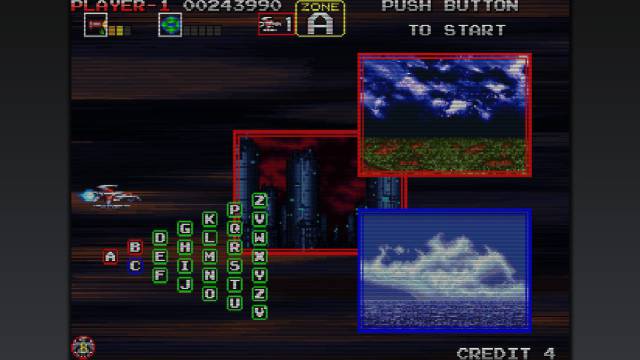 It is precisely on the other front on which we must focus on the compilations where we find the best news this time. Very juicy news, by the way, since we would not say that it is something isolated. It has taken years, but lately it has been perceived that companies like M2 are willing to improve aspects that needed a last push, and these two Gradius Cozmic Collection are a clear confirmation that things are going better for once and for all. There is no use that the included games are good, the reasonable price, or the fairly high average quality (it is in this case) if later we find that the emulation is not up to scratch or that the display options ruin the experience from the most purist users, since basically these compilations are directed at them. M2 has clearly raised the bar thanks to some menus that are nice to see, with explanations of each game that provide the strictly necessary information for those who are pecking a bit of each one and never get in the way of the fun. Those who want to get into work in depth, since these games give for it, will also find their right dose thanks to the game modes to train, the arcade flyers that are very good with the panoramic format and some information of interest to the curious. Finally, the display options are simple although they manage to adjust to all sensitivities, especially since they allow (it was time) to enable a blur filter or scanlines independently, avoiding the horror that occurs when both things go from hand. A sensational work in everything that involves emulation, for an experience that, this time, does live up to what can be seen right now in the traditional emulation scene. This is the way to go, and what we should expect from now on.
A good binge on fish
Darius is among the best of horizontal shoot em up and in these two compilations are some of the reasons why he survives over the years, even if his fame does not reach that of Gradius or R-Type. It is obvious that they would not exist if a cult following had not been created for many of these games, so players who have witnessed the evolution of the saga will be captivated by this respectful look at the past. Those who want to take advantage of it based on virtual scoreboards and replays will also be happy since both things have been kept in mind. The only drawback comes from the price policy, unjustifiable if we consider what other similar compilations have been costing.