The highly anticipated first work of Kojima Productions outside the orbit of Konami is a unique game, with the personal stamp of its creator and a different approach, with lights and shadows.
When you put yourself in command of a game called "AAA", you usually expect something technologically at the highest level, good mechanics, a decent story — preferably brilliant, although rarely decisive — and that all of your sections meet at a level High so that the experience is enjoyable from beginning to end. They are the big blockbusters of the industry, they are presumed to have behind the budget and the good work to offer a minimum resistance and maximum enjoyment to a wide range of players. In other productions it is noted that they have more limited resources and only manage to reach the highest levels despite these limitations, being so superlative in some key aspects that they manage to forget the rest of their tasks. It may seem that the "AAA" have it easy, blessed with resources outside the reach of the vast majority of studies in the world, but we must not forget that the greater the bet, the greater the risk, and that often forces us to play on Sure, to create something demonstrably popular and not go out of the way to not scare potential customers.
We must recognize one thing both Hideo Kojima and those around him and have trusted him: they have been brave when it comes to a blockbuster that does not resemble any other game in this category (for better or worse). Creating an IP (such as The Last of Us or Horizon: Zero Dawn) is considered risky, but they usually have recognizable mechanics and genres to compensate; Transforming a known IP to something else, as happened with God of War, is also considered risky by fans' expectations, but brand recognition is assured. With Death Stranding, which is not an internal exclusive like those mentioned but is co-produced by Sony, not only has a new IP been created, but it has also opted for a playable approach that is difficult to pigeonhole – we will not reach the director's extremes of calling it a new genre, but it is certainly something unique. A double slingshot that is within reach of very few proper names in this sector.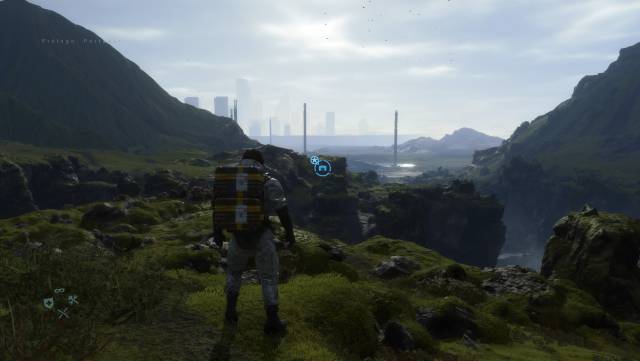 But … what is Death Stranding about?
The million dollar question. Both narratively and playably, the truth is that Death Stranding has been a well-calculated mystery since its origins. Each trailer has followed a clearly marked direction to raise interest, leaving more questions than answers. Depending on the context we have seen short trailers, intended to emphasize the presence of a familiar face in the project; cinematic trailers that have emphasized cryptic history; or gameplay trailers that have shown us fragments of actions we can do in this world. Despite having all this material, it is difficult to have a clear vision of the type of game we face only with the trailers.
With regard to history, without falling apart, the main idea is that man has empirically discovered that he has a soul, and that there is a place between life and death called "beach", a unique and personal extradimensional space of each. The tragedy comes when, once this fact is discovered, it is found that some souls cannot pass to the other side when their bodies die, finding themselves "stranded" in the material world, desperate to find a living vessel that can restrain them , which is impossible. Therefore, when a person dies and his soul leaves, souls are stranded to try to devour the body, which triggers a reaction of matter-antimatter that generates a vacuum, a great explosion that destroys everything around him.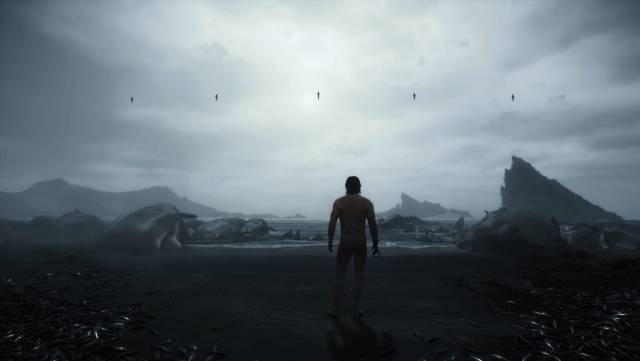 The effects are obviously catastrophic and before it can react, the entire United States – and the rest of the world is supposed to be destroyed. Survivors focus on small, isolated nuclei, quickly learning the rules of living in this new situation. The essential material of the countless souls stranded by the catastrophe, the chiralium, is now in the clouds, creating constant and dangerous rainfall, whose water has acquired the property of rapidly aging what it touches and which also in large storms implies the presence physics of stranded souls, which can drag any human being who is in the area in their blind search for a body without a soul. In this scenario, in which going outside the city walls can be a death sentence, the role of bearers becomes essential, heroic. The settlements need some form of communication and exchange of resources, so those with enough courage to make the dangerous trips acquire a special status.
Our protagonist, Sam Porter Bridges, is one of those messengers, one of the best. But at one point he decides to cut all ties that bind him with society and go solo, only fulfilling small assignments and surviving day by day. This is how he runs his life until he is forced to return to his old organization: Bridges, who is trying to reestablish the government of the United States through the figure of its president, cancer patient and Sam's mother. His will is for Porter to help them finish an ambitious project: to connect all the cities and population centers scattered throughout the country through an innovative chiral network, which uses beaches as a vehicle for information and data processing. Since the time there does not run in the same way as in the physical plane, the speed and capacity of this network is practically supernatural and could connect the entire nation, sustain infrastructure and be a foundational piece in the rebirth of America. Together with the presence of "chiral printers", capable of creating a wide range of objects and facilities through the supply of materials, it would be the best alternative for the misfortune that has fallen on humanity to become an opportunity.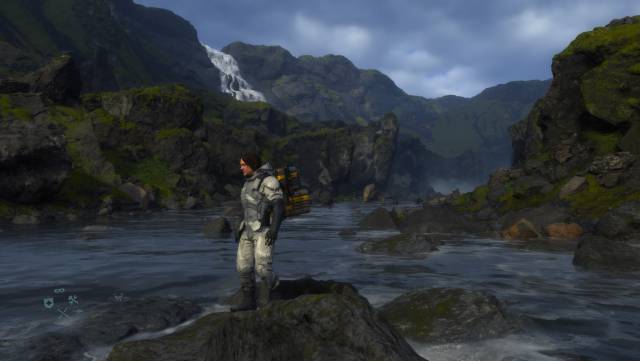 A hero-messenger
In order to connect distribution points across the country, Sam must first deliver conventional shipments to reach each of them. This sets the tone of the main mechanics of the game: we are not a special agent to hunt for terrorists, nor a soldier, nor a spy; We are a carrier and our main mission is to carry packages from one place to another. At first walking, using rudimentary utensils such as climbing ropes or small stairs to overcome the orography and access the places that await our packages and access to the chiral network. Later we will have more sophisticated tools and even vehicles: we can create bridges to safely cross the largest rivers, zip lines to communicate mountainous points, charging points to power electrical devices, shelters … We will be accessing a wider range of options, although we will always have points that, either by terrain, or by the presence of stranded entities (EV), we will have to continue on foot.
You have to insist on this, because it is a key element when deciding if Death Stranding is for you: what you are going to do most in the game, by far, is to walk or drive through the desolate and beautiful natural landscape, distributing packages From one side to the other. There are incentives to find new places that go beyond what history asks, explore corners, follow history or investigate the amount of documentation that we will find about this world and its people. But it is not what an action adventure is said in which we are constantly doing exciting things, such as fighting or infiltrating enemy territory. The rhythm during much of the adventure is quite calm and contemplative, a general tonic that breaks at certain times and in the final part of the game, but remains a constant. Kojima already mentioned that he does not consider it to be an infiltration game, nor a shooter, and faith that it is not, although both aspects are present.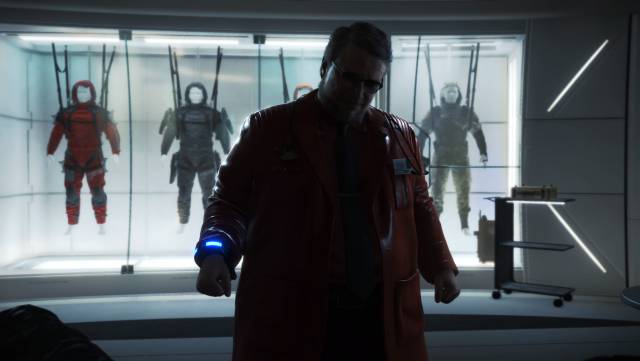 Combat and stealth, the decaffeinated alternative
Although it is not the main focus of the game, Death Stranding has action and stealth, but with a role that could be considered secondary if it were not because they are mandatory elements in certain parts of the adventure. On the one hand there is combat, Sam is not a soldier, but in this hostile world it is not possible to go outside without knowing weapons, so he manages well both with them and with his fists. The arsenal will grow throughout the game, but basically it is divided into non-lethal, lethal weapons and special weapons against EV. There are no major differences between the two since everything depends on the ammunition: a non-lethal weapon can fire projectiles that leave enemies unconscious, but it can also fire ammunition coated with Sam's blood, which affects the entities. Some weapons, such as blood-containing grenades, are only useful for killing EV, but in general there is quite a lot of duplicity. There is also not much variety of possibilities: guns, shotguns, automatic rifles, various types of grenades, grenade launchers and a heavy rocket launcher. Also a different resource such as the ball launcher, which allows shooting boilers to leave enemies tied at a distance.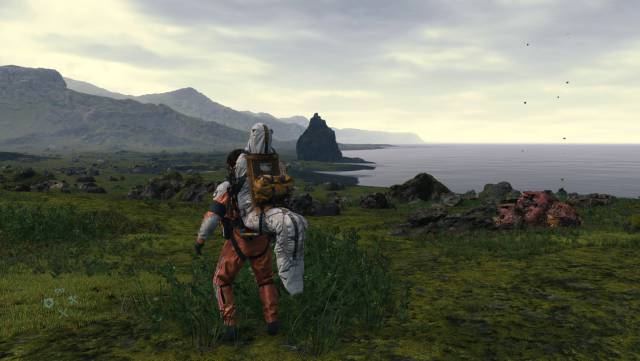 Actually, it doesn't take much arsenal. There are some sequences in which combat is mandatory, but with automatic rifles it will be more than enough to defeat humanoid enemies, while EV fighting can be easily resolved by launching blood grenades – it is a good idea to customize the backpack to equip it with specific grenade pockets, which will prevent us from having to add extra boxes to our cargo. Having a good supply of grenades, blood bags to regenerate health and a pair of rifles, we can overcome without difficulty any mandatory combat that comes before us, however imposing the creature may be on screen. This is one of the shortcomings of the game, the little imagination when it comes to posing confrontations regarding mechanics. The great EVs have very few and very predictable combat patterns, so it is completely anti-climatic that, given their visual spectacularity, all that needs to be done is to bet on a high point and throw them grenades until they disappear – there are a couple of matches specials that change the tonic and for which it is preferable to use missile launchers, but the grenades are still valid and they will not take a prize to their combat design.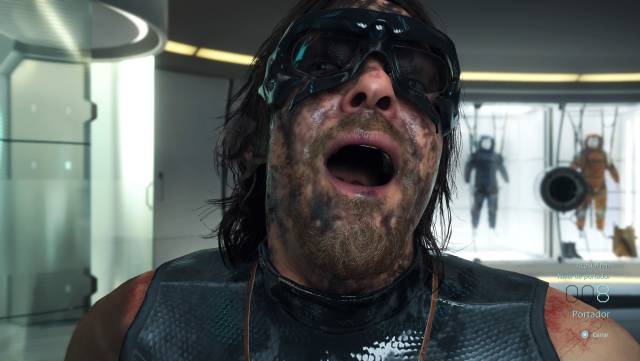 This for mandatory fighting. Then there are all situations in which you have to choose between stealth or combat. There are two scenarios that will alter our bearer routine: bandit camps and EV concentration zones with rain. The former are former carriers who have lost their minds and are dedicated to stealing shipments to accumulate them in their bases – or, in their most extreme version, terrorists who will open fire on anyone who steps on their area. Their areas are clearly marked and it is relatively easy to dodge them, or pass them fast enough so that there is no time for confrontation. If there were no mission – very few – in which you are forced to go to one of these camps to recover something, you would not need to step on one or face these enemies. And the truth is that when we do it is not that the adrenaline is triggered: the camps are very small and only have a handful of members in each. It is very easy, in normal mode, to simply run, use the loading movement – the two triggers – and, once unbalanced, connect a series of punches until they fall to the ground. Repeated with everyone, we will have the camp cleared on a periquete to catch what we want. If we go back there after a while we will have them back on our feet, but we can calmly return to our routine of following our path and ignoring them.
We also have the option to kill them, but it is so problematic that it is not worth it or raise it. If we kill them and leave them there they will become EV; and going through that area will be much slower. And loading a body to the nearest incinerator or safe deposit is a real nuisance. Equipping lethal weapons is a waste of time when non-lethal ones do exactly the same. Another thing would be that the areas with bandits were much more extensive and problematic, so you might wonder if clearing them would be a good idea, but this is not the case, it is unnecessary. Even raising the difficulty level does not change the fact that it is not a game designed around combat. There are no surprising situations, interesting combat mechanics, scenarios that force you to do something different, or challenges that give you satisfaction. Even in episodes in which combat is the central part, everything is too linear and predictable. It is a process, when you have to do it, and that's it. The proof is that there is only one level of difficulty above normal, while below there is easy, and very easy, all that considering that normal is already quite easy for any average player. Therefore, it must be clear that it is not one of the attractions of Death Stranding.
Then there is stealth. Technically, in a camp we could try to infiltrate to access what we need, but they are so small and have so few troops that it is much faster to leave them all unconscious. The infiltration loses a lot of tension when it is in an open space where you see kilometers where the enemies are, and since there are hardly any interiors in which the adventure takes place, the truth is that in this aspect it is not something necessary. More interesting in this section are the areas of stranded entities. If it rains heavily, the entities manifest themselves and can interact with the physical world, dragging humans who have the misfortune of being in the area to be eaten by antimatter. In addition, they are invisible to the human eye, the only proof of their presence is their footsteps on the ground.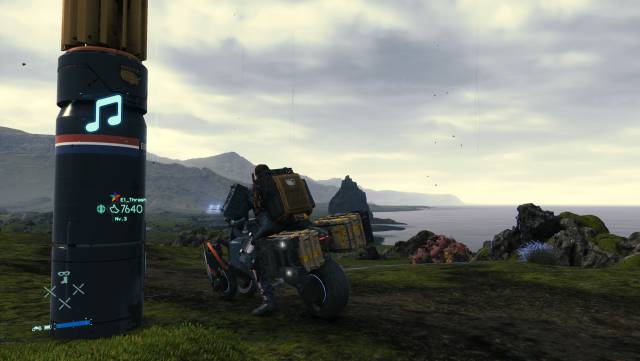 BB units were invented for this – yes, the famous baby in a capsule is useful for this, mystery solved. Basically, since these unborn babies are between life and death, they can detect the EVs and notify us through the mechanical arm that has been incorporated. Thanks to that we can know where the nearest one is and at what distance. Sam is also special, not only as a returnee who can return from death, he also has a special condition called DOOMs, which in his case translates into the ability to perceive the spectral forms slightly for a few seconds; In addition, a blood and special body fluids that affect the EVs and that can be turned into grenades to destroy or scare them away.
The first times it is brilliant. You are in the middle of nowhere, the rain does not stop around you, your BB unit crying, which always increases the tension, and you are advancing step by step before an enemy of which you do not have exact data, despite being in the open field. You have to be cautious, stop your breathing when you see that an EV is very close or you have to pass near one, try to rest in areas that are covered and plan your steps well. We have already mentioned that rain has an effect on people and objects, so you also have to take into account how long you will be under it so as not to ruin your shipment.
If an EV catches you, a swamp of dark and sticky matter will form as the surrounding EVs flock to try to knock you down. Again, it is terrifying and the tension goes off. You can still escape, trying to get rid of the entities as you move to the mainland. But if they knock you down, they will drag you into a space where we will have to face a huge creature. And this is where the magic is lost a little, because we have already mentioned how extremely easy it is to end them using blood grenades, so as soon as you are prepared, this moment of maximum crisis is really much more bearable than the entire previous process . Once you know that if the annoyance in these phases you just have to pass the process of confrontation, these moments lose quite mystical and become part of the routine of walking on the map.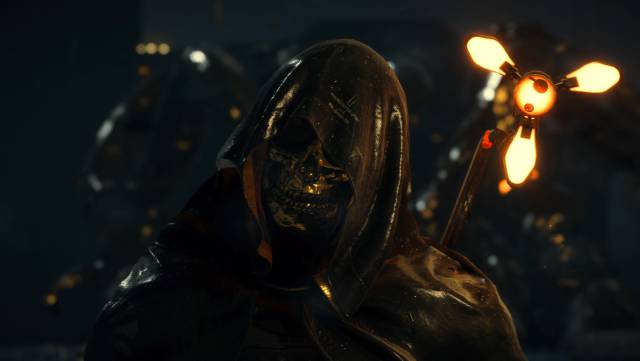 The "FedEx" challenge and the problem of mission design
After reviewing the combat and stealth elements that, we insist, have been secondary in the 60 hours that the game has lasted, we can focus on the main mechanics of the game: carrying packages. Here it is convenient to make a parenthesis about the evolution of mission design in open worlds. Since the open 3D games were popularized, particularly the sandboxes in which to be able to find your "own fun", one of the recurring keys has been to find a way to keep the player entertained. Finding the recipe, the fair proportion of this has proven to be one of the great design challenges of the contemporary video game and, certainly, we have accumulated years of documentation and success stories. And of failure.
Basically it all comes down to offering answers to the question: what do I do now? Missions in an open world are still a tool for the player to get moving and the story can move forward. The difference with a sandbox is that the player could technically be happy staying in a single corner and building a castle – hence the "sandbox" – but when you have a story to tell, you need movement and progression, so what More aid is the missions. But over the years it has been observed that raising them is more difficult than it seems: some games had few missions and then were too empty; the reaction was to put countless missions, with crowded maps of markers and even procedural missions to never be without anything to do, but you were overwhelming. Those who have achieved the most success are those who have managed to combine main and secondary missions with a head, supported by a range of non-mandatory activities that serve to break the routine. And, importantly, missions have to have some variation, some interest.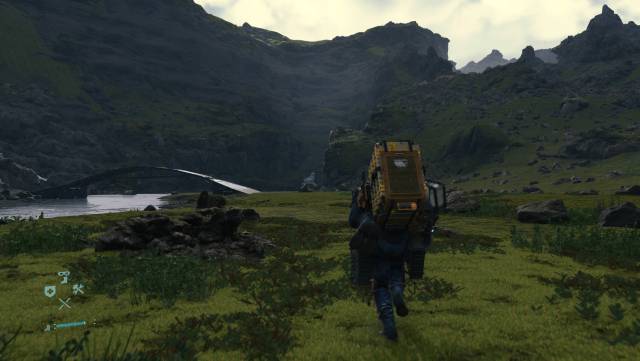 World of Warcraft is a good example. In its origins, most of the missions could be divided into two types: missions to stay for a while in the area, gaining experience (typical of killing X bugs to bring back their skins) and the missions that sent you to another area (Take this package to the inn), which was usually offered when you were done with things to do where you will be at that time. WoW also had secondary activities – collection work, such as fishing, mining or manufacturing work. In addition to being the nth hero who saved the town, you could also dedicate yourself to creating a commercial empire by trading with other players in the auction house; and of course there were also the dungeons, the PVP, the raids … there is always something to do, alone or in company. Despite all this, the missions are the main tool to boost the game, and it was soon discovered that you cannot be constantly telling the player to go from one place to another without putting a little interest: "go there to give him a package someone, because yes "is not very exciting. "I need you to find my missing husband, her son needs it" at least he moves his guts a little. Blizzard learned over time to give more packages to the missions, as many open games have tried to take care of these details and the demand of the players has increased accordingly.
All this comes to illustrate another controversial point of Death Stranding: how little elaborate your mission system is. It is true that it is argued in the fact that we are a carrier and our main mission is to carry merchandise and connect the different nodes, something that goes hand in hand. And at each point there are different people that we will know a little better through brief conversations and emails. But the dynamics of the vast majority of missions is too flat: go to this point, take the package, pick up another package and go to the other point. Since there are no optional activities, that the construction is limited to objects to overcome the terrain and that the secondary missions are limited to endless shipments between the different points, the truth is that the set is a bit flat. There are moments in the game that it is difficult not to despair after thinking that after a long walk, another one awaits us. That is when we will learn the importance of strategically placing facilities that facilitate our lives on the way back or for areas where we intuit that we will have to return. There are solutions that greatly shorten the distances, from certain infrastructures to the possibility of using fast travel – very practical, but as it is implemented it does not allow the transport of goods. But it is difficult to cover everything and there are always new areas where we will have to walk. Yes or yes
The perfect messenger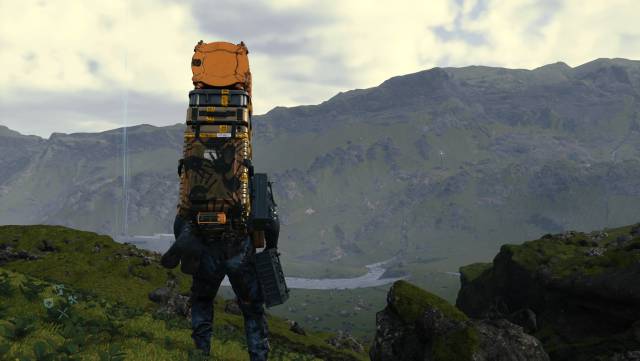 There is no experience system that allows us to customize our Sam or determine its attributes, but it will progress according to our actions and times – in each delivery we will be evaluated things like time, load condition and complicated terrain circumstances – . Carrying merchandise on foot has its own challenges, with greater weight and greater height, the protagonist loses stability, it will cost him more to climb or lower faster and it will cost him to slow down. The situations in complicated or stony terrain will become more tense, as well as crossing certain rivers, although many times it all comes down to having the two triggers tight to hold the backpack well and prevent the weight from taking us to the ground. With that and avoid sudden changes of direction we can avoid many of the possible falls, avoiding loss of health and, most importantly, ensuring that the package does not suffer damage, since in many occasions the shipments must arrive below a certain damage percentage
We also have resistance meters, which will determine the time we can run at full speed, or the ability to stand upright when crossing a river. At some moments in the first hours it gives the impression that the real challenge is going to be that, to overcome the inclemencies of the virgin nature and to move painfully with your load through places of difficult access. But since our statistics improve and, most importantly, we access better equipment, the truth is that the difficulty of traveling does not rise; key to this are exoskeletons, especially those that allow you to cross complicated terrain, real lifeguards for certain parts of the map.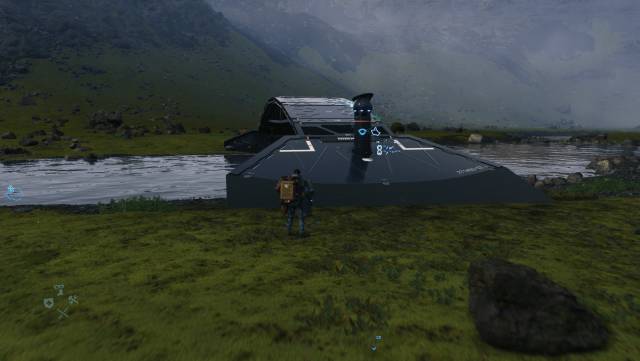 However, we must bear in mind the peculiarities of a truly unique inventory system. Have you ever criticized that a character is able to carry 20 weapons and half a house in the backpack? In Death Stranding we can see the practical effects of a realistic system, in which every object we carry has a physical presence, a certain weight and must go in a briefcase or in a special compartment. Do we want to be equipped with a few weapons and some blood bags? We will carry them in the backpack, in their cases. And if the shipment that touches us is particularly voluminous, or gives us to collect everything we find on the ground in our wanderings, we will find poor Sam with a tower at his back that will make him stagger at every step. Fortunately, thanks to exoskeletons, vehicles or aids such as a floating loader, we can go with extra cargo loosely, saving some difficulty like mountainous areas with snowstorms, which can put us in some trouble.
As we have said before, sometimes the lack of variation in the main and secondary missions of the game is accused. Aware of that, those responsible for Kojima Productions have tried to introduce incentives to give the matter a bit more crumb. There are some special shipments, such as when you carry a human body, which are an extra challenge because of how delicate they are and the instability they produce. There are also some especially fragile that must be carried in hand, which prevents the use of any object and vehicle. Other orders must be made in a certain time and we can choose if we want to commit to fulfill them in less time, to obtain additional rewards and recognition. But the lack of variety or alternatives ends up affecting and in the end you are focusing on fulfilling the necessary missions to continue with the story.
The ties that bind us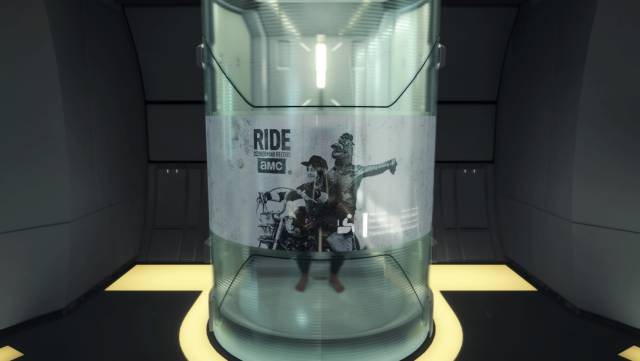 One of the great values ​​of Death Stranding is the way in which the game systems connect to the main plot. In the game, Sam travels through the United States, connecting nodes and forming a stronger network than the sum of its parts. At another level, the "multiplayer" of the game is based on an indirect collective system, in which the actions of each player in their games can have effects on ours. The idea looks a bit like the Dark Souls, when we find the messages of the players at certain points of the game, only here instead of messages (which we will also find, in the form of symbols), we can find a bridge that Another player has built in his game and that also appears in ours and in others. And so with everything, we can find mailboxes with equipment that other players have donated to the community, ropes timely left in mountains to facilitate the passage, vehicles, shelters … whatever we can build, we can find it on behalf of other players on our map, as long as we have connected that area to the chiral network – remember, a supernatural network whose information jumps between dimensions, wink, wink.
The fact that we can "like" these facilities, and other players can do the same with ours, creates a beautiful dynamic in which a solitary game feels as if it were playing alongside a community that helps and supports itself. Obviously, only a small handful of other players' constructions appear in your game, and there is a limitation on the total number that can be installed; and that can be increased based on improving the chiral connection, for which it is necessary, in effect, to make more optional shipments. We will also find equipment or shipments that other players have not been able to fulfill, so we can pick them up and fulfill their mission from our game, and vice versa. The message is nice and it's nice when we see that another player has liked something we have installed. The double satisfaction of creating something useful for you and others.
A "Made in Kojima" story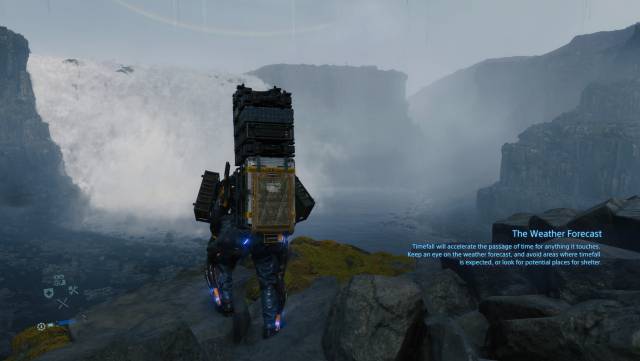 As you might expect, history is one of the main attractions of Death Stranding. There was a lot of curiosity to see how the director faced a new story, without the spider web in which the plot of Metal Gear Solid had become. Everyone knows that Kojima is a master of metareferences, winks and plot breaks, especially if they serve to deliver messages that go beyond the video game in question. This time is no exception. He feels good to be able to tell a story from beginning to end, he manages to give it a commendable roundness and roundness, as well as transmitting several reflections that will be useful to us once we leave the pad.
Of course, we can expect moments that are somewhat overloaded with information and it will be convenient to spend hours reading the emails and interviews that we will be receiving and unlocking to have more pieces with which to make sense of everything in the peak moments. The only thing that can be discussed is that being so divided by such a long game and not having a predefined rhythm, its kinematic nature suffers somewhat while the player arrives from one point to another to advance in the plot. This is seen in the famous launch trailer, a thrilling succession of eight minutes with important moments, connected in a way that does not reveal the story, but will make sense once we play. The trailer has an unquestionable strength and rhythm at which the game only comes rarely given its nature. But it is only a minor detail before a story that, in the face of what might appear, is very clear on how and what it wants to tell.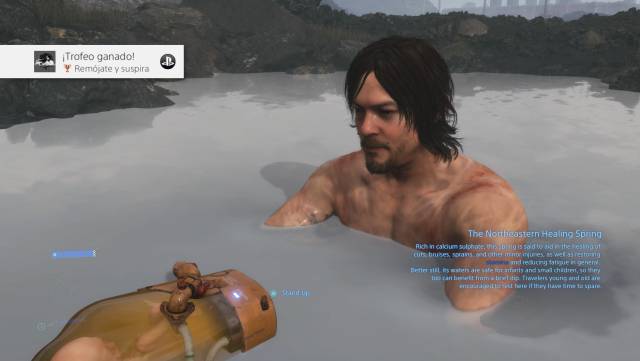 Blockbuster outfit
Another of the undoubted strengths of Death Stranding is the halo of blockbuster that surrounds it. On the one hand, we must surrender to Guerrilla and his Tenth Engine, which already amazed us with Horizon and now raises the bar even more with some of the most beautiful and detailed landscapes that we will see in this generation. The beginning of the game, on a PS4 Pro and with a HDR-capable television, leaves your mouth open and prepares the ground for what is to come. It is a beautiful game, with a multitude of memorable corners and in which it is a pleasure to explore to find secrets and new locations to take pictures.
On the other hand, the star cast of the game gives that extra recognition. He has been very meticulous with facial animation, the reproduction of gestures and animations, so that we can feel the performance of Norman Reedus, Mads Mikkelsen, Guillermo del Toro or Lea Seydoux. Reedus fulfills his role of taciturn protagonist well, Mads has a very exciting role, Guillermo del Toro gives off tenderness and shows the appreciation he has for Kojima for having lent himself to such a constant role in the game, while Lea gives off humanity – although For some reason there are times when its digital reproduction is somewhat less successful than that of other cast partners. They have been used very well, both they and the rest of the casting, resulting in a game whose history will interest us from beginning to end.
And, of course, music. Hideo Kojima once again shows off his undoubted good musical tasteto splash your temper game that you only use when you need them. There is no music playing constantly during our adventure, it is a game of silence, of listening to nature, except when it is not and then the music elevates the experience to a new level. He has selected a cast of artists whose ambient music fits like a glove in the melancholy that these landscapes give off. And in the key moments, when the emotion demands a certain melody, it is when the success becomes thunderous and manages to generate those sensations for which the Kojima games are usually especially remembered. There is a particular scene, in the final part, whose perfect conjunction of emotion, music and momentum make it already part of the history of the game.
BB, a jewel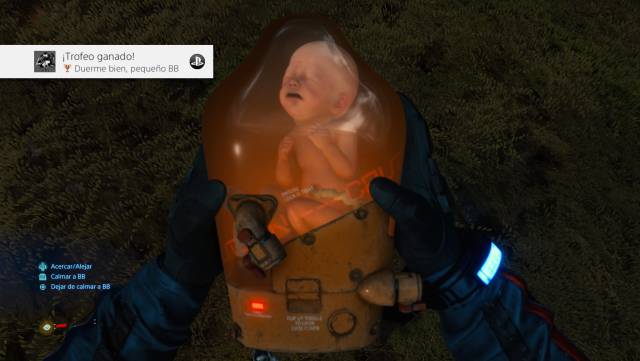 We did not want to finish the analysis without speaking, just enough, of one of the best aspects of Death Stranding . The BB unit, which is given to us as a mere tool, cruel but necessary in a desperate world, acquires throughout the game a dimension at the height of the great companions of video game history. And he does it with very little: with what a baby needs to thrill anyone: gestures, cries, smiles, laughs, noises … the work they have done around this aspect is commendable and gives great emotional strength to the whole.
CONCLUSION
Reviewing the notes, memories and reflections of the mentioned 60 long hours that it has taken us to complete Death Stranding, we find lights and shadows that make a global assessment complicated. On the one hand, it is a graphically spectacular title, different from the norm, with a unique story, a powerful message, full of details, meticulous and with an enviable actor casting; also, endowed with moments that will remain in our collective memory. It is a special game, there is no doubt about that. On the other hand, we find it difficult to break all those virtues of an open world and some game mechanics that we believe are not at a remarkable level in this 2019. We have been able to experience many titles in this genre in the last decade, we have made hundreds, or thousands of missions and activities in them, and we know how to appreciate a little better the difference between a superlative game based on these factors, and one that is not. Without doing anything wrong, Death Stranding sins perhaps of wanting to be longer than it should, not because of its history but because of the limitations of its setting and game approach, because it wants to offer a free and huge world without having enough elements with which to feed that concrete experience. A containment exercise, or a wider range of activities, would have been desirable so that the highlights of the experience shine more brightly. If you give relative importance to the fact that there are open games with better rhythm, better mechanics or more elements to maintain interest, and you put the focus on the many virtues that Death Stranding treasures, you will enjoy a great experience,
THE BEST
A unique, meticulous game with important messages

The ties that are created with the characters

Graphically spectacular, some of the best landscapes of the generation

A soundtrack of authentic luxury

The community aspect is very well conceived and links perfectly with the theme

A story that keeps the interest, with a spectacular final part

Some concrete moments absolutely memorable
WORST
Simplistic combat but not being able

Stealth elements that end up being irrelevant

Little variety of missions, too repetitive and dependent on going from one point to another

Lack of interesting activities in the world, something wasted for the hours required
Very good
Remarkable game that we will enjoy and remember. A good purchase, highly recommended for lovers of the genre. It is well taken care of at all levels.