The iconic Japanese magazine has only given a perfect score to 27 games throughout its history
Famitsu is the best-known Japanese magazine inside and outside the land of the rising sun, an icon in the world of video games. Since 1986, the Kadokawa publication has been alternating detailed information, Reviews and guides on the most popular games of the moment, the latter being its main reason for being and occupying more pages in the publication. Its scoring system is also unique, since instead of going with a classic five-star system, or 10/100 points, the magazine opts for a system in which four different analysts comment and rate the game, which makes sense to its iconic 40-point scoring system.
A coveted award
Throughout its history, few games have achieved the prized 40/40 award, a "perfect" score whose reputation exceeds the borders of Japan and is automatically echoed in all corners of the world. In fact, for more than a decade he did not award even one in the entire 8 and 16 bit era, a golden era for the Japanese video game, so the fact that he first did it to Ocarina of Time in 1998 contributed to the rise of the game legend. From there the road was opened and currently there are 27 who can boast of that seal; the latest game to do so is Ghost of Tsushima, one of the few non-Japanese titles to have garnered it alongside GTA V and Skyrim.
The total list of games with 40/40 in Famitsu is as follows:
The Legend of Zelda: Ocarina of Time (N64) – 1998
Soulcalibur (Dreamcast) – 1999
Vagrant Story (PS1) – 2000
The Legend of Zelda: The Wind Waker (GameCube) – 2003
Nintendogs (DS) – 2005
Final Fantasy XII (PS2) – 2006
Super Smash Bros. Brawl (Wii) – 2008
Metal Gear Solid 4: Guns of the Patriots (PS3) – 2008
428: Shibuya Scramble (Wii) – 2008
Dragon Quest IX (DS) – 2009
Monster Hunter Tri (Wii) – 2009
Bayonetta (Xbox 360) – 2009
New Super Mario Bros. Wii (Wii) – 2009
Metal Gear Solid: Peace Walker (PSP) – 2010
Pokemon Black and White (DS) – 2010
The Legend of Zelda: Skyward Sword (Wii) – 2011
The Elder Scrolls V: Skyrim (PS3, Xbox 360) – 2011
Final Fantasy XIII-2 (PS3, Xbox 360) – 2011
Kid Icarus: Uprising (3DS) – 2012
Yakuza 5 (PS3) – 2012
JoJo's Bizarre Adventure: All Star Battle (PS3) – 2013
Grand Theft Auto V (PS3, Xbox 360) – 2013
Metal Gear Solid V: The Phantom Pain (PS4, Xbox One, PS3, Xbox 360) – 2015
The Legend of Zelda: Breath of the Wild (Switch, Wii U) – 2017
Dragon Quest XI: Echoes of an Elusive Age (PS4, 3DS) – 2017
Death Stranding (PS4) – 2019
Ghost of Tsushima (PS4) – 2020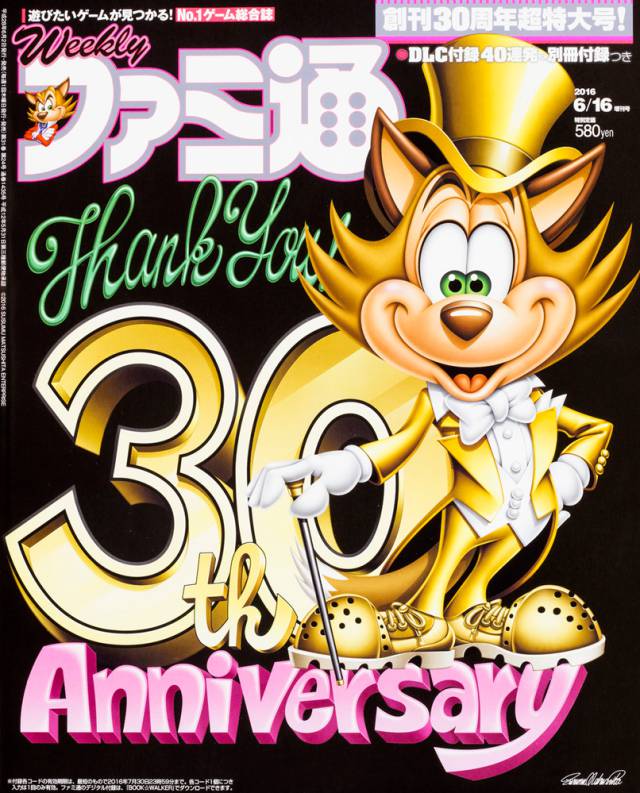 Special 30th anniversary cover featuring the magazine's historic mascot: Necky