Ubisoft confirms that Far Cry 6 will also have several animals that will play as companions and presents the first of them, Chorizo, a heartbreaker.
It seems that someone at Ubisoft wants a pet and doesn't know how to order it. If we told you a few hours ago that we will be able to recruit cats for our crew in Assassin's Creed Valhalla, now we bring you the first image of Chorizo, an intrepid companion for the battles that await us in Far Cry 6. It is a dachshund that, following the steps of Boomer, the doggie of Far Cry 5, will be able to accompany us at all times and even help us during the fighting. "He's going to be an amazing friend," said Navid Khavari, the game's narrative director.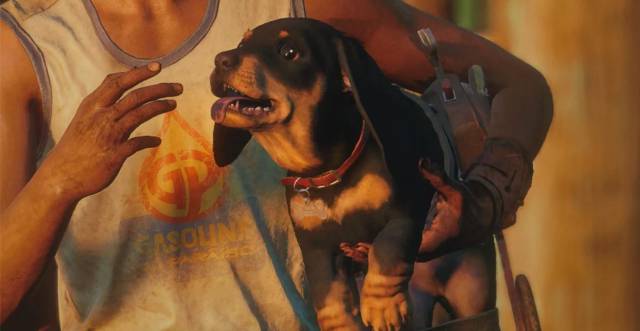 The enemies surrender to that gaze.
The possibility of helping us with the local fauna was introduced by Far Cry 5, which had the Fangs for Hire companion system, in which, in addition to recruiting Boomer, we could take over the services of other animals, such as Horacio (a wild boar), Cheeseburger (a bear) or Peaches (a cougar). During the fighting they could shoot down enemies, kill them, and even bring us ammunition. It seems that in Far Cry 6 we will be able to meet again with a good number of animals to tame, but Khavari have no doubts, for him, Chorizo ​​is simply the best. "When we finished the Chorizo ​​design – and I'm not kidding – the next day in the office, all the wallpapers were an image of Chorizo, our dachshund. I don't want to anticipate anything, but let's just say he kills everyone with kindness."
Giancarlo Esposito, new villain of Far Cry 6
Chorizo's success seems to have eclipsed Giancarlo Esposito himself (Gus Fring in Breaking Bad), who will be in charge of maintaining the long tradition of great villains in the saga. So much so that one of the incentives to reserve the game is a skin for the famous dachshund. It's called "Libertad Chorizo" and it shows that our partner is adorable even when he gets mad. We will see how we say no to nothing when Far Cry 6 goes on sale on February 18, 2021 on PC, Google Stadia, PS4, PS5, Xbox One and Xbox Series X. If you want to know the rest of the announcements of the Ubisoft ForWard , where the game was presented, do not miss this complete summary, in which only more photos of the star of the moment, Chorizo ​​are missing.

Bonus for reserving the game.