Ubisoft joins the Smart Delivery initiative and will give away the free version of Far Cry 6 for PS5 and Xbox Series X if we buy the game on PS4 / Xbox One.
Ubisoft is strongly committed to making our transition to PlayStation 5 and Xbox Series X as easy as possible. No more buying a console and just being able to release it with one or two games. Now it will be easier than ever to make a catalog thanks to initiatives such as Smart Delivery, which it seems that all the major launches of the developer will make use of. During the Ubisoft Forward, an event in which it presented its news for the coming months, the company confirmed that Far Cry 6 will also join it and that, therefore, if we get a copy for PS4 or Xbox One, we will receive free the PS5 and Xbox Series X version.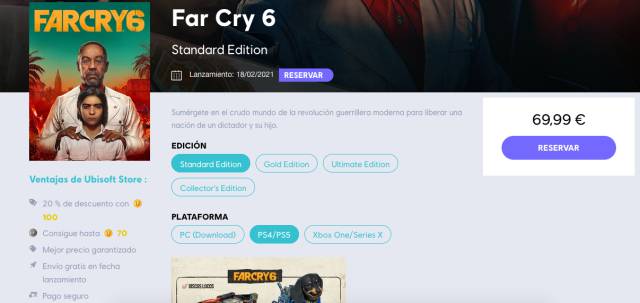 In the Ubisoft store, the PS4 and PS5 editions, like the Xbox One and Xbox Series X editions, already work as one.
Far Cry 6 thus joins games like Watch Dogs Legion and Assassin's Creed Valhalla, which are also part of the program, or like Cyberpunk 2077 and FIFA 21, to name a few that are not under the protection of Ubisoft. In this way we will no longer have to buy the game for the new platforms. This will be updated only automatically with the features that the new consoles allow, including better graphics and shorter loading times. Phil Spencer, head of the Xbox division, appeared by surprise during the Ubisoft ForWard to talk precisely about Smart Delivery and highlight the Xbox Series X versions, which will include, for example, DirectX Raytracing.
Gus Fring and dachshunds
As for Far Cry 6, scheduled for February 18, 2021, in the last hours we have known that, in addition to being Giancarlo Esposito the villain (Gus Fring in Breaking Bad), we will have a new buddy system. We will be able to tame an unprecedented cast of animals to fight alongside us and help us during the revolution of the island of Yara, the new location of the game (inspired by Cuba). Among these companions will be Chorizo, a dachshund that has already become the new internet sensation. If you want to know even more details about the game or the launch catalog presented at the Ubisoft Forward, don't miss our event summary either.