The US company points out that its priority is to safeguard the safety of its employees, who have been insulted.
Turbulence in FIFA 20. If the collusion between American professional players was not enough, since it has been discovered that they have agreed not to play among themselves, the employees themselves have been attacked by the toxicity of certain members of the community. It has been confirmed by Electronic Arts itself in a statement that it has sent to Eurogamer, in which it recognizes that several personal accounts of FIFA 20 developers have been hacked:
"On Monday, several members of the EA Sports FIFA team realized that their personal social networks were compromised," the statement begins. According to the company, it happened after a series of attacks were orchestrated in their official accounts. "The safety of our employees is our top priority, so some people on the team have suspended or deactivated their accounts."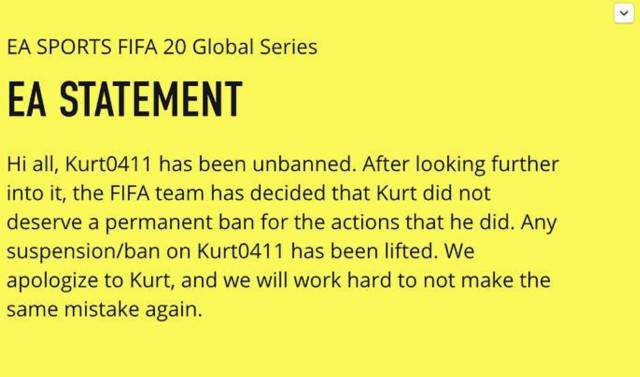 False statement in one of the hacked accounts.
The FIFA CMs, target of the attacks
According to Eurogamer, the FIFA CMs have suffered harassment, insults and even death threats on social networks. These attacks have happened because certain users are unhappy with the mistakes of the game. When it was launched, the problems of Career Mode were pointed out, but other aspects were also questioned.
The community managers received all kinds of expletives. In fact, a user sent a message to the personal accounts of several professionals with the desire that they commit suicide. To add more fire to the fire, the permanent bane of Kurt Fenech, creator of content and former professional player, has warmed the atmosphere even more. Electronic Arts decided to expel him after finding that he had repeatedly violated his code of conduct.
Fenech's response has not been lukewarm. He has branded "cowards" to EA members in one of his videos and has wanted them to fire employees. "That is the real reason why I have been expelled. These uncles live in an imaginary world in which they believe they are doing a good job, "he attacks. "They think everything is great, when in reality it is not. In truth, every one of those employees who has worked in the last games should already be fired. This should happen to them. "
FIFA 20 went on sale for PS4, Xbox One, Nintendo Switch and PC.