The "Cura vs. Toxina" Extra Time challenges of Season 1 of the Fortnite Battle Pass Chapter 2 have been leaked. We tell you what they are.
On December 12, 2019, patch 11.30 arrived at Fortnite Chapter 2. This update of Season 1 content of the new Fortnite Battle Royale Battle Pass also brought encrypted data corresponding to the Extra Time challenges, an event whose start date and duration are yet to be confirmed. A dataminer has filtered these challenges; We tell you what each challenge of this type of Fortnite:
Fortnite Chapter 2: Filtered Challenges for Extra Time Season 1
How could it be otherwise, it has been lucas7yoshi who leaked this information a few minutes ago from the moment we wrote this news. According to him, these would be the filtered overtime challenges corresponding to the current season. These challenges would be called «Cura vs. Toxin":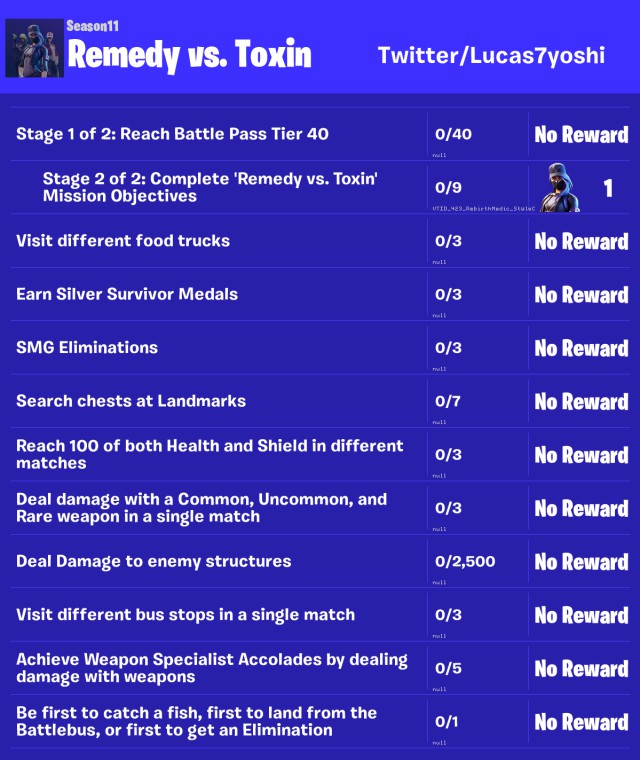 Extra Time Challenges: Cure vs. Toxin
And here we leave you a more or less approximate translation of the tasks to be performed:
Phase 1 of 2 – Reach level 40 of the Battle Pass (1/40)
Phase 2 of 2 – Complete the Cura vs. objectives. Toxin (0/9)
Visit different food trucks / gourmet trucks (0/3)
Get silver survivor medals (0/3)
Eliminations with submachine guns (0/3)
Register chests in emblematic places (0/7)
Get 100 health and shields in different games (0/3)
Deal damage with a common, rare and rare weapon in the same game (0/3)
Inflicts damage to enemy structures (0/2 500)
Visit different bus stops in the same game (0/3)
Earn weapon specialist achievements inflicting damage (0/5)
Be the first to fish, land, or get an elimination (0/1)
As always when we publish information of this kind, we remind you of a couple of things. In the first place, we still don't know when the Extra Time event will begin with which these challenges will be active, although it is expected to last until February at least, taking into account that the new season will begin that month. On the other hand, keep in mind that the challenges could be subject to change; Epic Games may modify the requirements in some way. Until they are active in the game, we will not be completely sure what these will be.