The latest slap in the PC Master Race world comes with Ray Tracing at an affordable price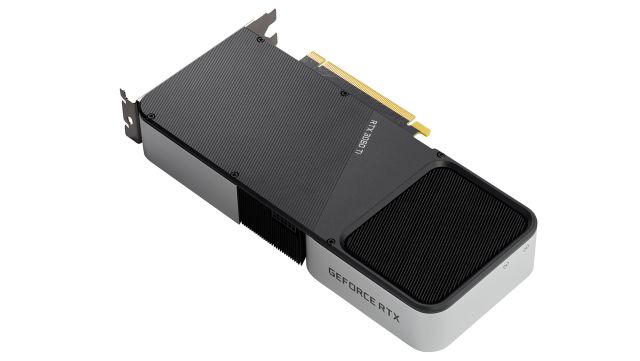 When we thought that we had already seen it all with the GeForce RTX 3070, NVIDIA arrives to give the last blow of 2020 with an affordable proposal within the group of graphics cards with the ability to grant Ray Tracing. With even higher performance than the GeForce RTX 2080 Super itself, the GeForce RTX 3060 Ti arrives to show us that it is something out of the ordinary that seeks to conquer the entry segment within the category.
We develop the Reviews with the following PC
Processor: Intel Core i9 10900k
Ram: 64 GB HyperX RGB DDR4 at 3200 Mhz
Motherboard: Gigabyte Z490 Vision G
SSD: 1TB WD Black SN750 NVMe
LG BX OLED 4K HDR 120Hz TV with HDMI 2.1
48 Gbps UGreen HDMI 2.1 Cable
GeForce RTX 3060 Ti Specifications
Stream Multiprocessors: 38
CUDA Cores: 4864
Tensor Cores: 152 Third Generation
RT Cores: 38 Second Gen
Texture Units: 152
ROPS: 80
GPU Boost Clock: 1665 Mhz
Memory Clock: 7000 Mhz
Total Memory: 8192 MB GDDR6
Memory interface: 256-bit
Memory bandwidth: 448 GB / s
Connectors: 1 HDMI 2.1 port and 3 DisplayPorts 1.4a
TGP: 200 Watts
To evaluate the RTX 3060 Ti Founders Edition that NVIDIA lent us, like the RTX 3070, we seek to take all games to the limit at a 4K resolution with active HDR, Ray Tracing to the maximum in case of having this section and if not We achieved at least 30 average FPS, we lowered the specifications until we found the minimum "playable". On this occasion all the games that had DLSS, we activated it so that it could give us good returns, but in the same way this is indicated in the description of the game within the same table.
All games were installed on the SSD and played for at least 30 minutes, sampling in the same parts as with the RTX 3080 and RTX 3070 in order to have a similar parameter. In the main case of games with our own benchmark, we adjusted until we had the minimum parameters for an optimal experience.
The titles with their own Benchmark were:
Assassin's Creed Odyssey threw 46 average FPS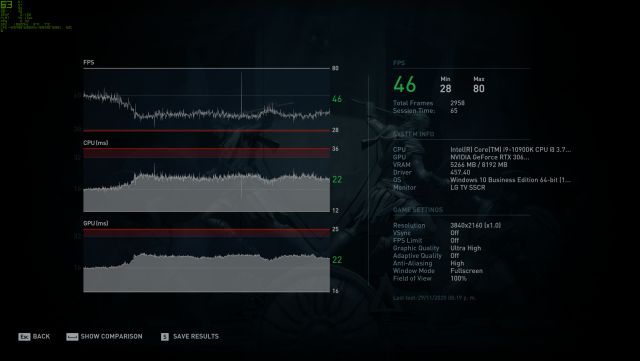 Borderlands 3 gave 38 average FPS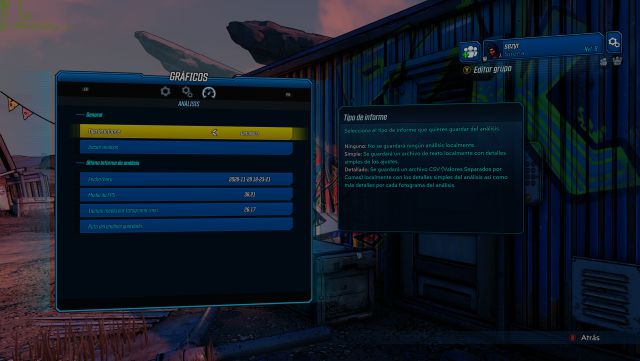 F1 2020 kept 83 average FPS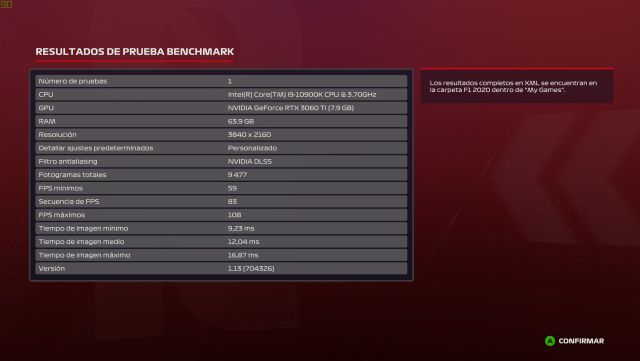 Horizon Zero Dawn: Complete Edition resulted in 54 average FPS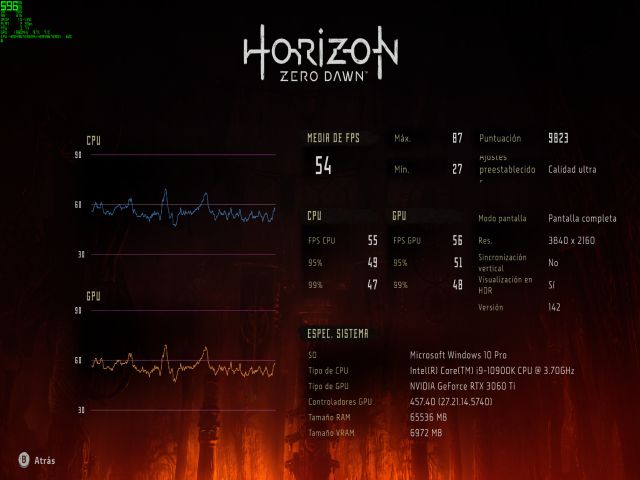 The games we evaluated without their own benchmark were
A Plague Tale: Innocence, Apex Legends, Avengers and Call of Duty: Black Ops Cold War (campaign and multiplayer).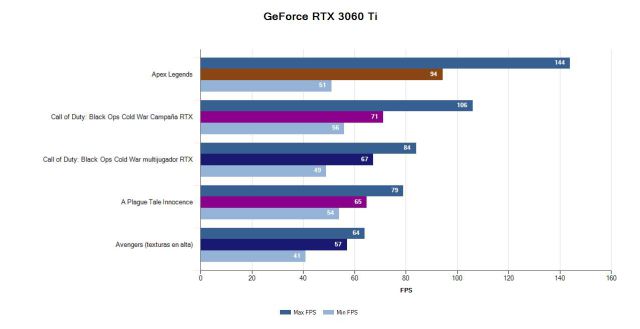 Crysis Remastered, Death Stranding, Devil May Cry 5, Doom Eternal, and Far Cry.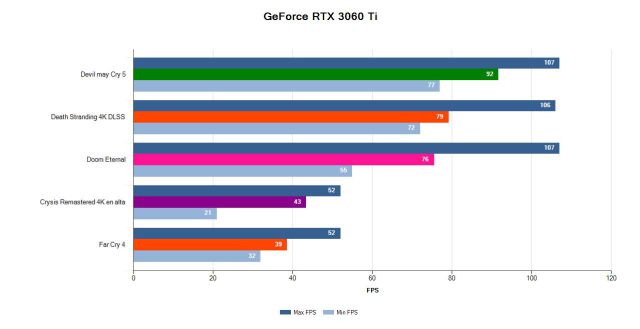 Final Fantasy XV, Flight Simulator, Fortnite, GTA V and Hellblade: Senua's Sacrifice.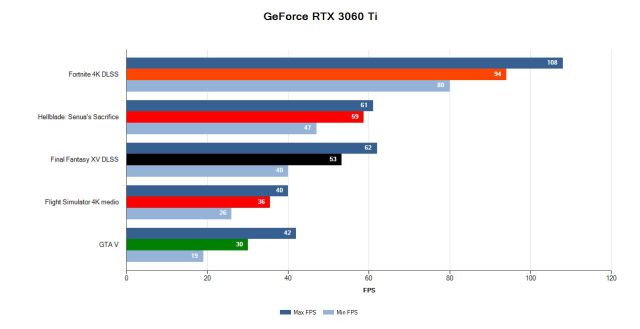 Lurk in the Dark Prologue, Metro Exodus, Project Cars 3, Rage 2, and The Dark Pictures: Little Hope.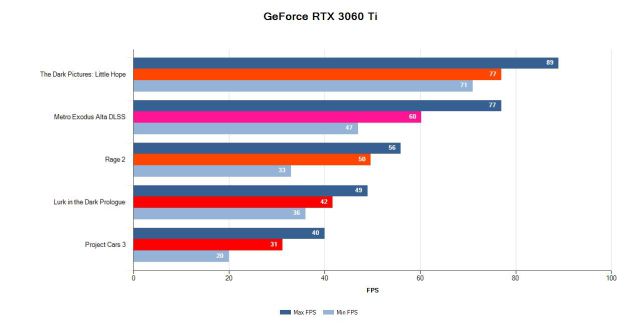 Resident Evil 3, Sekiro, Star Wars Jedi: Fallen Order, Star Wars: Squadrons and Tony Hawk's Pro Skater 1 + 2.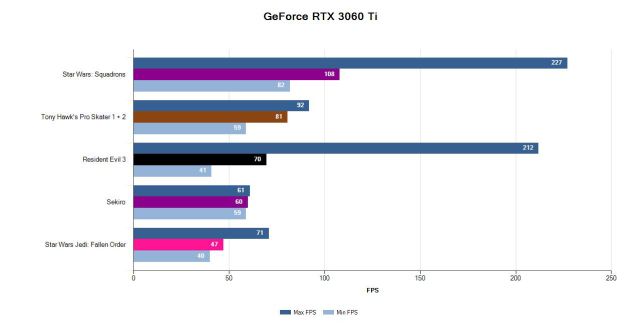 Twin Mirror, Watch Dogs 2 and Windbound.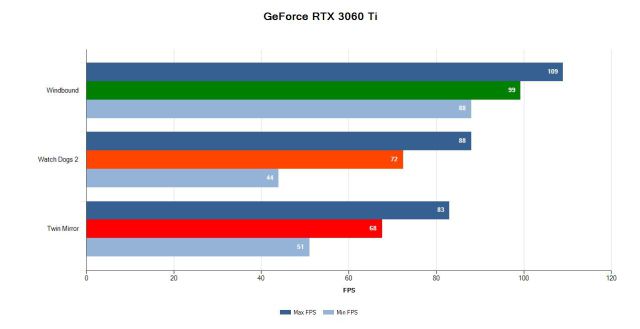 It is important to bear in mind that the GPU in lower resolutions gives very high rates of frames per second, we occasionally tested with an Acer Predator Z35 144 Hz monitor with a resolution of 2560 x 1080 and in games like Gears 5 we managed to obtain an average of 134 FPS.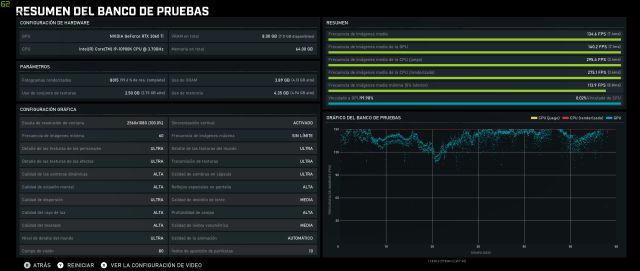 Boderlands 3 for its part gave us 79 FPS in this same resolution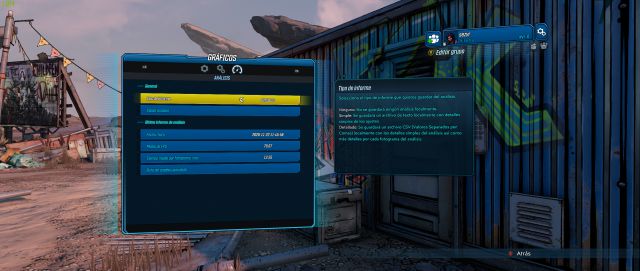 Horizon Zero Dawn: Complete Edition kept 99 FPS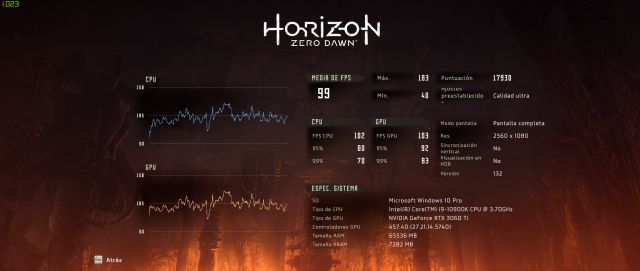 And Shadow of the Tomb Raider an average of 83 FPS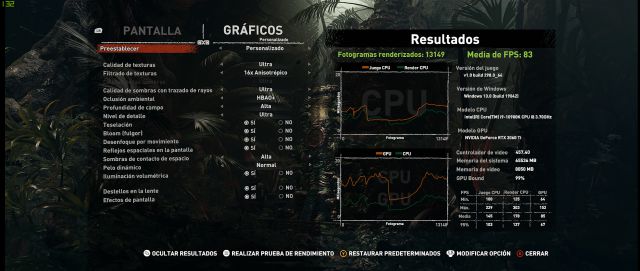 It is important to bear in mind that the card is silent and very easy to install due to its size. Like the GPUS of the RTX 30 series, it will integrate NVIDIA RTX IO that will improve load times, NVIDIA Reflex to reduce latency times and a function to be able to overclock it through the experimental functions of the Geforce Experience, although we in this test We only use the GPU defaults.
Content creators will also be able to access the broadcast function to be able to stream with maximum FPS, integrating elimination of ambient noise supported by artificial intelligence, as well as virtual backgrounds that you can customize.
The GeForce RTX 3060 Founders Edition will be available globally this December 2 at an estimated price of $ 399.
CONCLUSION
For all those who want to enter the world of Ray Tracing in Full HD or 1440p resolutions and who seek to play competitively, the GeForce RTX 3060 ti is the option to consider, the best thing is that within this same GPU, they will be able to experience a good part of games currently available in 4K at frame rates that may be above what new-gen consoles offer and in some cases even maxed out. Definitely NVIDIA seeks to conquer the entry range with this little trojan horse that for its price will seduce more than one.
THE BEST
The best
Higher power than RTX 2080 Super
Low energy consumption
WORST
The power adapter is unsightly
Rating: 9.5