The return of the legendary Capcom saga, which will take place in February for Nintendo Switch, will feature changes in its enemies and its artistic section.
Capcom has published a new video for Ghosts' n Goblins Resurrection, a kind of development diary in which the game's two main producers, Yoshiaki Hirabayashi and Peter Fabiano, share a new gameplay of the game and discuss what we can expect from the return of the franchise. A reboot that, we remember, will arrive on February 25, 2021 and will do so exclusively for Nintendo Switch.
Maintaining the difficulty
Throughout the video, Hirabayashi declares that 2021 is very special for them, as it celebrates the 35th anniversary of the first Ghosts' n Goblins. And so that this new installment pays tribute to that one and lives up to it, Hirabayashi also confirms that Capcom will collaborate with the original director of the saga, Tokuro Fujiwara, who was currently only acting as an advisor and had taken a break from the industry. "We are delighted to have him back, it's very exciting," says Peter Fabiano. It is precisely the latter who guarantees the return of one of the hallmarks of Ghosts' n Goblins: difficulty. "One of the things that made the original unique for me is that it was very, very difficult. But in a good way. You enjoyed playing it because you achieved great satisfaction by beating its levels. You repeated them over and over and over again and had fun. A lot. We wanted to keep that feeling in the new one. "
Both producers analyze in the video the first level of Ghosts' n Goblins Resurrection and all the references that it contains to Ghosts' n Goblins and Ghouls' n Ghosts. Because although the series will continue to maintain its platform action style and you will have to run, fight and jump through creepy scenarios, it will also introduce new features, such as a renewed artistic section. Something similar will happen with enemies, such as Zombie, Skeleton Murderer, Pigman and Red Arremer, who will be familiar to us, but they will behave in a different way. "The way of understanding the final bosses will have changed with respect to how you remember it", Fabiano ends up acknowledging, who also encourages us to be attentive to more development diaries before next February 25, when, as we said, the game will end up coming out .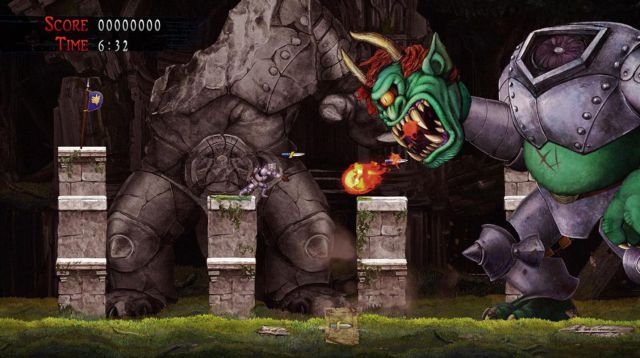 Source: Gematsu