Rockstar Games announces a series of advantages for all those who enjoy the video game during the celebrations of this event.
On July 4, the United States celebrates its Independence Day, a commemoration that Rockstar Games has also joined with GTA V, and more specifically, with its online side, GTA Online. In addition to the usual GTA $ and RP rewards, players will be able to grab some very rare patriotic gems in trade battles. We refer to the Statue of Happiness t-shirt or the Supa Wet cap. As if this were not enough, there will be a 50% discount on various items (pyrotechnic cannon, the monster truck The Liberator, clothing, festive face paint, etc).
Rockstar Games also confirms that until July 8, players will be able to earn double GTA $ and RP in the base missile series. In this way, they will have to fight in the different team modes, see Every bullet counts, Titan and Assassin. Mount Chiliad and its dangers await us. Throughout this week, it will be possible to get the Wester Sovereign on the podium at Diamond Casino & Resort. To do this, you will have to direct it to any ramp and jump over it somewhere prominent.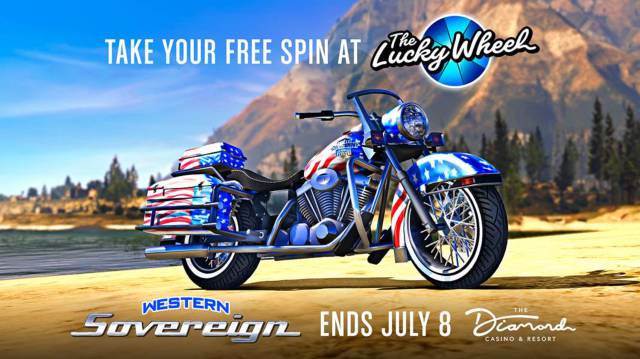 50% discounts
50% discount on arcade properties
50% discount on vehicles:
All yachts
Mammoth Thruster
HVY APC
Pegassi Oppressor Mk II
Mammoth Tula
RM-10 Bombushka
V-65 Molotok
Principe Deveste Eight
Emperor ETR1
Bravado Gauntlet Hellfire
Buckingham Luxor
Buckingham Luxor Deluxe
Buckingham Swift
Buckingham Swift Deluxe
50% discount on special items for Independence Day
Liberator monster truck
Sovereign motorcycle
Musket
Firework Launcher
Vehicle Horns
Pull / Parachute Smoke
Face Paints
Clothing
MOC Liveries
Mk II Weapon Livery
Haircuts
Masks
Firework Ammo
USA Parachute Bag
GTA Online is available on Xbox One, PS4, and PC. It will also be released on Xbox Series X and PlayStation 5, as announced during the Sony console game presentation event. There is still time to play, something that is not surprising if we take into account the numbers it handles.
Source | Rockstar Games (press release)