Digital Foundry highlights the aspects where the graphics engine shows a greater evolution, although they assure that the trailer did not have ray tracing.
Horizon: Forbidden West is one of the most anticipated video games for PlayStation 5. After being revealed at the PS5 presentation event and already being one of the most acclaimed, the new Guerrilla Games project aims to also be one of the greatest technological strengths of the catalog of PlayStation Studios in the early stages of the console's life. From Digital Foundry they have analyzed the presentation trailer to explain what and how it improves the Decima Engine, graphic engine used for the original work, the sequel and also Death Stranding.
According to Alex Battaglia for the British media, ray tracing was not present in the first preview in video form of the presentation; in fact, he believes that the title may not use or abuse real-time ray tracing due to the very nature of the title's scenarios. Essentially, you don't need it. "While PS5 offers hardware accelerated ray tracing as a tool Guerrilla can use, it may not be the best option for a game like this, which has many organic, natural scenes and rough surfaces."
For the rest, they highlight the evolution that exists in all sections; from the recreation of the water to the living beings that roamed around Aloy, the detail of the terrain rendering, lighting and the simulation of indirect effects.
Horizon: Forbidden West will come out in 2021, estimates Guerrilla Games
The Dutch studio hopes the game can hit stores next year. The goal is for 2021 to be the year chosen for its sale, but the words of its management team did not specify whether it is more for the first or second semester.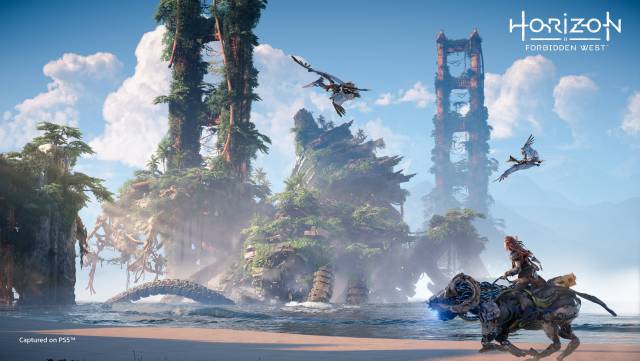 Horizon: Forbidden West
In any case, SSD memory will allow the world to load with virtually missing load times. "If you open the map and make a quick trip from one end to the other, or if you restart from a control point, it will be super fast," said Mathijs de Jonge, construction manager. The world will be "more detailed, vibrant and immersive" and they explained what the new machines and tribes will be like, from which we can expect more artificial intelligence and development.
If all goes well, Horizon: Forbidden West will be one of the great PS5 exclusives for 2021. You can check here a report with everything we know about the console for now; In this other article, all games confirmed to date.