The Manga Plus application is presented as a legal alternative to read our Goku and company series chapters from iOS and Android mobiles.
Manga Plus has become an indispensable tool for followers of the great manga series of the Weekly Shonen Jump and other lines of the Shueisha magazine; the cradle from which names such as One Piece, The Promised Neverland, Kimetsu No Yaiba, My Hero Academia, Dragon Ball Super and many more are born. Thanks to this official and free application (there is no small print) we can read the first and last chapters of our favorite series legally and responsibly. We explain how to read Dragon Ball Super for free and in Spanish on your iOS or Android device.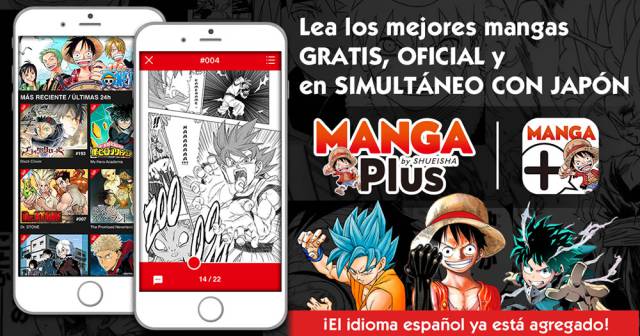 What is Manga Plus and why is it so worth it
Before Manga Plus existed, manganime lovers had to be confirmed with options like Cunchyroll — much more anime-oriented; an ever-expanding catalog of great licenses from Kodansha, Shueisha or Shogakukan— but followers of traditional comics had no legal, responsible alternative translated into Spanish from Spain with the comfort and professional support of Shueisha.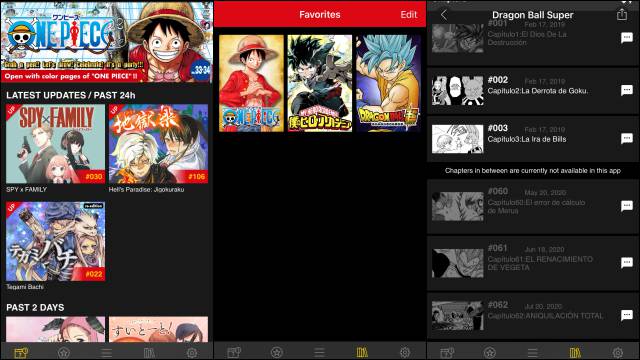 Manga Plus
Because it is not only a way of supporting authors — it is nurtured through advertising impressions, which is not intrusive or intervenes in the reading process — but also a way of keeping up to date and in languages ​​such as Spanish or the English a wide catalog of dozens of series from the Jump label on our mobile device. If you like Dragon Ball Super, you are already taking time to download it.
Download Manga Plus on iOS for free here
Download Manga Plus on Android for free here
Dragon Ball Super, in Spanish and with the chapters on their release date
The word "simulcast" is poetry for lovers of manganime. That is to say: simultaneous release in different languages, at the same time as its Japanese premiere. When we enter Manga Plus and create an account (free), we can save the series we want in favorites and with the preferred language. We select in the search engine Dragon Ball Super, which has a red label in one corner so that we know visually that it refers to the alternative in Spanish, and we access its file.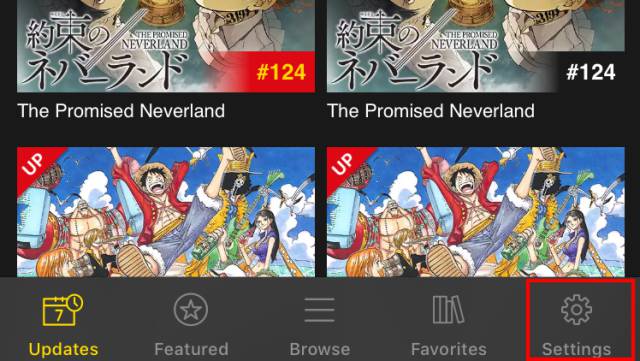 Select 'Settings' and click on 'Language Settings'.
From here, you will see that we have 6 chapters available: the first 3, so that we can start in the series; and the last 3, these under a rotation system where the three most recent chapters will always be available for reading. Dragon Ball Super (Toyotaro / Akira Toriyama) is a series under a monthly serialization (48-page chapters instead of the conventional 19 of the weekly series), so when it opens on August 20 at 5:00 p.m. (CEST ) chapter 63, will become available in 61, 62 and 63; In this way, chapter 60 of the block will appear.
Other additional details that you can ask yourself
The application has a weight of only 80 MB, although the weight grows over time due to updates. We can enjoy the app in Spanish and English from iOS 10.0 and Android 4.4 operating systems. Why are the series not complete? Because there is currently no premium subscription model, which would bring it closer to a Netflix type model. We do not know if a payment alternative will be given in the future to be able to read the series from beginning to end without restrictions.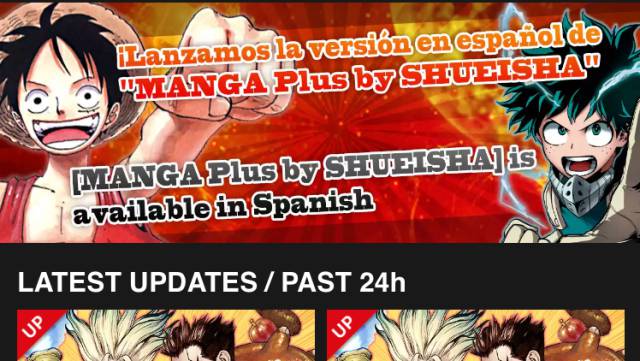 Examples of included series; both classic and current
Manga Plus not only has series currently in circulation, but they are republishing other iconic ones with visual improvements, which we can continue week by week with a new chapter (only the last three chapters, nothing changes). We highlight:
ONE PIECE
MY HERO ACADEMY
THE PROMISED NEVERLAND
HUNTER × HUNTER
BLACK CLOVER
BORUTO: Naruto next generations
DEMON SLAYER: Kimetsu no yaiba
DR. STONE
DRAGON BALL SUPER
HELL'S PARADISE
JUJUTSU KAISEN
BLEACH
NARUTO
DRAGON BALL
DEATH NOTE
TOKYO GHOUL