100% complete the most recent adventure of the most famous comic book climber on PlayStation 4 with our complete guide to Marvel's Spider-Man.
Marvel's Spider-Man is the bet of Insomniac Games for PlayStation 4. This title of open world, action and superheroes puts us in the skin of Peter Parker himself, best known for his alter-ego Spider-Man. We will have to face classic villains, and there will be many, but many surprises throughout the many main and secondary missions of this video game. In our complete guide you will have all the information available about this Marvel video game for PS4: tricks, secrets, strategies, and collectibles.
Marvel's Spider-Man main story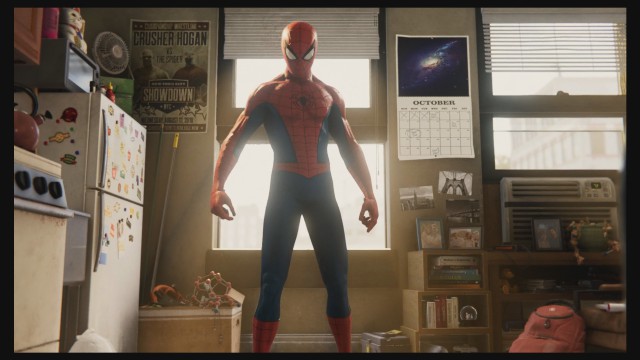 Welcome to the most complete and immersive Spider-Man game to date
The main story of Marvel's Spider-Man is divided into three different acts, each consisting of a variable number of main missions. This part of the game is, as we say, the main course, and the one with the greatest plot load. Of course, it is not the only incentive that has this title, since once we finish it, we have many tasks to do in the huge city of New York. Check out our tips before starting the game. You should also learn the basics of combat, gadgets, skills, and powers and suit modifiers.
Marvel's Spider-Man side missions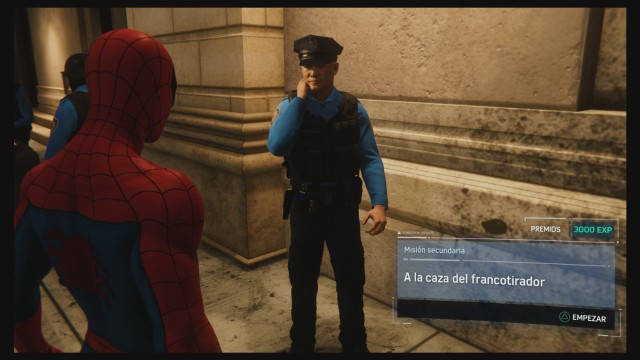 Spidey is a great, and helps solve all kinds of problems
The secondary missions could not be missing in a title of these characteristics. As usual in this genre of video games, these are small commissions whose rewards range between the banal and the really epic. Expect to have meetings here with all kinds of special guests from the Marvel universe.
All Marvel's Spider-Man costumes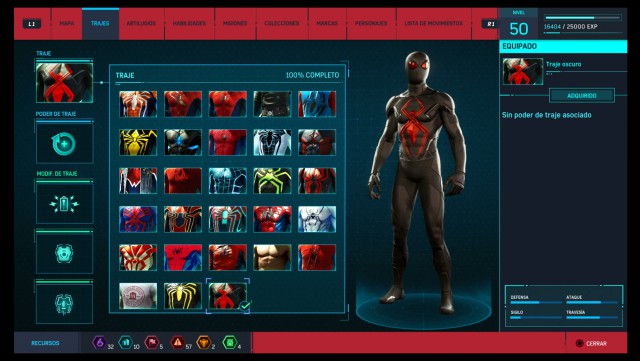 In this section of the guide we tell you how to get all the costumes
The costumes of this video game are not mere aesthetic complements, but the vast majority of them will allow Spidey to gain additional skills that will come from pearls when faced with what kind of enemies. Therefore, the ideal is to get all the costumes of the game, and change it according to the boss we are going to face to have things as easy as possible.
All Marvel's Spider-Man collectibles and extra activities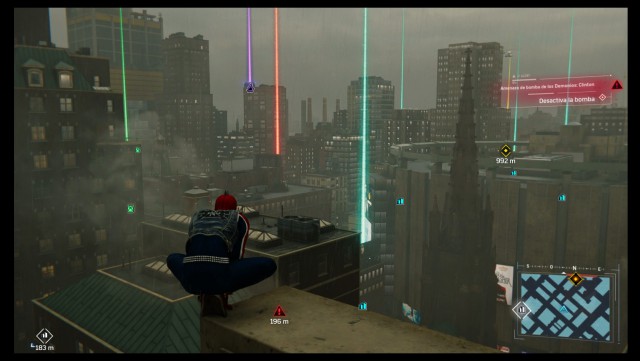 A collectible map is not necessary for this reason: by pressing R3 (the right stick) we will see, with large vertical beams of light, where each activity or object is to be collected
We would not be before an open-world video game if it did not have its collectibles. There are several types, and collecting them all is essential to get the much desired 100% of the game. The way we have to make sure we can see all the optional content of this type is by completing the game. There is also extra content in the form of assaults on enemy bases, and more. Some elements of the following list will only appear as the main story progresses. None of this can be lost, because when we pass the game we can continue moving freely through the city. This is all there is to do in Marvel's Spider-Man, beyond the main story and side missions:
Watchtowers: They work identically to the watchtowers of the Assassin's Creed saga. We must activate them all to reveal the complete map of New York, as well as the location of the vast majority of collectibles and secondary activities. This is why it is not necessary to use a collectible map for this video game, except for secret photos. To activate them we must overcome a simple minigame that consists of matching two wavelengths.
Bases (19 in total): Locations strongly defended by the different factions of the game. We must defeat all enemies stationed on them to complete them. There are four types: Fisk's Lairs, Demon Stores, Saber Posts, and Prison Camps. Completing them makes us earn Base Chips.
Places of interest (47 in total): Emblematic New York locations that we must photograph. By doing so we will obtain Place Tokens.
Backpacks (55 in total): Spidey has left backpacks with scattered memories all over New York. Get them gives us Backpack chips.
Pigeons (12 in total): Howard's pigeons will be available to be picked up once we complete the secondary mission Helping Howard. Collecting them makes us win Research Tokens.
Research positions (17 in total): Varied mini-games ranging from speed tests, ability to move around New York, handling the Spider-Bot, and even spectrograph minigames. Completing them makes us win Research Tokens.
Surveillance posts (12 in total): Simple minigames of visual acuity proposed by Black Cat. Completing them all will unlock the secondary mission The cradle of cat.
Taskmaster Challenges (16 in total): Challenges of various types with punctuation that will test several of Spidey's abilities, such as his skills in combat, movement, or stealth. Completing them makes us win Challenge Tokens.
Crimes (180 in total, 20 per district): Semi-random events of different types and perpetrated by the different enemy factions of the game. Completing them gives us crime tokens. They appear indefinitely once we complete 20 (5 of each faction) in each district in case we want to continue obtaining Crime Tokens in order to continue improving our equipment.
Secret photos (50 in total): Photographs of certain semi-secret places of interest. The secret photos are not necessary to obtain 100%, but they are a type of collectible whose location does not explicitly sneak the game. If we reach level 50, we can unlock the Proximity Sensor suit modifier, which reveals the secret photographic locations on the minimap. With our guide, you will not need to buy this improvement. Finding all the secret photos will cause us to unlock an additional suit that is not necessary for the trophy to get all the costumes.
Secret photos
There are a total of 50 secret photos, and they are scattered throughout all the districts of New York. We can start looking for them as soon as we can explore the city.
– Secret photos of Central Park (4 photos)
-Chinatown secret photos (8 photos)
-Secret photos of the Financial District (8 photos)
-Greenwich secret photos (3 photos)
-Harlem secret photos (11 photos)
– Secret photos of Hell's Kitchen (4 photos)
-Secret photos of Midtown (3 photos)
-Secret photos of the Upper East Side (4 photos)
– Secret photos of the Upper West Side (5 photos)
To obtain all the secret photos we unlock the ESU suit, the Empire State University.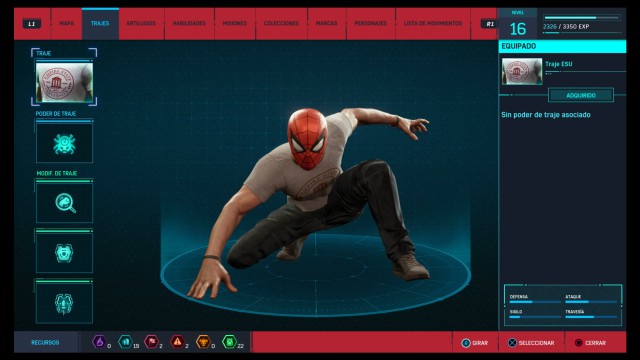 ESU Spider-Man suit