The so-called Humble Warhammer Bundle 2020 includes a multitude of works based on the saga. Depending on how much we pay, we will have more or less.
Humble Bundle has unveiled its new charity video game pack based on the popular Warhammer license. Enthusiasts of this name will be able to get a limited time with this batch of PC titles from which, depending on what range of financial contribution we choose, we will get more or less titles.
Thus, the so-called Humble Warhammer Bundle 2020 allows access with the minimum contribution (1 euro) to the following games: Warhammer 40,000: Dawn of War, Warhammer: End Times – Vermintide, Legacy of Dorn: Herald of Oblivion and Warhammer 40,000: Kill Team .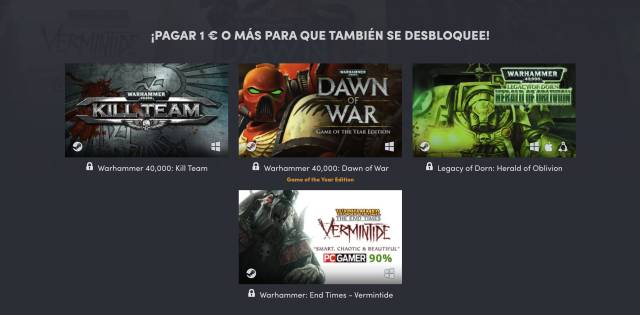 A lot worth $ 204 total
But that is not all, because if we pay above the current figure (it increases over time) of 6.25 euros, we will also take, apart from the above, Warhammer 40,000: Deathwatch – Enhanced Edition, Warhammer 40,000 : Dawn of War II, Battlefleet Gothic: Armada, and Warhammer 40,000: Sanctus Reach.
Those who hunger for more will be able to access even more deliveries; previous payment of 11.50 euros. In that case, in addition to all the titles mentioned, those who contribute an equal or greater amount will access Warhammer 40,000: Space Marine Collection, Warhammer 40,000: Dawn of War III and BLOOD BOWL 2 – LEGENDARY EDITION.
All can be claimed through Steam, since what we receive are exchangeable keys. While all of the listings work on Windows, only a few can run on the Mac operating system. The promotion is subject to approval of its terms of use and requires an active Humble Bundle account. Registration is free. For now, more than 19,469 packs have been sold, with a total value of $ 204.
When making a financial donation, we are supporting foundations such as Charity: Water, which ensure that access to water is available in undeveloped countries. Other organizations also support this action; This month Covenant House, thought to accommodate homeless people. Learn more about the Humble Bundle humanitarian effort here.