The Buster brothers receive a physical edition for PS4 and Switch of their latest video game and we take the opportunity to analyze the hybrid version.
The Pang franchise renewed its airs back in 2016 with Pang Adventures, an interesting proposal that took up what worked best about the brand and updated it to the current times. Our colleague Carlos Forcada told us about it in his Reviews and described it as "pure fanservice that we missed".
Now, with the physical launch of the Pang Adventures Buster Edition, we have put the claws to the Nintendo Switch version to tell you what we thought and if it brings any news with respect to the editions that we already knew.
Balls and marbles
If someone has lived in a bubble in the last thirty years, approximately, Pang is a video game in which we choose one of the two protagonists and we clean the screen – static – of bouncing balls using a weapon. Addictive like few others, the original recreational Mitchell Corporation paid off in the form of sequels, although the most notable of all was its most direct continuation; Super Pang.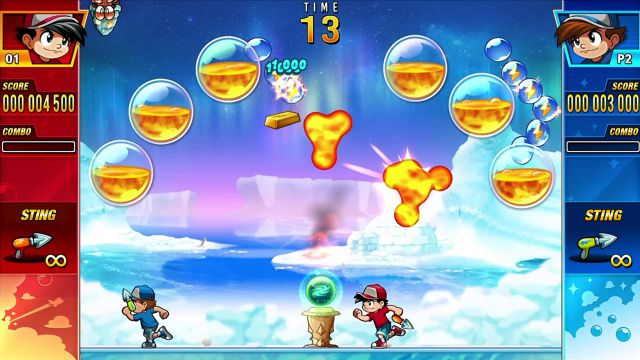 What we have in hand today is a new foray into the brand from DotEmu and Pastagames that respects the mechanics of the original quite a bit while adding its own cooking. Come on, what has been an update in all its sections.
This new reissue of Pang Adventures physically, we regret to say, comes with no more news than being able to touch the video game and its extras with your hands. That is, there is no contribution to what is playable content, so it remains as it was five years ago. The good part is that if you are more digital than physical, the video game still costs less than ten euros, which makes it an almost obligatory purchase for all video game lovers.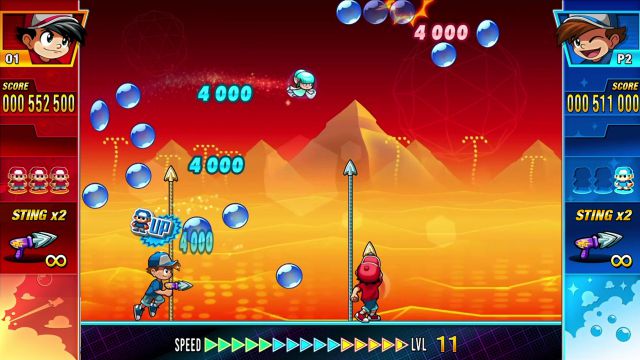 In it we will find three clearly differentiated game modes; History, Score Attack and the mythical Panic Mode. The first, as you may have already deduced, will make us go through the available phases at the same time that we are told a story. Nothing spectacular or groundbreaking, an alien invasion, but there it is. Score Attack is unlocked at the end of the campaign and offers us an alternative view of the story mode with slight variations. Panic Mode is the classic mode in which the player must overcome a number of 99 phases, each one more complicated than the previous one. You can learn a little more about these modes in the original Reviews by clicking here.
What makes Pang Adventures different is that it adds new features to the equation that were not available in previous titles. For example, in campaign mode we have to face each other from time to time with an end-of-world boss. It is not a panacea – and it becomes somewhat repetitive, all said – but it is already one more notch to add to the stock of novelties. On the other hand we have other variations of weapons, such as the new submachine gun or the flamethrower. Also new balls such as the surprise or those that make the effect of a time bomb. As the final icing there are scenarios where different elements affect the trajectory of the balls that, together with the new versions of the aforementioned and the news in weapons, makes it a new chapter in the saga to take into account.
So low
Technically this is a game with carefree graphics and clearly elaborated to please all kinds of audiences. Large characters and exaggerated gestures, elements on the screen that are also large and some wallpapers that can be seen … and that's it. A fairly discreet section due to the launch of the video game in multiple formats – including mobile devices – but it works correctly. With this data in hand you can expect exceptional performance on Nintendo Switch as it already did on other consoles.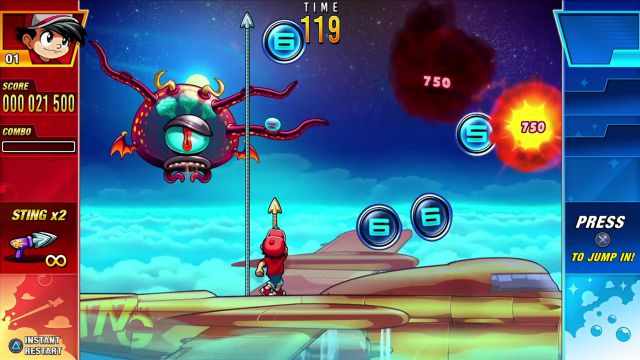 In terms of sound, we have a good number of musical themes with great quality but that remain somewhat behind the original melodies of previous chapters, as pointed out by our colleague Carlos Forcada in his Reviews. As in the graphic section, the sound complies without more, although at least it does not squeak.
Texts in Spanish complete a very interesting and inexpensive proposal recommended for everyone, whether they have enjoyed the old versions or not.
CONCLUSION
Pang Adventures is an update of the franchise that under its somewhat childish aspect hides a lot of characteristics that make it really interesting. To highlight not only the novelties mentioned in the Reviews – new weapons, balls or elements on the stage – but also their extreme difficulty in some moments and game modes. It also has the option to play with another friend on the same screen. A very interesting proposal at less than 10 euros.
THE BEST
Enough news to start again with a new Pang delivery.
Unbeatable price with very decent content.
WORST
Still no online multiplayer.
Fair in everything audiovisual.
Okay
It meets the expectations of what a good game is, has quality and does not have serious flaws, although it is missing elements that could have taken it to higher levels.