We tell you what the return to Nintendo Switch of one of the most beloved Super Mario sagas is looking like for now; we are loving it.
We are far from those installments of Paper Mario that amazed us, those that elevated this subset of the plumber to a status capable of feeling his own, with a unique idiosyncrasy that differentiates him perfectly from the main saga. Adventure, a sense of humor, experimentation, touches of role … Neither Nintendo 3DS nor Wii U knew how to hit the right bets, but Paper Mario: The Origami King has something that, for a multitude of reasons, invite us to think that we are facing something big: what we can talk about for now, we are loving it.
Paper Mario returns with force; the spirit of classic installments
A couple of months ago we did not know of its existence; Currently, in the middle of summer, it arrives without making too much noise, which aims to be one of the most important exclusive releases of the year for Nintendo Switch. We have little doubt about it, because this new iteration of the series led by Intelligent Systems has taken note of everything that puzzled players long ago, they have recovered elements of the brightest works and have bravely bet on a structure of very open, with high doses of exploration, added as always to an adventure full of stories and short stories where the ability to surprise is constant. No two worlds are the same.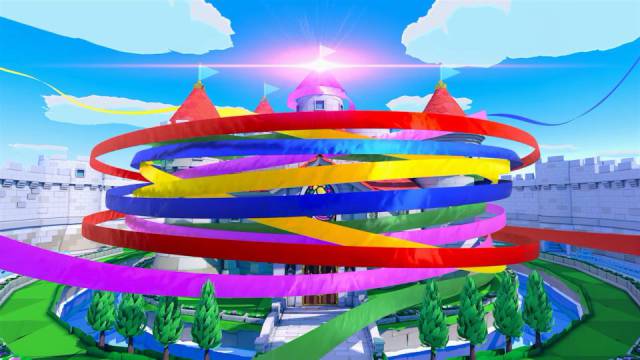 We have to finish all the streamers; each one represents a concrete world with its own zones and setting.
But let's start at the beginning, what's going on in Paper Mario: The Origami King? To no one's surprise, we are in a beautiful paper world where Mario will meet Olivia, his new partner, whose brother is a villain willing to do wrong and turn everything upside down. The so-called King Olly will transform Princess Peach into origami, tear off the Castle and shield it with very long paper streamers. Our mission? Break each and every one of those streamers and get Peach back. Let's do it.
Hammer in hand and with a good assortment of shoes, from the first moment the game will make a restrained exercise in explaining both the new game mechanics and the displacement and economy system, which will allow you to exchange coins for objects – which are destroyed with usage are not time-consuming, forcing them to be used sparingly — or access enhancements that directly affect Mario's progress as a character. There is no leveling up, it is not an RPG in use, but it does have a certain approach to the role that, as we warned you, notably approves its role. From the gradual increase in the maximum capacity of life through enhancers of time between turns, health, defense, attack … It all depends on those accessories. Let's go on to detail the combat system and its design, which are surely the two angular aspects of this new installment and what we are going to talk about in these final impressions.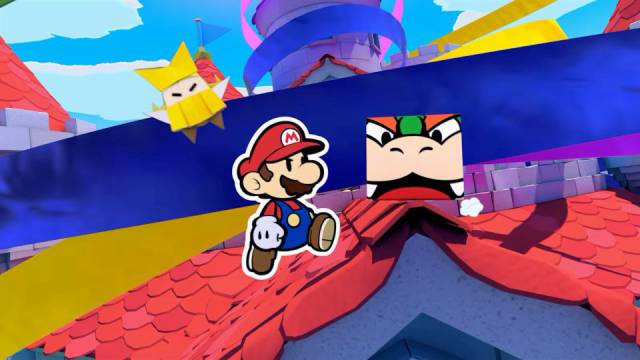 The amount of jokes, puns, and humor is unquantifiable.
Combat system: turn-based strategy and calculation of each movement
Although we will explain everything in a detailed way in the Reviews in a few days, today we can explain in broad strokes how the combats work – which are many, varied and constant – and why it seems to us one of the best systems in the entire series. As those of you who are rich in Paper Mario will know, each installment bets on something new; sometimes it turns out well and others not so much. This is one of the first, but it has nothing to do with facing a final boss than against the rest of the enemies.
When we roam the maps and find Goombas, Koopa, Shy Guy and other familiar faces, the fights will start with Mario in the center of the board. Around it, four dilated rings structured in boxes. Each ring can be moved from left to right or through the vertical axis, so that these circles will not move from one side to the other but from top to bottom, with all that this entails. As the enemies are scattered throughout these spaces, the task is none other than to align different opponents in the same row or in a square. If it is the first, we will attack with shoes one by one and to the rhythm.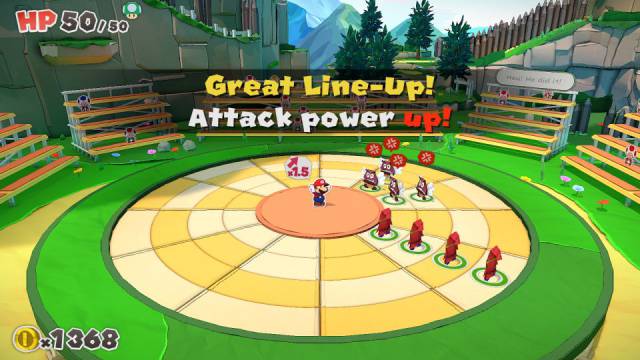 Up, down, left, right … Much more depth than it may seem. Difficulty in crescendo.
Hitting at the right time will inflict more damage. The same with the basic hammer, designed to clothe those who are in groups of four if they are contiguous to our position. Also, there is always a perfect, invisible line; However, if we manage to execute the exact sum of movements to align the totality in a single turn, we will do more damage thanks to a multiplier. The result? A system that does not exhaust, that does not feel repetitive and that is pleasantly satisfying to use.
Unlike in the fight against minor enemies, in the final bosses the tables are changed: you are outside and the boss is in the center. The objective is to trace a route without running out of time, choose which path Mario will travel on the arrows (we must start from an arrow) and, on the way, cross boxes with chests; from which essential objects can be released to activate abilities, find health, add one more movement in our attack, multiply the damage … A lot of very well executed options.
An absorbing world, full of secrets and with high doses of exploration
When it comes to stage design, Intelligent Systems has neglected linearity, one of the best news we could have. And no, we are not only referring to the open structure of the scenarios, but also to the effort to retrace our steps, go back to find objects that allow us to advance or go to another place full of puzzles and hidden elements. Again, several genres in one thanks to the use of paper confetti, which we automatically collect when passing near it and which has utility to reveal secrets, activate incomplete walls or structures … Just press a button to activate it. If we run out of confetti, we will have to destroy more enemies.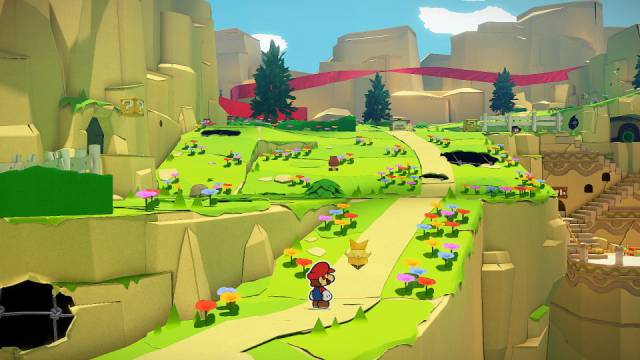 Explore, investigate, advance, go back, risk
So even though we would have liked Paper Mario: The Origami King to include leveling up numerically, the incentive to fight is there: it gives us money, confetti and, to make matters worse, it's satisfying. We did not delve into its soundtrack because it remains to be seen if it maintains the high level of the whole adventure, but for now there are two songs that do not get out of our minds; They are catchy, with a great variety of instruments and they are a great match for the fighting. Equal environmental issues, consistent with the world we are in and with the tempo that prints the specific moment of the game.
We have told you a lot about displacement, open levels and a combat system that we are sure you will like; Now, how is the rhythm of the games? Well, first of all, there are no phases per se, but different very large zoned worlds. We will start at Villa Toad, which acts as a backbone for reasons that we will explain in the Reviews. Each area has its own collectibles (we cannot tell you about them in this preview), but we can anticipate that if you want 100% you can spend all summer playing with ease. There are also secrets, apparently unreachable areas in sight. Being aware of this invites us to touch everything around us, to hit, to approach that corner of the back, is there something? That feeling that Luigi's Mansion 3 already transmitted last year returns here with a small parallel thanks to the confetti; saving the distances, obviously, because its use is different.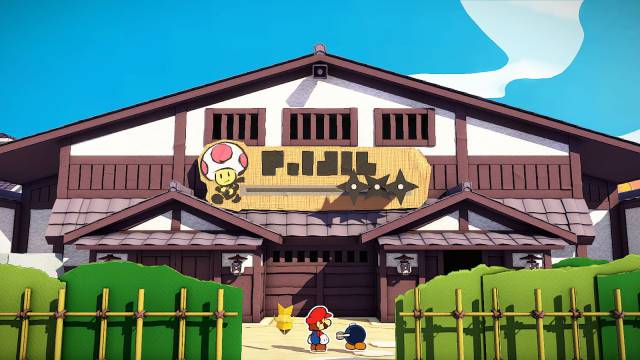 Don't get used to the idea of ​​what awaits you in there.
The positive is that each area (forests, valleys, parks, mountains, towers, roads …) is very different in design, aesthetics and progress. We think it would be a mistake to talk more about the account, so we invite you to stop watching trailers if you are convinced that you are going to get the game. Do not hesitate about our recommendation; Few times have we been so convinced in the Nintendo Switch catalog that the product at hand is worth it. Prepare for levels of all kinds, the most unexpected mini-games, bizarre situations, shameless extravagance, moments of self-awareness that will make us outline a smile and a sense of humor that leaves the location at the height of the best of the generation for Nintendo. Remember: "everything can be solved with a hammer." It is a comedy series and does not hide it.
We are loving it; aims to be one of the greats of the Nintendo Switch
In short: we are really enjoying Paper Mario: The Origami King. The game constantly unfolds new ideas, it is a constant feeling of reinvention, surprises and good work. It has corrected the weak points of the last two iterations and, at least for now, the pace has not dropped a single minute. A long game is coming, we warn, of those that can extend all a vacation; No news in the saga, everything is said. In short, an adventure that leads us to hope: this time, yes. We call you to our Reviews in FreeGameTips in a few days. Everything invites us to think that The Origami King is going to be one of the best in the entire series.