We know through the Microsoft Store that PES 2021 will be an update to PES 2020. The data would be renewed for the next season.
The Microsoft Store anticipates a content update for eFootball PES 2020. As we can see in the description, the title would receive the changes in the templates, licenses and leagues of the next season.
"Celebrate 25 years of PES with eFootball PES 2021 Season Update, available at a special anniversary price!" They explain on their profile. This product is stated to be "an updated edition of eFootball PES 2020 containing the latest player data and club squads". That is, the gameplay of last year's installment would be maintained but changing to the data of the 2021 season.
Among the collaborations, the permanence of four of the clubs that are part of the image of the game stands out: FC Barcelona, ​​FC Bayern München, Manchester United and Juventus. The transalpine are designated as "exclusive collaborator of PES", so it seems that the trend set in 2020 will continue, against the interests of EA Sports.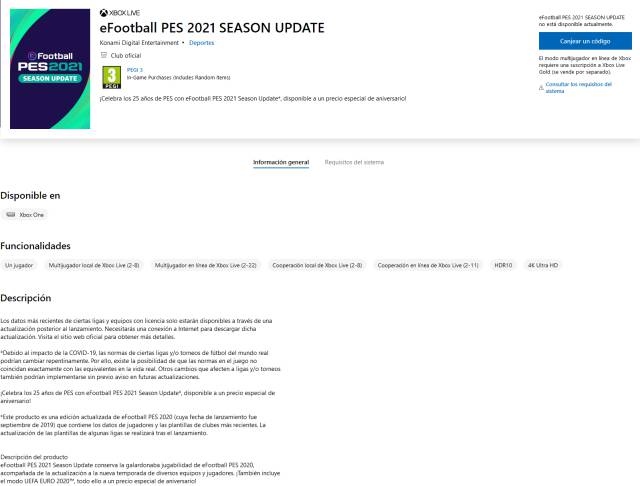 Source: Microsoft Store.
The team comments that due to the impact of COVID-19, some of the content or rules of the current competitions may not be launching, although they would arrive "without prior notice in future updates." During the 2021 campaign, the contents of UEFA EURO 2020, which will be held next year, will remain.
So far Konami has not spoken to the leak, so we hope that in the coming weeks we will know the roadmap of the title for the next 12 months.
It was recently confirmed that PES 2021 would lose two sensitive licenses for Serie A fans. Inter Milan and AC Milan will not be part of the real team roster. In the press release, the company claimed to "continue to strengthen" existing agreements and "to enter into new relationships" to provide "the best eFootball experience". At the moment, no additions have been announced to the rest of the collaborating clubs.