Sony starts the new 'Savings for July' promotion so we don't stop playing throughout the summer. We review the best offers.
Sony Interactive Entertianment has launched a new promotion through the PS Store for which downgrades more than 70 major PS4 games (most AAA productions) for a limited time. The so-called 'July Savings' includes titles of all kinds; from exclusives to the latest launches of prestigious sagas. Let's take a look at the selection we have chosen, although the full breakdown of offers can be found here.
Resident Evil 7, MediEvil, Crash Bandicoot, Dark Souls and more
First, the dates: the discounts will be available until July 23 at 00:59 (CEST). Any PS4 user who has not yet completed Marvel's Spider-Man has an outstanding debt; especially when we have Marvel's Spider-Man: Miles Morales at the end of the year on PS5. Peter Parker's adventure is half price, while God of War, surely one of the best video games of the generation, is for 14.99 euros.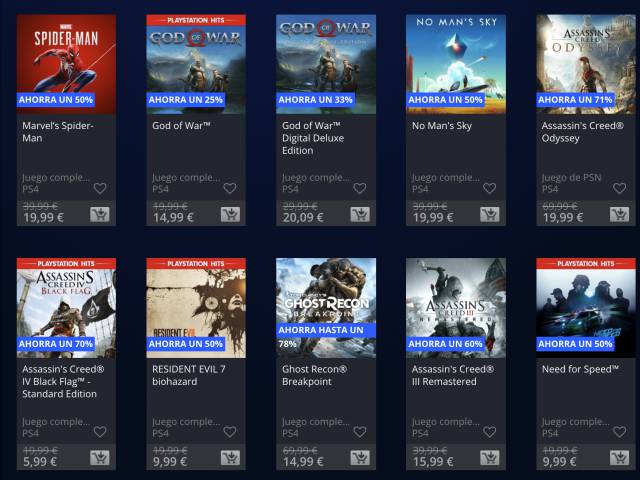 The latest installment in Ubisoft's star saga, Assassin's Creed Odyssey, is available for $ 19.99. Those who are marsupial enthusiasts, it should be noted that we have Crash Bandicoot: N. Sane Trilogy + Crash Team Racing: Nitro-Fueled at half price. In both cases, coincidence or not serve as a preview of their next new deliveries this year.
Whoever wants to suffer from the cute can play Dark Souls 3 with a 75% discount, while the most nostalgic have MediEvil Remake available at half price. We are nearing the end with the role of Ni No Kuni II, whose magic is temporarily 60% off. Finally, we have Far Cry 3 Classic Edition for 2.99 euros (90% discount), Assassin's Creed Origins with 81% discount, and the phenomenal Resident Evil 7 for 9.99 euros.
Marvel's Spider-Man for 19.99 euros (50% discount)
God of War for 14.99 euros (25% discount)
Assassin's Creed Odyssey for € 19.99 (71% off)
Resident Evil 7 for 9.99 euros (50% discount)
Crash Bandicoot Lot: N. Sane Trilogy + CTR Nitro-Fueled for 34.99 euros (50% discount)
Assassin's Creed Origins for 14.99 euros (81% discount)
MediEvil Remake for 14.99 euros (50% discount)
Far Cry 3 Classic Edition for 2.99 euros (90% discount)
Dark Souls 3 for 17.49 euros (75% discount)
Ni No Kuni II for 19.99 euros (60% discount)