Although the generation is nearing its end, Sony has an offer for those who want to enjoy the PS4 catalog.
Almost seven years have passed since PlayStation 4 went on sale. The machine faces its final months before the arrival of its successor, which will take place in late 2020. Meanwhile, Sony has announced a summer offer for those who want to get hold of the company's current-generation console. This is the possibility of financing the purchase of the product without interest (TIN 0%. T.A.E 0%), as the Japanese announce on the official PlayStation blog. Thus, it will be possible to buy the 500 GB model or even the 1 TB or PS4 Pro model for 12.5 euros per month (as long as the bank approves the operation).
According to the bases of the offer, the purchase can be completed in a period of up to 24 months. However, this possibility will only be available for a limited time, since the client will only be able to take advantage of the offer if they do so before August 31, 2020. Where can you get it? Sony has worked with some stores, including Carrefour, GAME, Amazon, xtralife, El Corte Inglés or Fnac.
Throughout the life of PlayStation 4, Sony's in-house studios have created gaming experiences like Uncharted 4: The Thief's End, The Last of Us Part 2, Gran Turismo Sport, God of War, Horizon Zero Dawn, or Days Gone. Among other console exclusives, Final Fantasy VII Remake and Death Stranding have also been featured in recent months.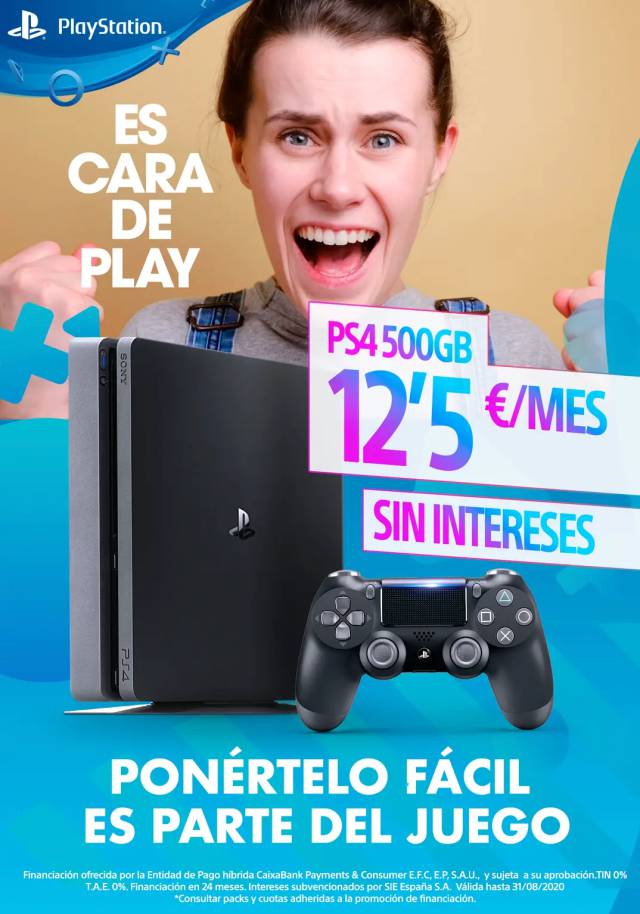 PlayStation 5, a backward compatible console
Much has been said about the backward compatibility of PlayStation 5 with the previous console, but the Japanese company has ensured that it will work thousands of video games. It is still unknown whether it will be possible to boot products from previous generations as in the case of Xbox Series X, but there are still many secrets to be clarified.
In any case, Sony's current console still has one last bullet left in the chamber (or a katana, rather). Ghost of Tsushima, the new production of Sucker Punch, will go on sale on July 17.
Source | PlayStation Blog