Geoff Keighley takes a look at the PlayStation 5 controller and explains some of its functionalities and main features.
First look at the PlayStation 5 controller. Geoff Keighley, a journalist known for organizing The Game Awards and the recent Summer Game Fest, has shown the DualSense, as he had promised the previous day. Keighley has shown the controller, compared it to the DualShock 4, and then explained her feelings. For starters, this new unit is somewhat heavier than the PlayStation 4 controller, although it admits that the difference is not substantial. In addition to the innovations, it considers that it is better built than its predecessor.
Transmitting the tactile sensations to an audience that has not had the opportunity to experiment with technology is relatively complicated. All in all, Keighley has highlighted the different textures that one perceives when holding the DualSense in his hands. You can feel and hear the sand through the remote. And it is that it incorporates a loudspeaker that according to the journalist has a greater range and is heard better than ever. As if that were not enough, a functionality present in Nintendo DS returns, that of blowing through the speaker to move objects in the game.
He then interviewed Eric Lempel, vice president of marketing for PlayStation. The manager has underlined his commitment to the generations model, while communicating that "PlayStation 4 still has a lot of life ahead of it." Lempel has denied that the reserves were to be opened imminently, so it will be Sony itself that announces it in due course. He has not denied possible new colors for the DualSense, but has acknowledged that right now they only think about the unit that they will sell together with PlayStation 5.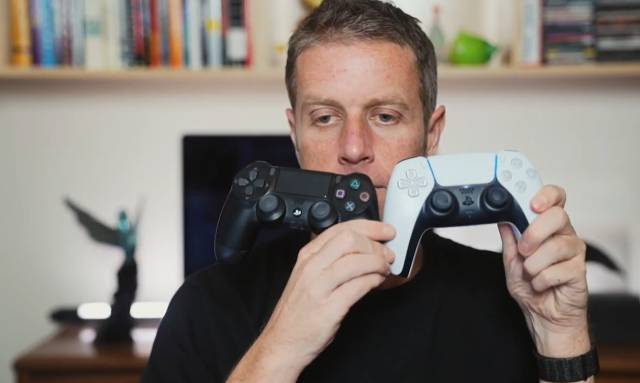 DualShock 4 VS DualSense
PS5, increased production and other issues
PlayStation 5 will go on sale in late 2020, but a specific date has not yet been confirmed. The price is also unknown, one of the best kept secrets of this new generation of consoles. Still, Amazon Spain has already added a specific category for the Sony machine, which includes the console and all its accessories.
Given the prospect of a possible shortage of units, Sony has decided to increase production, which was initially projected at 6 million units. Now, the Japanese will expand it to 10 million, according to the Bloomberg newspaper. However, it does not appear that this amount will be ready for Christmas, as the units will be distributed in a staggered manner. The intention is that by September 2020 there will be a production of 5 million, while they will try to get the rest of the units ready before the end of the year.