Sony has confirmed during the PlayStation Showcase the official release date and price of both PS5 and PS5 All Digital. All the details.
Sony Interactive Entertainment has confirmed during the PlayStation Showcase on September 16 that PS5 will go on sale this November 19 in Spain and the rest of Europe at a price of 499 euros for the model with a disc player and 399 euros for PlayStation 5 All Digital; November 12 in Japan, the United States and other North American territories.
Reservations are already open in Spain, as we tell you in this article. Also, we already know what the console's launch catalog is in regards to PlayStation Studios video games. In the case of controls, the DualSense will be sold separately for 69.99 euros.
Demon's Souls for 79.99 euros
Marvel's Spider-Man: Miles Morales for 59.99 euros / Ultimate edition for 79.99 euros
Sackboy: A Big Adventure for 69.99 euros
Destruction All Stars for 79.99 euros
Astro's Playroom for 79.99 euros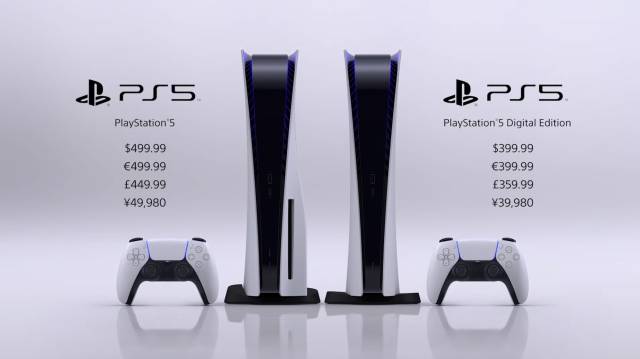 They had already warned on their social networks: PlayStation 5 was going to be revealed on the platform's official blog, something that the developers have received with praise. After Microsoft published the technical specifications of Xbox Series X, the next-generation console from Redmond, Sony moves the tab and explains what its next machine will be like. We knew that the system would mount an 8-core AMD Ryzen Zen2 CPU, as well as an SSD hard drive. It was also explained that his controller would have haptic capabilities, so that touch and sensations will change based on actions. Now PS5 architect Mark Cerny steps in to reveal many of the console's secrets.
The information, advanced by Eurogamer as exclusive, offers all the technical details of the console. The machine will incorporate 10.28 TFLOps, 16 GB of RAM and an SSD, which will provide faster loading times.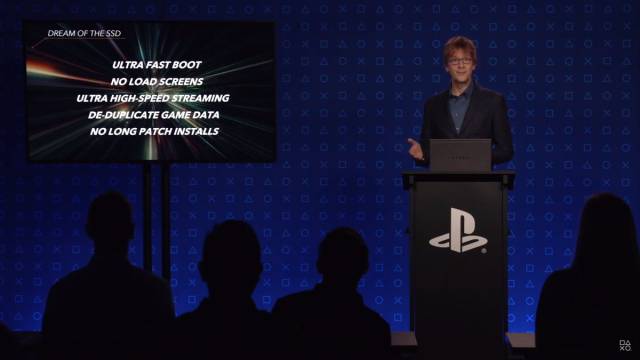 Mark Cerny during the presentation of PS5.
It will be this Thursday, June 11 from 22:00 (you can check the time in your country here) when Sony presents the first official PlayStation 5 games. An event lasting just over an hour where you will know part of the catalog launch of the console as well as a few surprises. The company has ensured that the event can be followed live in 1080p resolution and at 30 FPS; when done, "most" trailers in 4K resolution via YouTube. From FreeGameTips, we will broadcast everything live from 9:00 p.m. on our YouTube channel.
Technical specifications
CPU: 8-core Zen 2 at 3.5GHz (variable frequency)
GPU 10.28 TFLOPs, 36 CUs at 2.23GHz (variable frequency)
Custom RDNA 2 GPU Architecture
Memory / Interface 16GB GDDR6 / 256-bit
Memory Bandwidth 448GB / s
825GB SSD custom storage
IO 5.5GB / s (Pure), 8-9GB / s average (Compressed)
Storage Expansion Slot NVMe SSD
External storage USB HDD compatibility
4K UHD Blu-ray Optical Reader
Power and efficiency: the PS5 graphics core
It has become clear that PlayStation 5 will be a powerful machine, very powerful, but also efficient and designed to optimize resources depending on the existing demand for that power in each video game. Mark Cerny has acknowledged that the CPU and GPU will not always work at those 3.5GHz and 2.23GHz, respectively. "When the worst possible case occurs, it will run at a lower clock speed. But not much lower, to reduce consumption by 10% you only need a reduction of around 2% in the frequency, so I calculate that the reduction will be quite low, "he explains. It is confirmed again that ray tracing will work accelerated by the hardware itself, not the software. That real-time ray tracing will be ensured thanks to the so-called Intersection Engine, which "is based on the same strategy as AMD for its future PC GPUs," so the PS5 hardware is, in effect, close to that of a PC. upper mid-range. "I've already seen a PlayStation 5 game that successfully uses ray-traced reflections in complex animated scenes, at a modest cost," without sacrificing performance on the console.
3D sound: this is how we will listen to the games on PS5
PlayStation 5 wants to make a difference also in sound work. 3D Sound is something that was announced a long time ago, but obviously we do not know how it will materialize until the console is in our homes. The Cerny team is taking this into account and will make the console's audio unit use just a fraction of a Jaguar core to deliver 7.1 surround sound. The new Tempest Engine on PlayStation 5 will be able to support hundreds of sound sources at a higher quality.
According to the explanation, that Tempest Engine is actually a modified AMD GPU computing unit – it has caches removed to use DMA transfers only. In summary and in Spanish: a revolution for sound on consoles, especially if we play with headphones thanks to that new surround
The importance of SSD memory on PlayStation 5; 825 GB
Having seen the SoC and the key features of the PlayStation 5, Cerny has explained two aspects that will make the difference in the next generation of Sony consoles both in speed and efficiency: the SSD memory. According to estimates by the British media, 2 GB of data can now be loaded in a quarter of a second; in this way, the 16 GB of RAM memory of PlayStation 5 can be loaded in just two seconds. As he explains: "As video game creators we went from having to distract the player during the journey – like Spider-Man's subway trips – to being so fast that we may have to slow down the transition a bit."
Let's talk about performance without getting lost in data. PS5 flash drives will link SSD modules through a twelve channel interface with 5.5GB / s throughput with a total of 825GB of space. It is a rare number (different from 512 GB or 1 TB, as it will have in the latter case Xbox Series X), but according to Sony it is the optimal figure. "We can look through the NAND flash components available on the market and build something with an optimal performance / price ratio. Someone who makes an M.2 unit does not have that much freedom, and it would be difficult to sell it if it did not have those standard sizes, "they argue. This will serve to adjust the price to what the Japanese publisher estimates right now