A graphics card that seeks to shake the GeForce RTX 3080
On October 28, Lisa Su, CEO of AMD raised her hand with the 7 nanometer RX 6000 graphics cards, which despite having the ability to execute Ray Tracing, integrate the Big Navi 2 architecture that is capable of providing: Variable Rate Shading, Mesh Shaders, Sampler Feedback, and DirectStore API support.
During the last weeks we had the opportunity to test the Radeon RX 6800 XT with the following technical specifications.
72 compute units with the same number of Ray Accelerators
2015 Mhz Clock Frequency with 2250 Mhz Boost
288 GP / s maximum pixel fill rate
Maximum texture fill speed up to 648 GT / s
41.47 TFLOPS maximum average precision compute performance
20.74 TFLOPS maximum single precision computing performance
4608 streaming processors
288 texture units
128 MB of Infinite Cache
16GB GDDR6 memory with 16Gbps speed
512GB / s maximum memory bandwidth
256-bit memory interface
HDMI 2.1 port, 2 Display Port 1.4. and USB-C for displays and power supply.
300w consumption
For this Reviews we use the following configuration
CPU: Ryzen 9 5900X
Motherboard: MSI MPG X570 Gaming Edge Wi-Fi
Ram: 32 GB DDR4 HyperX RGB at 3200 Mhz
SSD: M.2 with NVMe PCIe 4.0 FireCuda 510 1TB with speed of 5000/4000 MB / s
Masterliquid ML360R RGB Cooler Master Cooling System
Sony Z8H 8K TV
With this configuration, we seek to have the definitive experience that they recommended in the presentation of this linear of GPUs with 4K resolutions and we even ventured to test a title in 8K.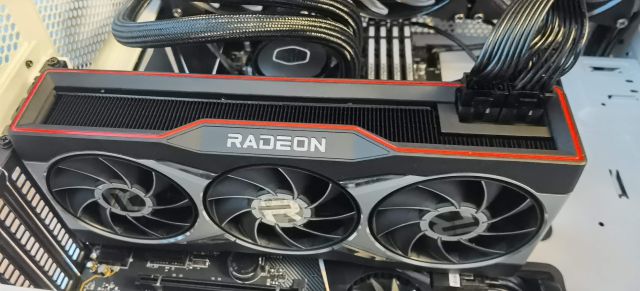 The selected parameters consisted of running all titles in 4K with Ray Tracing when it was available, when the card gave us less than 30 FPS, we were lowering the quality of the ray tracing effects until we found a playable configuration. However, we also ran the same game without these active effects to see how much we gained in FPS. We first evaluate the games with an integrated benchmark, to later run the tests with those that did not have this section at the same levels and conditions that we use with the GeForce RTX 3080, obtaining the following results.
Assassin's Creed Odyssey achieved 69 average FPS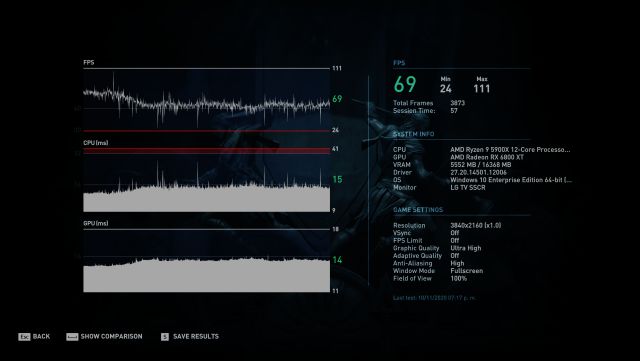 Borderlands 3 got 66 average FPS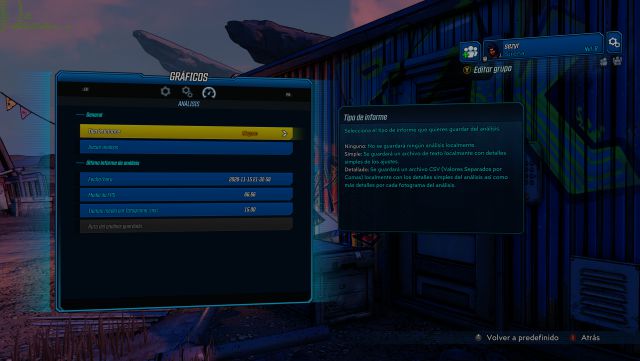 Forza Horizon 4 scored 89 average FPS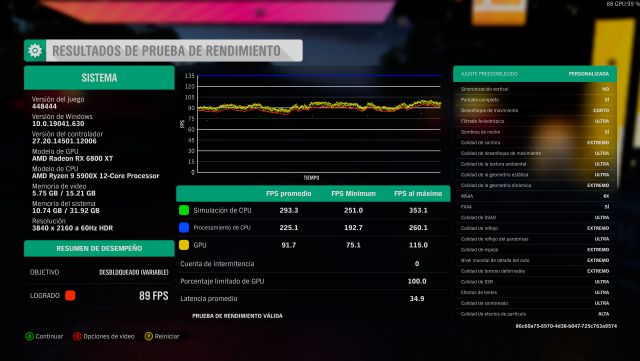 Horizon Zero Dawn: Complete Edition scored 69 average FPS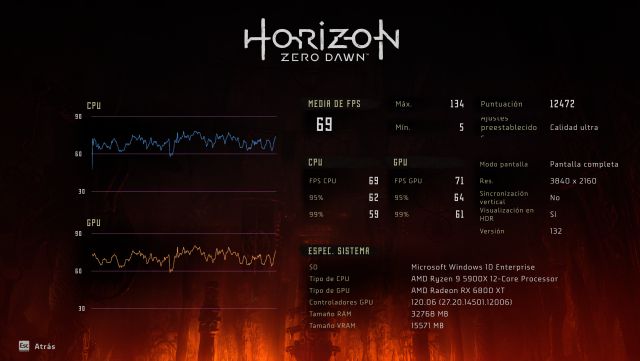 Shadow of the Tomb Raider with RT got 30 average FPS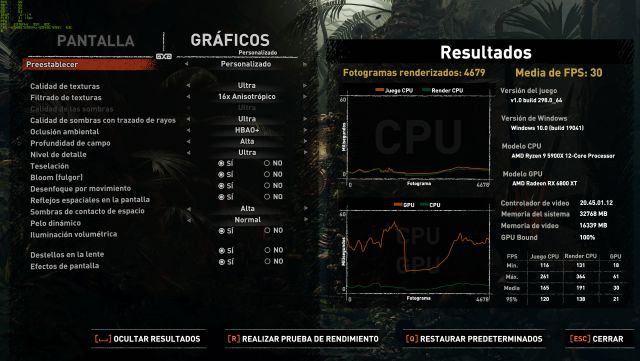 Shadow of the Tomb Raider without RT got 49 average FPS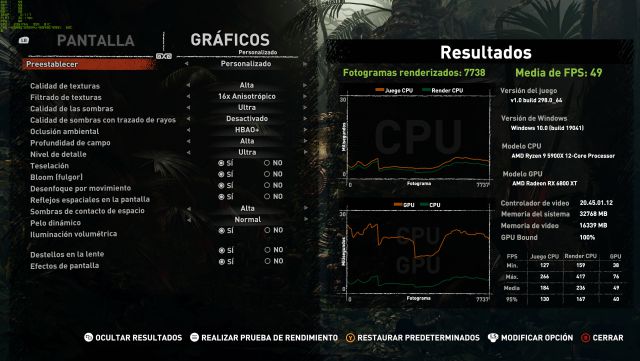 Watch Dogs: Legion with RT got 29 average FPS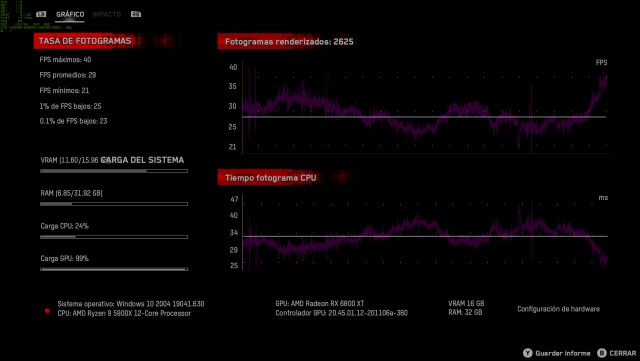 The games we evaluated without a benchmark were:
Apex legends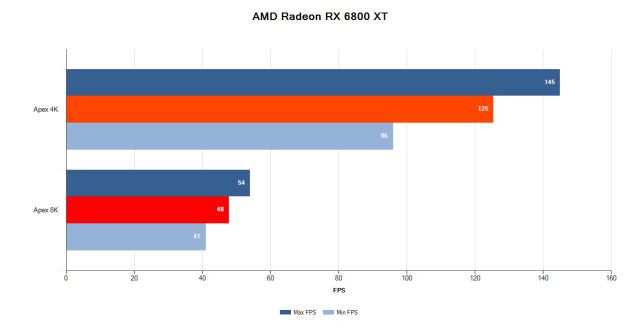 Battlefield v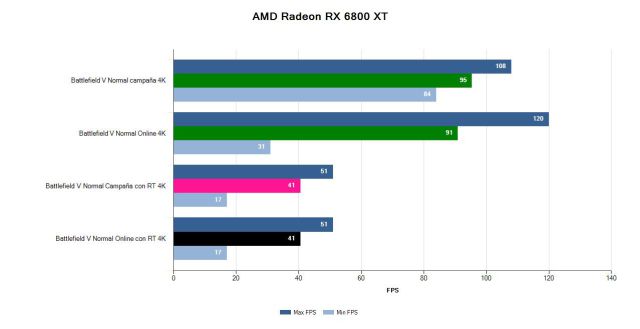 Call of Duty: Black Ops Cold War and Control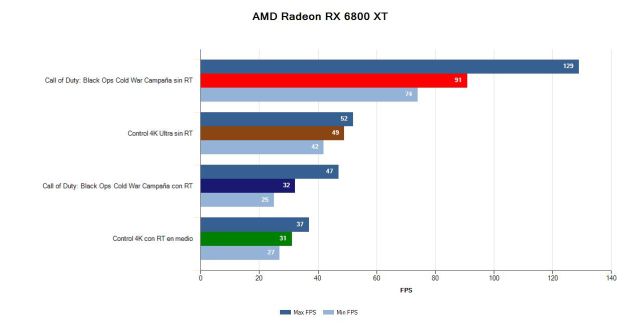 Devil May Cry 5, Death Stranding, Godfall, Crysis Remastered and GTA 5.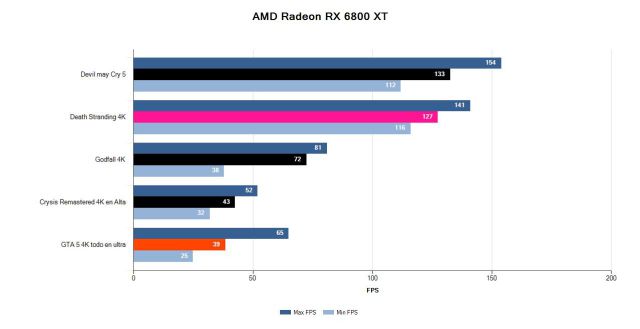 Plants vs Zombies: Battle for Neighborville, Rocket Arena, The Dark Pictures Anthology: Little Hope, Mirror's Edge Catalyst and Star Wars Jedi: Fallen Order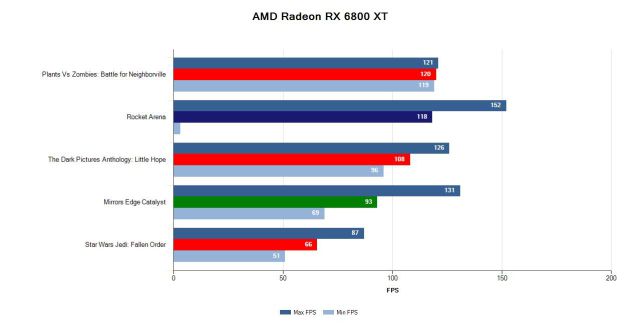 Star Wars: Squadrons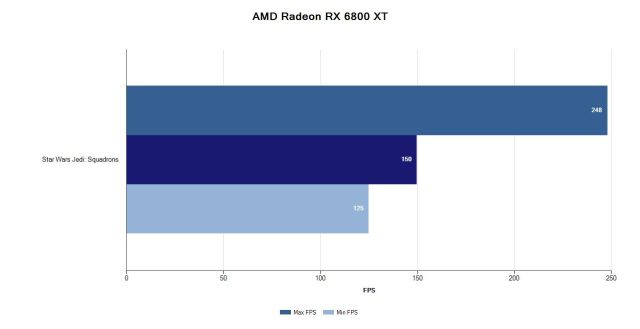 It is important to note that the RX 6800 XT integrates two new features, the Rage Mode, a kind of simplified overclocking through software and the AMD Smart Access Memory, a function that will only be available for those who have a Ryzen 5000 Series processor and a motherboard 500 series, this will give additional performance in games.
It also has a strong focus on reducing latency through Freesync and AMD Radeon boost.
It should be emphasized that this GPU despite having the ability to execute Ray Tracing, in all cases of comparable games, it is below the RTX 3080 in terms of FPS, this undoubtedly obeys that they are just integrating these technologies and NVIDIA carries already two years ahead with optimizations, especially the DLSS that in this section really makes a difference.
In games where the comparison is frontal and without ray tracing, the competition is more closed and in some cases it becomes superior, it must also be taken into account that this Reviews was made with the drivers provided by AMD itself, therefore that we can expect performance improvement as more updates arrive.
CONCLUSION
AMD has been two years late in implementing Ray Tracing, but it does so by showing its full power in 4K resolutions with games without this effect. Later, through updates, the competition will undoubtedly be tighter, but in the interim, it will be necessary to go the painful path that Nvidia has to give 4K with ray tracing at more than 60 FPS.
THE BEST
HDMI 2.1
Ray tracing
On par with the RTX 3080 in 4K games without RT
Better performance per watt
WORST
Lack of optimizations to implement RT correctly
Rating: 9