Video play culture builds magical realism in the epic of a hero fighting for love.
Once upon a time there was a boy who had discovered the girl of his dreams in the most literal sense of the term. They both loved each other, but their story would not be easy: to be together, the young man had to defeat his lady's seven evil ex-boyfriends. This is the story of Scott Pilgrim, protagonist of Bryan Lee O'Malley's graphic novel of the same name. This work had its own adaptation in the cinema: Scott Pilgrim against the world. A story so steeped in video-play culture, and whose development resembles the narrative of a fighting game, should also have its own version in digital entertainment. On January 14, 2021, Scott Pilgrim vs The World: The Game Complete Edition arrives, with three special physical editions. Today in FreeGameTips we talk about a hero moved by love whose epic goes beyond the classic "the hero always stays with the girl".
Fighting games as a teacher
If we take a look at the classic beat'em up, the topic of the damsel in distress is more than present: Double Dragon, Final Fight, The Revenge of Shinobi … In them, our hero beat his way through hordes of enemies to rescue a girl who used to be his girlfriend. Of course, there have been variations that have challenged this convention: in Streets of Rage 2 we go to the rescue of Adam Hunter and in River City Girls it is they who are going to save their respective boyfriends.
Scott Pilgrim's narrative brings together two fantasies: the hero who defeats his rivals and the boy with few social skills who ends up conquering a beautiful and mysterious young woman. Scott is far from a winner: unemployed, financially distressed, socially awkward. His weak constitution does not correspond to the common image of the muscular protagonists of fighting games. And yet, Scott Pilgrim manages to defeat the seven powerful ex-boyfriends of his beloved Ramona Flowers and has his happy ending next to his love.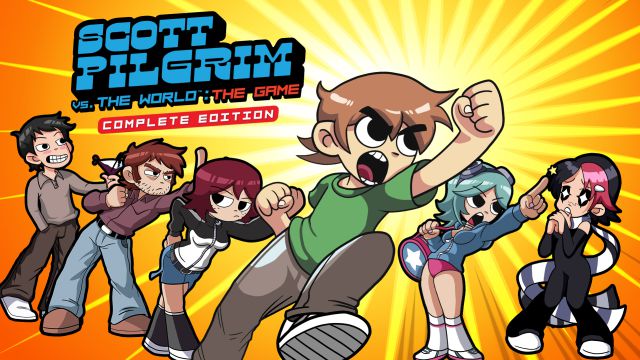 Scott Pilgrim VS The World: The Game – Complete Edition Image
Both the comic and the film move in a fantastic realism that brings together Scott's and everyday life and incorporates fantastic elements that come from American video, manga and comic culture. In the film, we observe onomatopoeias on the screen, as if the young man were inside a comic. The intentional over-acting of the actors evokes the expressiveness of animated characters.
On NPR, they delve into how Bryan O'Malley was inspired by his financial difficulties as a comic book artist and musician. Like Scott, he lived in Canada in a humble home with a gay roommate, who inspired the character of Wallace. But his own biographical experience was not the only ingredient he used to create Pilgrim: "I had the feeling that if I ever got into a fight, I would have the ability to fight back, based on the games I've played Street Fighter for so many. years of my life. It's like he really learned martial arts. "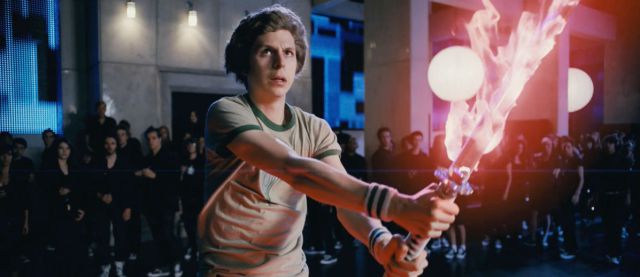 Scott Pilgrim, played by Michael Cera, faces off with Gideon, Ramona Flowers' older ex
The author, who also mentions Mortal Kombat as one of his favorite titles, transmits through Scott and Ramona the fantasy of being able to execute combos and special movements to perfection, learned through virtual training. However, Scott Pilgrim's fights not only serve an aesthetic or argumentative purpose, but are the allegory of overcoming difficulties: "These physical fights are, more or less, to make literal the metaphorical and emotional things that we go through in a relationship. "Not only do Scott and Ramona face a series of villains, but together they overcome the trauma of her past and his insecurities.
Video culture as symbolism
Scott Pilgrim's clumsiness also has its origin in the manga, as O'Malley recounted on Anime News Network: "Scott Pilgrim is inspired a bit by shonen, and the protagonist of traditional shonen is more or less like this: goofy and stubborn. And I discovered how fun and easy it is to write characters that are very silly (laughs) ". At ComicCon 2017, the author explains how Ranma ½ inspired his work: "I was a huge anime fan from a young age, and some of my favorite artists today are Japanese, like Osamu Tezuka or Takahashi Rumiko. When I discovered Ranma ½, by Takahashi Rumiko, I was probably 17 years old. When I started creating Scott Pilgrim, I wanted to do something similar to Takahashi's work, transmit in Canada those feelings that Ranma ½ transmits ". Ranma and Scott Pilgrim have many points in common, among which the balance between epic fights and sentimental dilemmas stands out.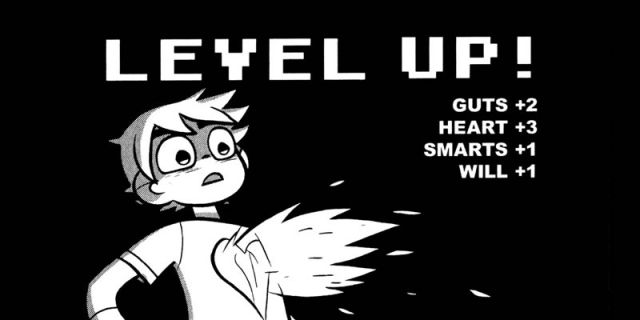 Scott Pilgrim levels up (or rather mature).
Scott Pilgrim is also fond of video games. As we have mentioned previously, the video-play culture serves both to draw the manners and the magical realism through which its history is told. Both in the movie and in the comic we see him play video games: he frequents an arcade with Knives Chau, and he is also a regular at Sonic & Knuckles or Monster Hunter Freedom, among other titles. Likewise, Scott himself sees situations in his life presented as moments of a video game. Before his encounter with Envy Adams in Scott Pilgrim & Infinite Sadness, he sees a save point similar to the ones in Final Fantasy VII. And, of course, we cannot ignore the structure of the fights between Scott and his enemies: after each fight, the rival fades into pixels and leaves behind a number of coins. The ups and downs of character level, with their corresponding modification of attributes as value, represent their personal growth. Also, he receives new weapons when he discovers the power of love or self-respect.
Critic Samuel Loveland discusses the symbolism in Scott Pilgrim: "When someone gets into a new relationship and meets that person's ex, they are faced with that story. Not literally, but very authentic. That person must put themselves in front of their courage and face the idea that the ex can be better than them. Likewise, throughout the comic we observe more symbolist elements: the chip that Ramona wears on the back of her neck is the representation of the emotional dependence that ties her to Gideon, the former abuser who seeks to control her life and prevent her from being happy.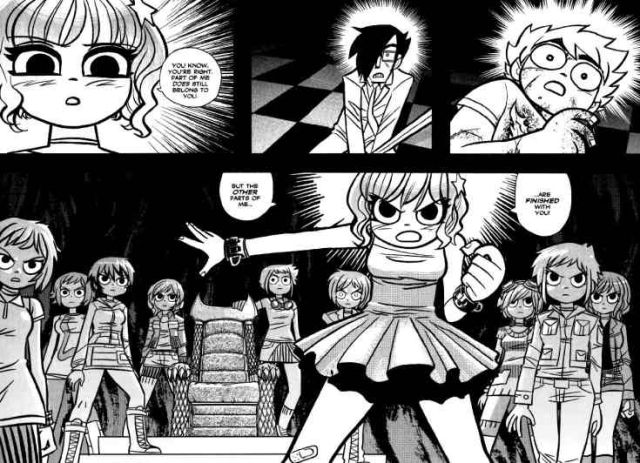 Ramona Flowers rebels against Gideon.
The real lesson from Scott Pilgrim
Although Scott Pilgrim's work has been criticized for its female portrayal, there is a valuable lesson in love and maturity that lies behind the epic of defeating exes. The message is not the superficial "the hero gets the girl"; Scott learns to assume emotional responsibilities, while Ramona manages to overcome the emotional dependence that restricts her freedom and happiness.
Both the comic and the film start with a Scott who is starting to date a 17-year-old girl named Knives Chau, whom he is using to overcome his breakup with Envy Adams, the young man's first great love. Later, when Pilgrim meets Ramona, he becomes entangled in a poorly managed love triangle and when he leaves Knives he does so without any kind of contemplation or honesty. Of course, the consequences of Scott's irresponsibility end up taking their toll during his final battle with Gideon and lead him to die. After reliving with an extra life, Scott makes better use of his second chance: he apologizes to his musical companions and reconciles with his former loves.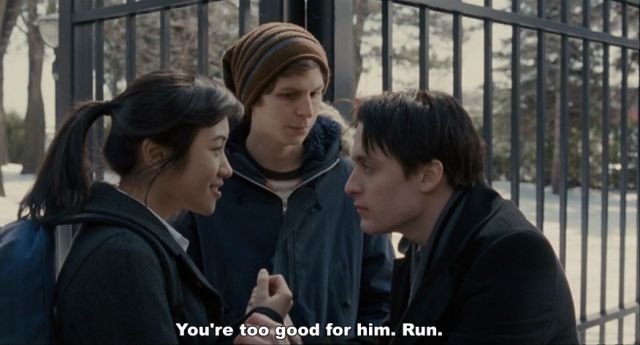 In the movie, Wallace warns Knives Chau, half jokingly, half seriously.
Thus, Loveland describes Scott Pilgrim's true message: "No one should go out with another person because it suits them at the time, or to avoid being alone. It's just the trap Scott falls into when he starts dating Knives; a very common trap for those who, with a broken heart, flee into the arms of another person, which is the beginning of a relationship that they know will not go anywhere. We call it a 'patch' and it hurts others. Normally, the person who uses another as a patch is not aware of what he is doing, since he acts from instinct and the fear of being alone ".
From comic to video game
Scott Pilgrim's arrival in digital entertainment was a dream come true and an almost mandatory adaptation considering the nature of O'Malley's work. The creator had already rejected a proposal by Telltale Games, as he admitted on his Twitter account: "Telltale wanted to do Scott Pilgrim, but I told them no. I don't think of it as an adventure game, with all due respect to the studio ".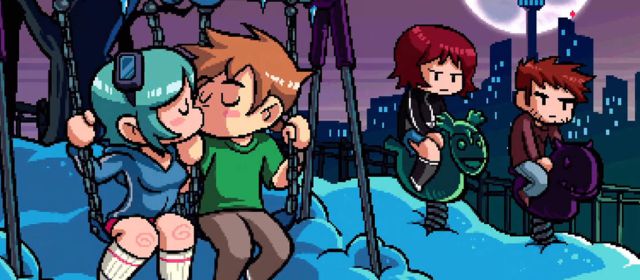 From left to right: Ramona Flowers, Scott Pilgrim, Kim Pines and Stephen Stills, the four protagonists of the game.
Without doubt, the narrative adventure may not be the most suitable format for the hero in love. Of course, the love story between Scott and Ramona has a lot to do with decisions, mistakes and consequences, but the path that both travel is not narrated through dialogue options, but through punches, kicks and special blows. Ubisoft and Universal Interactive chose the ideal formula for a Scott Pilgrim video game: beat'em up.
Bill Kispert, Managing Director and Vice President of Universal Interactive, told IGN of the enthusiasm the team had for the project: "The entire team in Universal's video games division is hooked on Scott Pilgrim from the first reading of the graphic novel and the movie script". In Game Informer, we also read how Bryan O'Malley was involved in the video play adaptation of his work, for which he contributed sketches that would serve the design of characters and scenes within the game. Likewise, on his Tumblr we can see part of his work, in which the movements of the playable characters and final bosses are detailed.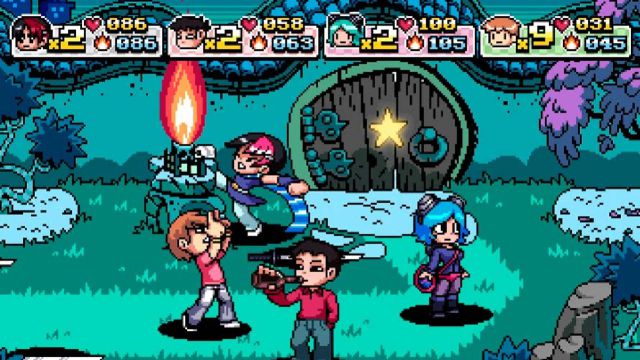 Image from Scott Pilgrim VS The World: The Game
The Scott Pilgrim VS The World: The Game story diverged a bit from O'Malley's original premise in favor of creating an enjoyable beat'em up. Instead of focusing on Scott as the sole protagonist, we could choose both him and Ramona and other characters from the comic: Kim Pine, Stephen Stills and – through DLCs – Knives Chau or Wallace. Each one with their own characteristics and movements, they launched into the street journey to defeat the evil ex-boyfriends of Ramona Flowers, supported by their corresponding legion of henchmen.
After its release for PS3 and Xbox 360, Scott Pilgrim has not appeared on the scene until now. However, the news of its next reissue has cheered so many lovers of the graphic novel, film and retro-inspired video games. CBR fondly recalls the adaptation of O'Malley's play: "The result is a game that looks like the lost arcade version of a Scott Pilgrim beat'em up that may have been released in the 1990s. It managed to transcend the mercenary quality of many licensed games. It came at the perfect time for comic book fans, as the latest volume was released the month before the film's release and the video play adaptation. Its retro aesthetic and its solid gameplay made it very accessible to audiences who were unfamiliar with comics and movies ".
In this new generation, we will once again experience the epic and romantic journey of Scott Pilgrim and Ramona Flowers. Once again, the power of love will prevail against evil ex-partners and the enemies that dwell in our hearts.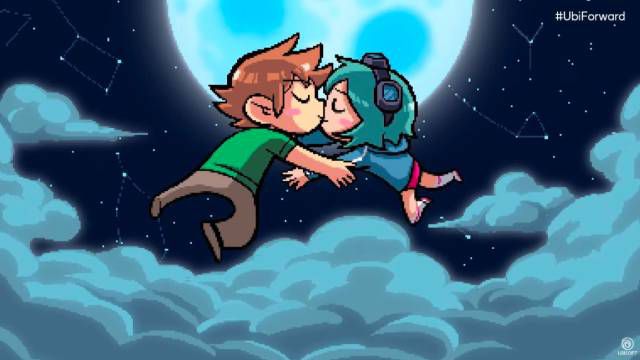 Scott and Ramona kiss among the stars.