The galactic saga returns to virtual reality. Months ago, Lucasfilm announced that he was working on Star Wars: Tales from the Galaxy's Edge, a virtual reality project developed in collaboration with Oculus Studios. The title will be tied to two of the company's theme parks, Disney Land Resort in California and Walt Disney World in Florida. Lucasfilm's immersive reality studio ILMxLAB has just released a 'behind the scenes' trailer, in which the characters and some plot details are revealed.
First confirmed characters and actors
Actor Bobby Mynihan (Saturday Night Live, Star Wars Resistance) will play Seezelslak, a waiter who will be very important to the plot and who loves to tell stories. "Perhaps being alone and not having many clients has affected him a little," Mynihan explains. According to Alyssa Finley, senior producer, Seezelslak will tell stories that will introduce us to the park. As you tell your gossip, players will experience it in virtual reality. Anyway, not all the characters will be so nice.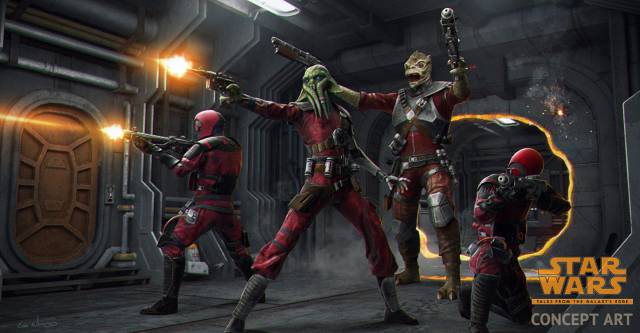 Debra Wilson (Mad TV, Star Wars Jedi: Fallen Order) will become Tara Rashin, a quarren pirate who leads the Guavian Death gang, a criminal group operating in Batuu. "When you have a goal, you never take no for an answer." The character, in addition to piloting his own ship, is looking for something. And who will be the player? Nothing more and nothing less than a droid mechanic who ends up in Batuu after a pirate attack. Once in that situation, it only remains to live a great adventure.
"We are very excited to have fans dive into Star Wars: Tales from the Galaxy's Edge this year," ILMxLAB executive Vicki Dobbs Beck said in the first statement. "This action-packed adventure not only delivers on the promise of connecting and complementing the experience by extending the lore of the Black Spire Outpost, but represents an important step in our mission to guide the transition from storytelling — a form of one-way communication — to storyLIVING ".
Source | Star wars