As if it were a journey through time, the new Wonderboy Bobi game allows us to relive the sensations of the platforms of the early 90s with a frenetic action title and the most colorful scenarios.
Tanuki Justice seems like a game from another time, from the one at the beginning of the 90s, in which it almost didn't matter what cover you looked at in the video store, it is most likely that if you didn't know a game, it would be a 2D platformer. The most prolific genre of the 16 bits left great gems, but with the jump to 3D it went from dominating to almost disappearing completely. This title inevitably refers us to that golden age of the genre.
Created with Clickfusion 2.5 by the creator of the also renowned Aggelos platforms, Wonderboy Bobi, Tanuki Justice does not attempt to mask itself as a current game at any time. Everything (except perhaps having a short tutorial) is an experience as we would expect from any game released in the early years of 16 bits.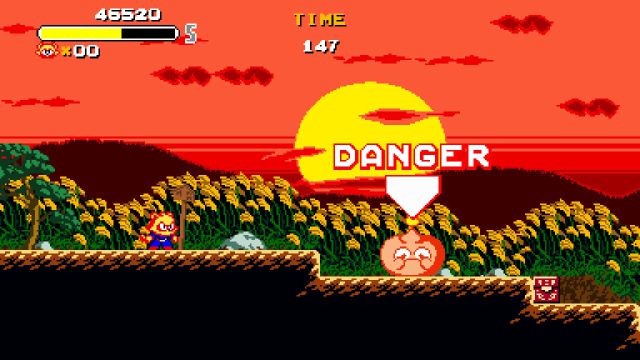 Sharpen your Shuriken
In contrast to the more narrative style of Aggelos, Tanuki Justice is a pure action platformer. Without dialogue or a narration as his previous work included. If Aggelos's inspiration was Wonderboy, this time we are facing a title closer to Megaman. A game that challenges us to overcome some levels that are not very long, but full of complicated moments that, in the old way, at first will be real deadly traps but that, after a few games, we can finally overcome to continue advancing to the next challenge.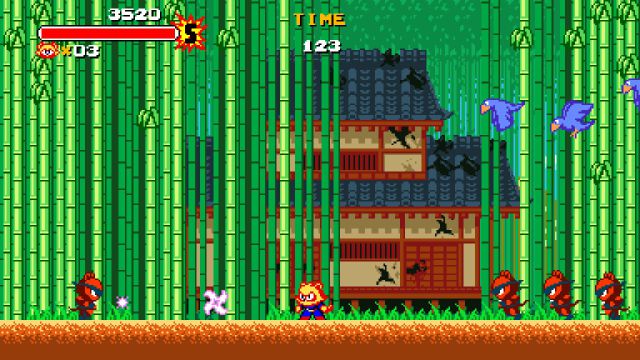 At our disposal we will have some shuriken that we can enhance, as well as the possibility of using a special attack (a giant Shuriken). To do this we need to sufficiently fill a special bar that is increased with objects that we collect from the stage, as well as attacking the enemies. In addition, we can block the direction of fire of our shuriken while we advance if we wish to make things easier. A double jump that we can control even in the air will also be essential to survive in the authentic bullet hell that some situations will become.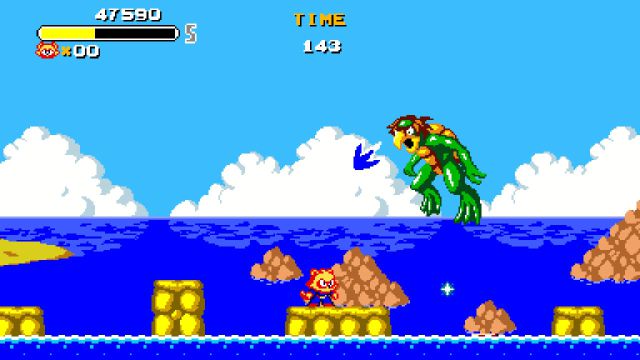 In front of us we will have a series of enemies that will not be more difficult to overcome because they always repeat their attack patterns, arranged in an intelligent level design that clearly denotes that this game has been done with great care. In fact, each scenario has its own recognizable style, as well as a final boss that will make things difficult for us.
The difficulty is calculated to extend the durability that would otherwise be notoriously short with only 7 levels (although it unlocks new challenges as a survival mode), and it does. And if once accustomed to level design we want a greater challenge, the game includes two other levels of difficulty that will increase the experience of the most dedicated several hours.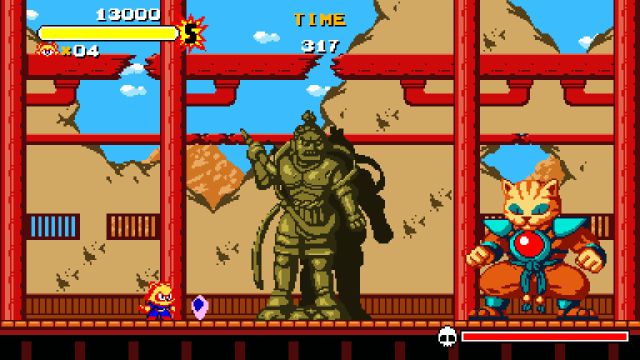 Totally retro experience
In terms of graphics, we are facing a very colorful game that, without particularly highlighting in any aspect, fulfills more than correctly in all, with fluid animations, varied enemies, large bosses and varied scenarios with a strong personality.
The same happens with the sound section, with effects that immerse us again in the sounds of the 90s, and melodies that marry the frenzy on the screen to fully immerse ourselves in the action.
In addition, we will not have to play alone, the game includes the possibility of sharing the action with a friend on the same console. An addition that does not change the level design but is appreciated and completes what is undoubtedly a platform that will delight fans of the genre.
CONCLUSION
Tanuki Justice will delight fans of retro games who enjoy frenzied action run & gun titles. With difficulty adjusted to be challenging without being frustrating, colorful graphics, and original enemies that vary at each level, the experience couldn't be more faithful to what a great platformer would have been if it came out in the early '90s.
THE BEST
The charisma of the characters and settings.
The level design is adjusted to be challenging without being frustrating, as well as including various levels of difficulty.
The possibility of playing cooperatively.
WORST
Some controls can be confusing at first.
At times of high action, the game can slow down slightly.
The musical setting meets without fanfare.
Okay
It meets the expectations of what a good game is, has quality and does not have serious flaws, although it is missing elements that could have taken it to higher heights.