A selection of essential video games released this June 2020 on the App Store and Google Play that cannot be missing on your smartphone or tablet.
We reach the last week of the month and with it we offer you a new selection of the best mobile games for June 2020 on both iOS and Android, an ecosystem in constant evolution and expansion that does not hesitate to embrace all possible business models , from the increasingly established free to play to titles specially designed for full-price touch devices, in addition to interactive experiences only possible in this format and even ports from other platforms that find a new opportunity in the digital bazaars of Apple and Google. Let's see what these recent weeks have left us at the launch level both on the App Store and on Google Play; Do not miss our selection of essential iOS and Android from June 2020.
Reky
Platform: iOS and Android
Developer: Plug in Digital
Price: 3.99 euros
We start with one of those fresh and avant-garde games that base their potential on simple but addictive mechanics and an overflowing staging of personality. Also available on Steam, Reky has already acquired the label of one of the best puzzles in the tactile landscape; And it is that his game proposal encourages us to interact with different geometric elements while we slide our finger on the screen in an intuitive and natural way, offering an interesting level of increasing challenge under a unique and minimalist setting. Interact with cubes, lines, strings, and colors along with an isometric perspective that hides multiple surprises.
Alter: Between Two Worlds
Platform: iOS and Android
Developer: Crescent Moon Games
Price: 2.99 euros
An atmospheric puzzle adventure in which to explore two parallel worlds; This is Alter: Between Two Worlds, a video game made in an artisan way with scenarios that could well go through hand-painted canvases and a gameplay that takes full advantage of the touch interface by sliding your finger on the screen and making different touches on the screen. same. And it is that the title encourages us to alternate between two worlds to overcome different challenges and puzzles, in addition to interacting with different elements and participating in challenging battles against enigmatic enemies. Guide Ana through a dream world with themes such as happiness or pain as central axes of a captivating story.
Ruinverse RPG
Platform: iOS and Android
Developer: KEMCO
Price: 8.99 euros
As its title suggests, KEMCO brings an old-school RPG in the strictest sense of the word to iOS and Android devices without giving up a retro-style staging and pixelated graphics although with HD graphics. Thus, fans of the genre have before them the opportunity to enjoy an original adventure that, although it does not renounce the clichés of the genre, it is fresh and enjoyable in its development thanks to exploration, turn-based combat and characters charismatic with great customization options. Kit and Allie embark on a magical and unforgettable journey on our mobile devices.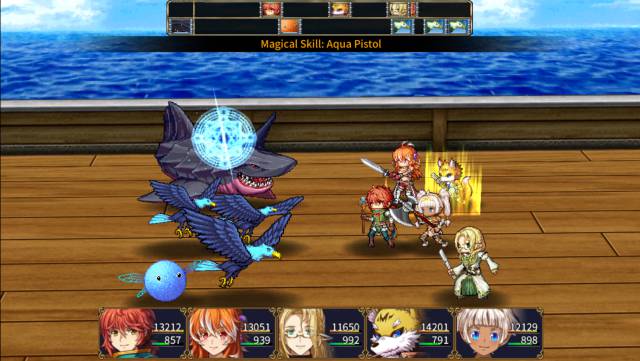 Slay the Spire
Platform: iOS
Humble Bundle
Price: 9.99 euros
The great success of desktop systems gives the jump to iOS devices with all the magic and good work of its original delivery, this time, adapted to the touch game of iPhone and iPad. This is Slay the Spire, the perfect fusion between a strategy game using card decks and roguelike mechanics. Collect hundreds of cards, make your own decks, challenge the strangest and most powerful creatures, and perform the most devastating combos in the tactile version of one of the most celebrated indies in recent years. All this while discovering the card combinations that best suit your playing style in endless battles, each more addictive.
Kingdom Hearts: Dark Road
Platform: iOS and Android
Developer: Square Enix
Price: Free
Finally, and almost by surprise, Kingdom Hearts: Dark Road arrives on iOS and Android devices as an update to Kingdom Hearts: Union X. Thus, those who already had the previous installment of the mobile saga can already enjoy from this month of the new content, as well as those that start from scratch with the new Kingdom Hearts adventures. All this to discover the secrets of the evil Xehanort's past and to know his origins as an aspiring wielder of the Keyblade; In addition, this time you bet on turn-based combat with a strong tactical component thanks to the use of fully customizable card decks. A new episode of the Kingdom Hearts lore complex that no fan of the series will want to miss.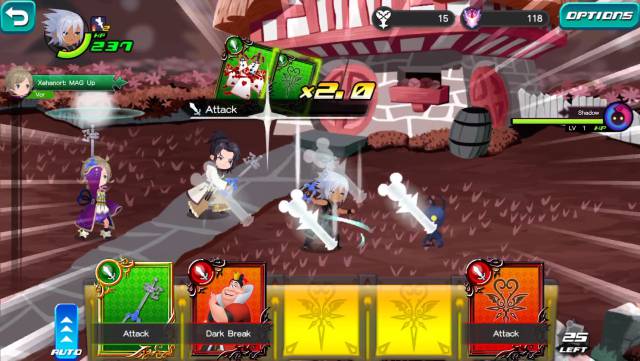 Pokémon Café Mix
Platform: iOS and Android
Developer: The Pokémon Company
Price: Free
The Pokémon franchise continues to broaden its sights with the arrival of a new free to play title for mobile phones (also available for Nintendo Switch through the eShop), this time, a new puzzle set in an intimate café for Pokémon creatures; yes, as surprising as can be expected. The gameplay is as simple as it is addictive, since we are encouraged to put together icons of the same Pokémon to prepare delicious drinks and tasty desserts, all to please our dear customers. Special mention for its artistic design through cute illustrations of the most popular Pokémon.
Crying Suns
Platform: iOS and Android
Humble Bundle
Price: 9.49 euros
Another video game that makes the leap from PC to mobile devices in the form of a strategy roguelite with a strong tactical component and in which we take the role of a space explorer who assists the fall of his empire. Inspired by cult works like Dune, Foundation or Battlestar Galactica, Crying Suns encourages us to travel to the ends of the galaxy through randomly generated intergalactic itineraries; In addition, it offers the opportunity to participate in colossal battles between fleets of spaceships from a tactical prism with more than 300 possible events of history throughout 6 chapters.
The Almost Gone
Platform: iOS and Android
Developer: Playdigious
Price: 6.99 euros
One of those unique puzzle titles that cannot be missing from our digital library; This is The Almost Gone, the new Playdigious that arrives simultaneously to mobile devices and PC with a future version for Nintendo Switch. Thus, its minimalist and cryptic staging invites us to discover the secrets of different places and people playing with the perspective of the successive scenarios that will be presented to us as interactive boards in an isometric view. It is time to investigate what has led us here and unravel the truth that destiny holds for us, all through an original commitment with a highly successful setting.
Death come true
Platform: iOS and Android
Developer: Izanagi Games
Price: 17.99 euros
Another interactive experience that shares mobile launch with Nintendo Switch, with other versions planned in the future for both PC and PS4. And it is that the new Izanagi Games together with the creator of the Danganronpa saga, Kazutaka Kodaka, collects the witness of the FMV court titles, that is, those video games with prerecorded real scenes that invite us to live our own adventure through decisions in the plot. And how could it be otherwise, the game offers a mystery story in true cinematic thriller style in which a man wakes up in a hotel at the scene of a crime while discovering that he has been accused of said murder …
Hellrider 3
Platform: iOS and Android
Developer: Anji Games
Price: Free
We finish our monthly selection with a light-hearted yet frenzied gameplay arcade, in which we ride super fast motorcycles while dodging obstacles and getting rid of countless rivals through shots and impressive combos. Thus, the Hellrider saga takes a new dimension with its most ambitious delivery with multiple game modes with its own challenges, different characters each more picturesque and a huge world to explore through its winding and dangerous roads.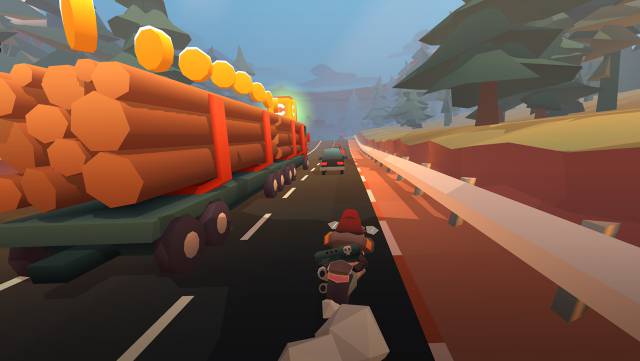 New Apple Arcade
Along with the most interesting releases this June on iOS and Android, we also don't want to lose sight of what's new in Apple Arcade. And is that this month two new titles arrive at the service of games on demand from Apple that can not miss in your digital pocket collection.
Beyond a Steel Sky | This is the sequel to the cult title Beneath to Steel Sky by Charles Cecil, creator of the series Broken Sword, and Dave Gibbons, the artist of comics like Watchmen, a thriller-like adventure of cyberpunk setting with numerous challenges and mysteries by resolve.
Neo Cab | Another celebrated video game that makes the leap from PC to iOS through an emotional survival adventure that puts us in the shoes of Lina, the last human driver of a fully robotic society.