After the success of the series in Spain, Atari Europe opted for a game unprecedented in the rest of the West: Shin-Chan's first game outside of Japan.
February 17, 2021, the first Nintendo Direct ends in a year and a half. About thirty ads, verified opinions and, as usual, messages of all kinds in forums and social networks. Twitter's Trending column featured names like #NintendoDirect, #SkywardSword, and… #ShinChan? Indeed, Shinnosuke Nohara, the icon of a whole generation of Spaniards born in the late nineties and early this century. There was a video game that the world did not see in that Nintendo Direct, but was only shown in the Japanese broadcast of it: Crayon Shin-chan: Ora to Hakase no Natsuyasumi – Owaranai Nanokakan no Tabi.
Today we are talking about the importance of Shin-Chan in Spain and how that success led to the location of an original Japanese video game exclusively in our country: Shin-Chan: Adventures in Cineland.
Where does Shin-chan's new game come from?
From now on referred to as "the new game of Shin-Chan", this is a new installment derived from the Boku no Natsuyasumi series, by Kaz Ayabe (also author of Attack of the Friday Monsters, a tender hidden work from the Nintendo catalog 3DS). Translated as "My Summer Vacation", this series of Millenium Kitchen titles are closely related to their author, a personality capable of transmitting what we have seen and read in many anime and manga series; With the exception that you are in charge here, player, and you have only one claim: to let yourself go.
The premise is very simple: you are a young man of just nine years old, your mother is about to give birth and, therefore, you are about to be a brother. That's when they take you to your uncle's town, somewhere in northern Japan, and your adventure begins on August 1, 1975, with all that that implies. The house, away from everything, is supplied by a very agrarian and natural life. Your 31 days of summer vacation begin. It is time to go out and investigate; hunt critters with a net; go to the river and just wash your face; celebrate having food for lunch and dinner with your family. And, when night comes, to bed, that tomorrow will be another day.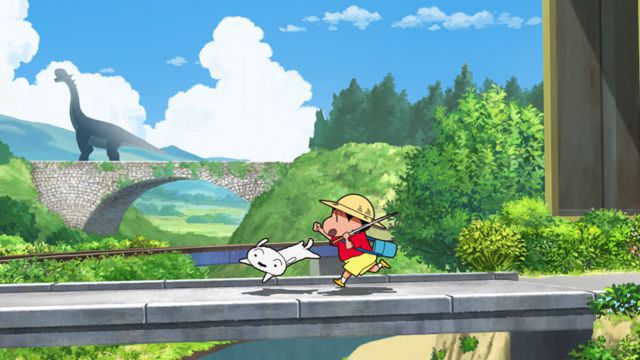 Crayon Shin-chan: Ora to Hakase no Natsuyasumi – Owaranai Nanokakan no Tabi
Clean interface, static camera in pre-rendered three-dimensional scenes, the sound of crickets, the heartbeat of the woods when walking. Morning, afternoon and night. There are no pressures, you do not lose or win; you just move forward, discover, learn and thank those around you for being there. That's what Boku no Natsuyasumi is about, living. A philosophy similar to Animal Crossing, so if you like the Nintendo series (or much more complex and profound alternatives like Stardew Valley or Harvest Moon), take note of this name. The only problem is that none of the deliveries, published exclusively on PlayStation consoles – are set in parallel universes, but the structure is repeated in space; the last iterations is 1985 — they came out of Japan.
This article published in Anait Games back in 2014 delves into the origins and creative purposes of the Boku no Natsuyasumi titles, we recommend reading it. The fun of all this is that Shin-Chan's new video game is a Boku no Natsuyasumi, a summer vacation with the Nohara family: fishing, forests, catching bugs. Same orchestra, different musicians.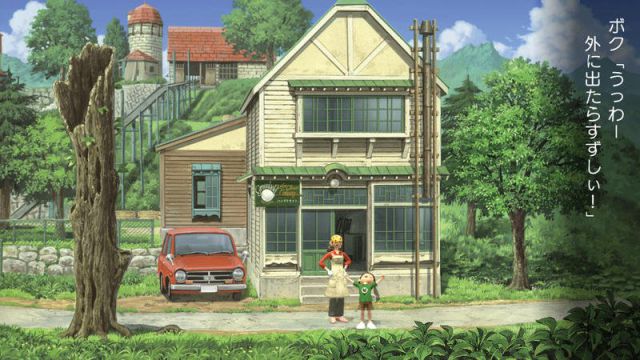 Boku no Natsuyasumi
All of Spain spoke of Shin-Chan; is not just any character
We return to Twitter, February 17, 2021. One of the Nintendo Direct's favorite games had not been presented in Spain, nor in the United States. Kaz Ayabe, head of Millenium Kitchen, when asked by a follower, expressed his willingness to do everything possible to localize the game to the West. It would, however, be his second title outside of Japan. The first was Attack of the Firday Monsters for Nintendo 3DS, a title that is part of a compilation produced by Level-5, Guild02. The first, Guild01, spawned titles like Omasse's Weapon Shop, Crimson Shroud, or Liberation Maiden. Keiji Inafune, Kazuya Asano, Takemaru Abiko and Kaz Ayabe were the participating artists in this second compilation.
Ayabe is a recognized profile, very particular for his way of narrating, and now he has been presented with the most media opportunity of his career: working with an international license, a name that is part of Japanese culture. Of course, this time from the hand of Neos Corporation, which surely has something to say in the eventual location.
That Shin-Chan drew so much attention that day is no coincidence, since Spain is one of the countries where the idiosyncrasy of Sinnosuke Nohara took the most depth. In Latin America it also had a long journey during the initial decade of the 2000s.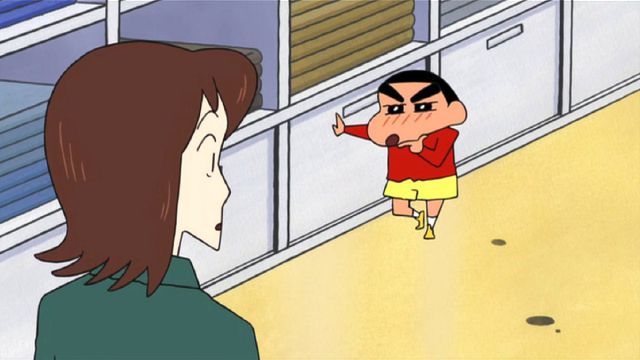 Luk Internacional, owner of the character's rights, tested in Spain with the broadcast of the first seasons through the regional channels. From ETB through Canal Noy or Castilla La Mancha Televisión and Telemadrid. A constant path that, from the end of 2001 to the summer of 2002, enshrined the name of Shin-Chan in no less than four different languages; all of them part of the cultural wealth of this country: Catalan, Galician, Basque and Castilian. Even with those differences, the language didn't matter: Shin-chan became a real hit.
The private channels did not miss the opportunity to acquire an animation series with a good percentage of screen share and that would fit perfectly with the strips dedicated to the youngest. That is where Antena 3 (the now Atresmedia group) came into play, which after 371 episodes of the autonomic ones took over everything produced and began a romance of more than a decade with the singularly funny and outgoing Kasukabe. It was December 2005.
In 2010, the chain celebrated five years of great successes, especially among audiences between 13 and 24 years old or 25 to 34 years old. In his prime, Shin-Chan had a 20% audience share in Spain; a real outrage. The day did not matter: it was broadcast seven days a week. The Simpsons formula applied to Saitama's hardworking family. It all started in Catalonia (as in most major anime series), but in a few years it had become a national phenomenon; especially shielded in NEOX, of Antena 3, a channel dedicated to entertainment where he found his definitive home.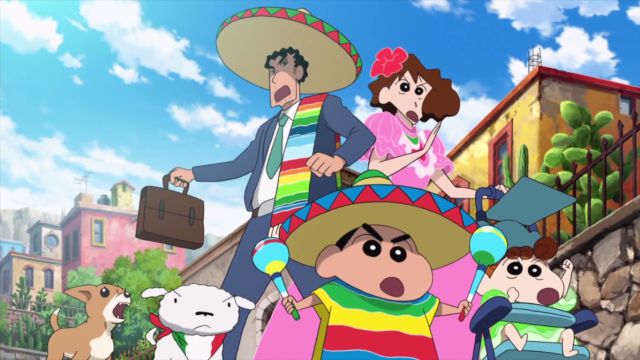 That romance ended in June 2018. Antena 3 does not renew the rights after thirteen years without interruption; but the pause was short-lived. Although Luk Internacional tried in between with some episodes for free on YouTube, it would not be until June 2019 when the private FOX re-broadcast everything, absolutely all the seasons, plus what was being produced in Japan in recent times. 25 seasons (more than 820 episodes, an unpublished film) and a new space, in short, for a character who is no longer the same as fifteen years ago.
Shin-Chan: Adventures in Cineland, a privileged rarity for us
In the midst of that furor, with no Shin-Chan video games for sale far from Japan to date, Atari Ibérica was made exclusively for Spain with a title developed by Inti Creates and distributed by Banpresto in April 2004: Shin-Chan : Adventures in Cineland. It was at the end of December 2005 that we received a very remarkable action and platforming title, enjoyable even if it didn't have that license. During these last days we have been playing it to remember how it feels, and the truth is that the guy can handle it with ease.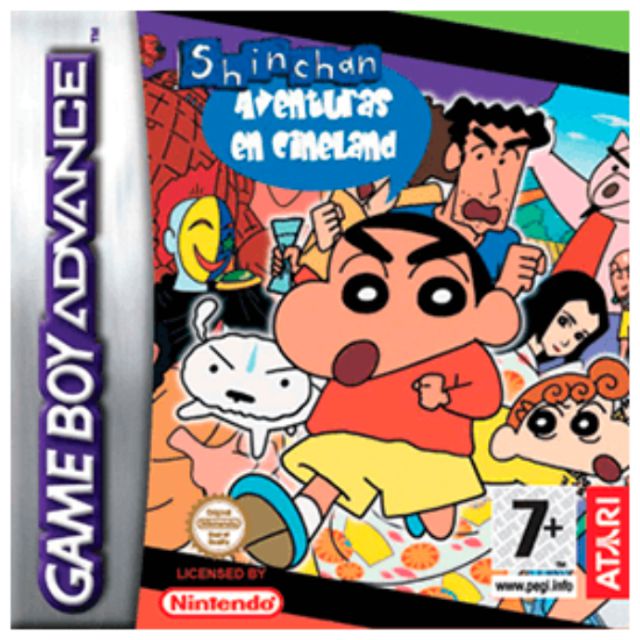 Shin-Chan Adventures in Cineland
In a current moment, where we sometimes give thanks for a digital localization and in English (in which long-term sagas such as Ace Attorney have derived), Shin-Chan: Adventures in Cineland arrived with box and cartridge, in perfect Spanish and locating the jokes of the series in its Spanish version. There was an effort and a dedication to respect the product. But we insist: it is a good video game.
Especially attractive on GBA consoles with a backlit screen or Game Boy Micro, it is a title with a very simple color palette, with generally flat colors; all very relatable and pleasant. From there, an effective action platformer with a plot as implausible as it is compelling: the installation of a cinema park called Cineland. Our objetive? Bringing Ultrahero to the real world. Jumps; moments to the purest shoot 'em up shooting living creatures that we dare not identify; irreverent humor; nods to the character's first films (about a dozen of them); moments of lateral scrolling in constant advance; zone end bosses for which one more extravagant …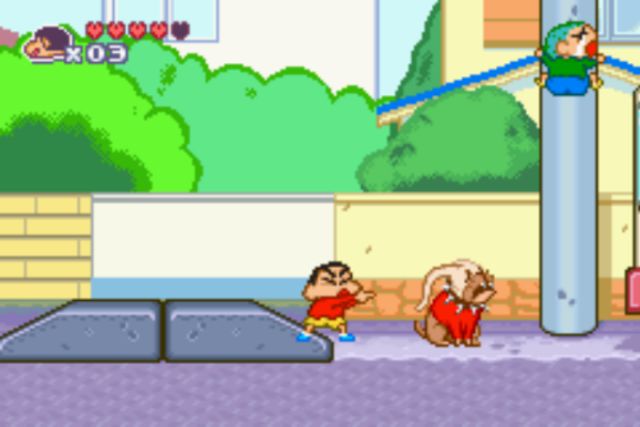 Shin-Chan Adventures in Cineland
If we add to that the available costumes, which grant abilities, or the participation of characters like Hiroshi or Nevado to unlock areas of the stage, the truth is that it is a very enjoyable experience also now, three decades later. Although we must forgive the sound design, with a somewhat overwhelming and repetitive background music, the audiovisual section is compensated with animations faithful to the author's work.
Shin-Chan: Adventures in Cineland was the first great tribute to the figure Shinnosuke Nohara in the form of a video game that we had in Spain, the beginning of a succession of titles where there is also his remake for Nintendo DS (Shin-Chan: Aventuras de Cine; 505 Games), whose distribution was longer and featured even more movies in the form of levels, a total of fifteen.
Who knows if Shin-Chan's new game for Nintendo Switch will make it to the West or not; If this is the case, there will surely be no shortage of support in a country that, strange as it may seem, had the modest privilege of having an exclusively localized game more than 15 years ago.