One girl, two worlds. And a story that we do not know. This is Bloober Team's Next Gen game for Xbox Series and for PC. Also on Game Pass.
Marianne is not a normal girl. He has always had special powers that allow him to navigate between two realities, that of his world and that of the dead. His ability as a medium has accompanied him until the beginning of the game, where he has to say goodbye to his father -adoptive- and where, from the other world, he accompanies him so that he can rest. But everything gets complicated when he receives a call to go to Niwa, an abandoned center that, after being devastated, does not harbor life. Or so it seems. And so begins The Medium, the new from Bloober Team (Layers of Fear, Blair Witch), a game that wants to resemble the classics, with good ideas and others that are not so much.
The staging of The Medium, available this week on Xbox Series, PC and within the Game Pass service, evokes Survival Horror games such as Resident Evil or Silent Hill. It does so through the type of control, the protagonist in the third person or the fixed cameras in the rooms where we enter. But it is true that the game moves away from those formulas and seeks its own path. A path that has lights and shadows, but that ends up resulting in an interesting experience with moments of great lucidity. The Polish studio continues to drag problems in game mechanics as we have seen in its previous video games, but here it takes steps forward in other fields.
Defining The Medium as Survival Horror is perhaps a bit of a stretch. The title is not scary like a name like Visage can inflict on you. Nor do we have the feeling of anguish due to lack of resources or dangers that seem insurmountable, as can happen to us in Resident Evil 2. He does not have that fear of what will be at the next door. But it is capable of keeping us in tension and worrying us for almost the entire title. In a lighter way than other games of the company, but in perfect balance with the plot and what it wants to tell. Because it is one of its strengths: history. What happened in Niwa connects with Marianne, and how her personal story and that of that place unfolds is well spun. In addition, with a not minor addition: in too many occasions, in this type of games the end ends up leading to exaggerated corkscrews or bizarre situations. And that happens to all kinds of games, from the smallest to big productions (Resident Evil 7?). Here we can say that the ending is very powerful. And very good.
Between living and dead

But to reach it, we need to follow a whole adventure of about 7-8 hours that navigates between two worlds. It's one of the attractions of The Medium: Marianne's ability to be in two realities at once. This, which we see at the beginning, becomes one of the main game mechanics. The screen is split and we control both faces of Marianne to move forward. If a fuse box does not work, from the other world we can launch a flash of light – prior to being able to charge this ability – so that the door in the real world opens. If there are objects that prevent us from moving forward, we can "leave" our body to, for a limited time, control only the ghostly part of Marianne, follow that path that is open in the other world and find a new exit or a required object.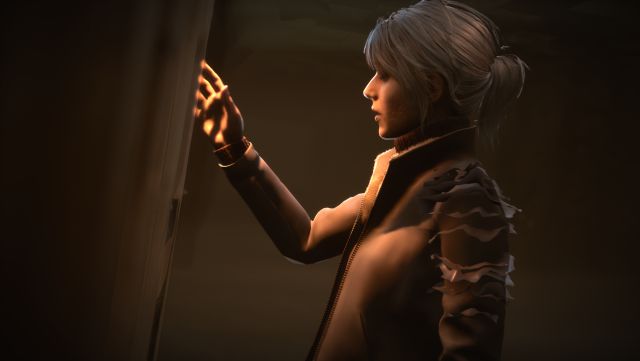 The relationship between the two worlds tends to develop in this way. Do things from one side to the other so that you can keep moving forward. With the difference in mechanics: Marianne alive can only explore her surroundings and perform stealth actions. Ghostly Marianne can generate a shield to ward off annoying moths and flash light for specific actions. Be that as it may, this is not an action game, but a title in which the most common is to explore, solve puzzles and, in moments of action, stealth and escape.
Although this duality sounds more than good on paper, The Medium does not fully exploit these possibilities. We are facing a fairly guided game, at certain times more Walking Simulator than anything else, and in which backtracking or puzzle solving is always done in delimited spaces. If we cannot open a door, the solution is relatively close in one world or another, but always in a forward-looking format: we will rarely return to a previous place. This somewhat limits the puzzles of the first half of the game, which are obvious at many times.
But everything is not like that. At some point, towards the middle of the title, there is a turning point at all levels, and the game accelerates. It will be during the final section where we will have the best puzzles. Nothing that is comparable to the greats of the genre, but with more grace since it will force us to carry several objects at the same time and know where to place them, or we will have to move in several rooms with their two realities to continue advancing. It is a pity that these examples are not found throughout the game, because they raise the level of experience and exploit the duality of Marianne and the need to return to one place and another several times, in addition to writing down and remembering certain data To advance.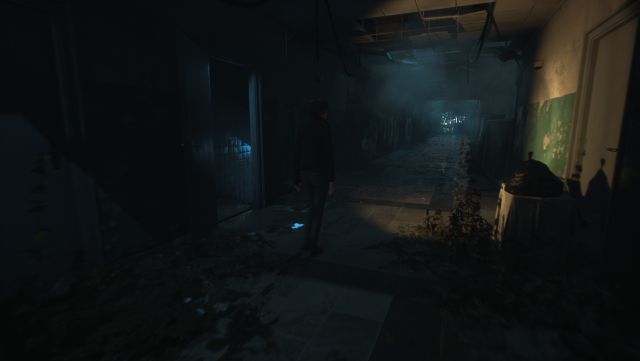 Exploration is the mechanic that we are going to use the most. Take objects, analyze them, turn them around, use our sense to see things that are not seen with the naked eye, have more context at the plot level and move on. The story fits our progress perfectly, and that's a plus even if the challenge is low. The experience of investigating a place in two different ways, or at the same time, complements very well with what they want to tell us.
Being able to use our powers to see key objects that we had not seen, manage in the real world an object that offers us a new vision in the other world, from which we can activate a certain gadget that will allow us to continue on the part of the living, and well keep moving forward. Most of the time linear, but with enough interaction for the experience to be satisfactory most of the time. Another thing is in the moments of greater action, where the game stumbles something else.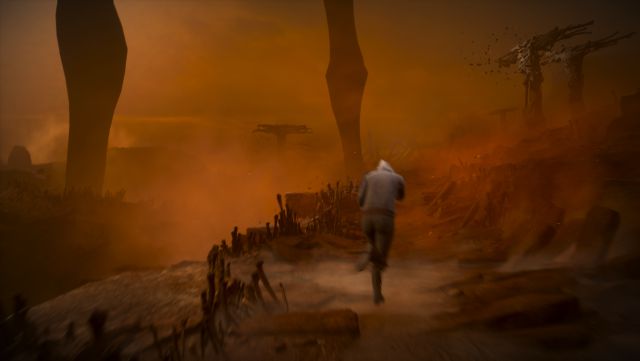 Run and hide

The title places us a great enemy that we cannot defeat. The only way we have to overcome it is with stealth or running. And both mechanics work on a regular basis. The first because the design of these phases is quite simple and the enemy's patterns, too. The second because they are pure trial error where we only have to run towards the only exit that we are finding. We are not facing mechanics that work badly and in fact, they provide variety to the rhythm of the game, but they do sin of being little ambitious and of not contributing too much through the controls. It is evident that The Medium does not want to get into depending on what actions, and we also see that in how key moments in history are resolved that in other games would be direct confrontations and here, video scenes. In general, the moments of greatest action end up pale next to the moments of exploration.
That said, and without getting into the gut, Marianne will not be the only controllable character when we get to a certain point in the game. In this case, some new actions are added that we do not have with our protagonist, but with limitations. And in the end, these sequences are more interesting for what they contribute at the plot level than for what we do during these sections.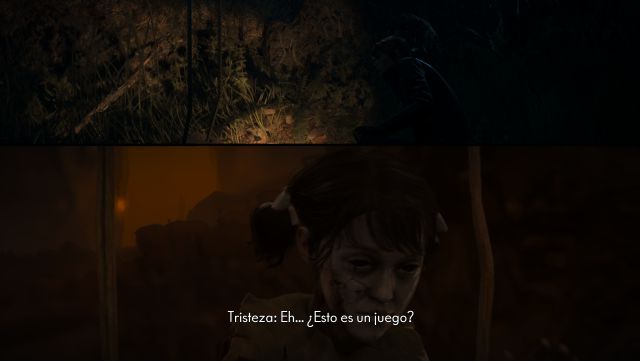 Sound is everything
The Medium is a game that wants to catch you by what counts and how it counts. Without being a Walking Simulator or a graphic adventure. And what he wants to tell, he succeeds in doing. The -few- characters that appear are the sea of ​​powerful, and the relationship with the protagonist also has high moments. Certainly, at this point the soundtrack and the dubbing play a decisive role. The cast of voices – in English, including Troy Baker by the way – is very well selected. The monstrosity of the beasts with which we interact or the sadness of a little girl named precisely that, Sadness, are good examples of the great work in this regard. The soundtrack is a marvel that accompanies every moment: sadness, melancholy, anguish, tension. He knows how to transmit each state of mind, each peak moment through our ears. And of course, the sound effects perfectly measured to each reality and to each detail.
If we go into the technical section, we find a game with masterstrokes and other clearly improvable elements. The introduction with that city on a rainy and gray day is quite a declaration of intent: the ray tracing is shined as soon as you start. It is one of the most prominent features of the title on a visual level. It shows, it is present and it is appreciated how at the lighting level a game with a modest technical section can look more than good. The game works at 4K and 30 frames per second, which hold up quite well but at times you can see that there are small drops. They do not affect the gameplay but they are noticeable.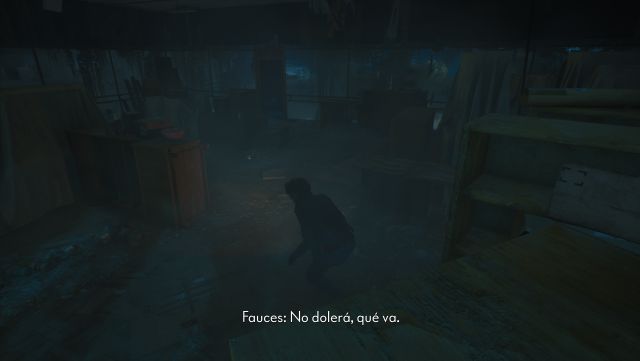 New technical generation, but without bragging
We were saying about the improvable elements because the title has some character modeling with some seams in expressions and finishes, in addition to somewhat orthopedic movements when we are running or performing some action. We also had minor late texture loading issues. In general, the artistic direction when defining and designing the different locations of the real world and the world of the dead helps to give a convincing overall finish, even if there are weak points such as those mentioned.
At the game level, highlight some situations that we have encountered that surely need a rethink. For example, there is no possibility to do manual save. This forces us to have to start from scratch if we want to revisit a place or we want to get an object that we have left on the way. Surely a chapter selector doesn't fit, but being able to save beyond the automatic one would have been a plus. Then, highlight that it does not have a level of difficulty even in a second game, something that seems logical because the challenge is not its sense of being. And finally, for those interested: it is a very grateful game for achievements. It's easy to end up with over 700 points in the first game just by exploring and following the plot without too much rush.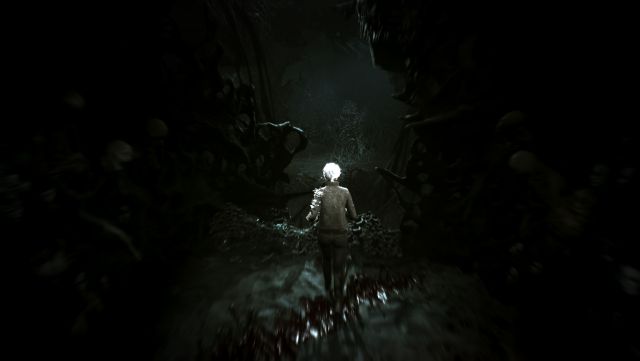 The game comes with voices in English and with texts in Spanish, highlighting that the size of the text can be increased so as not to leave our eyes with certain tiny subtitles that abound so much lately.
The best
– The story, its development and its end
– Everything related to the sound section
– Some puzzles from the final part of the game
– The mechanics of two worlds and how we interact with them
Worst
– Limited to playable level, especially with somewhat poor action and stealth moments
– Certain technical elements that could be improved: animations, modeling …
– If you are looking to pass fear or a great challenge, it is not the best exponent
CONCLUSION
The Medium offers a good experience thanks to its story, its development and the concept of two worlds connected by our protagonist. This gives us interesting narrative and playable moments as well, with some satisfying puzzles to do, especially in the final section. With first-rate technical highlights, such as the use of ray tracing, and with everything that concerns the sound at a very high level, the experience throughout the 7-8 hours of play is more than positive. But The Medium is far from being a reference or an essential game. Playable it has obvious limitations in moments of action -by mechanics and design-, and the feeling is that it does not exploit everything that it could present us. This, along with some technical gaps, make the Bloober Team game interesting (and a great addition to the Game Pass) and recommended, but with nuances.
Okay
It meets the expectations of what a good game is, has quality and does not present serious flaws, although it is missing elements that could have taken it to higher heights.