The sequel to Horizon Zero Dawn is one of the games that we most hope to play on PS4 and PS5 this year 2021 and here we tell you everything we know.
One of the great games of the last generation, exclusive to PS4, was Horizon Zero Dawn (2017). The new IP from Guerrilla Games, creators of the Killzone saga, was a great success and conquered players around the world. With the arrival of the title on PC in 2020, we are ready to continue the adventures of the charismatic Aloy in the forbidden lands of the West. This sequel was announced last June within the framework of the PS5 game presentation event and since then we have been able to learn some new details, but always as an eyedropper.
We still do not even know the launch date that this project will have, but we can advance its approach, playable news, settings, characters and others that it will have. In this report you will also find those wishes and hopes that we have for the Guerrilla Games title, which we hope to be able to play at the end of this year 2021 unless it suffers a delay in its launch.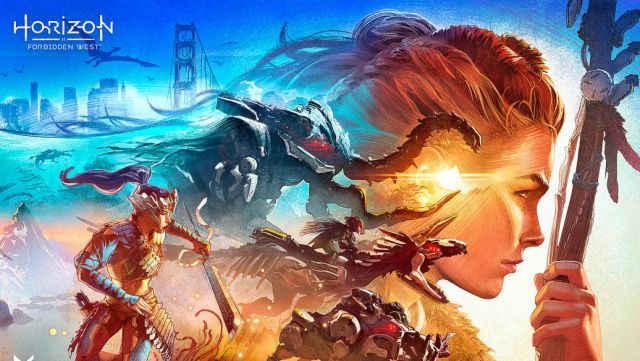 The plot keys of Horizon Zero Dawn
Thanks to the trailers, images and announcements that the company in charge has shared, we have been able to begin to discover the first details about Horizon Forbidden West. To begin with, everything indicates that the plot will take over from the original title and therefore it will be a sequel with all of the law. It is too early to say, since Guerrilla could surprise us with a twist in the narrative of the work, but if we remember the end of Horizon Zero Dawn and the post-credits scene, it is clear that Aloy's story ended with an open denouement. If you have not played it yet, we recommend that you do so and that you skip the following paragraphs, since in them we will analyze what happened in that aforementioned ending.
As a summary, we remember that Aloy begins her adventures in the post-apocalyptic world that we find in Horizon Zero Dawn being an outcast in her tribe mainly due to the fact of "not having a mother". It is a new society that arose after the catastrophe that ended practically all human life on earth and that in turn gave rise to the machines roaming freely through the natural lands in which history is set. . Nature spread and therefore it is easy to get lost in green forests, crystalline rivers and plains full of vegetation, but for this it was necessary that life as we know it ended. The survivors met in tribes with somewhat prehistoric ideals but with the use of modern machine parts to make their weapons and armor.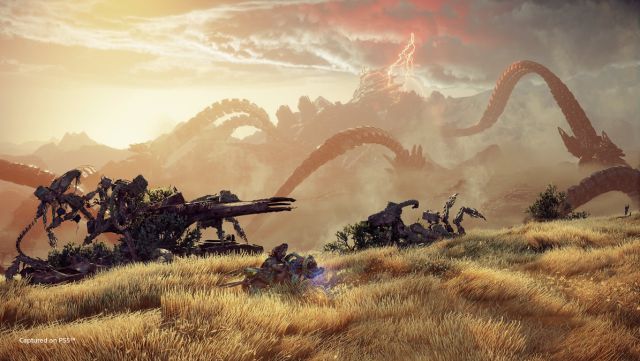 Returning to the protagonist herself, it is worth mentioning that due to not having been raised in a conventional home with a human mother to take care of her, she is repudiated by her own, the Nora tribe, since it is a society based on a system and religion matriarchal. However, far from being intimidated by this situation, Aloy listens to her instincts and lets the curiosity she feels inside her continue to grow, in order to end up finding a thread, in relation to her past, to pull. The warrior protagonist leaves her home and embarks on a dangerous and complex journey through neighboring lands to meet different characters and discover how a kind of virus is spreading that affects machines to make them even more dangerous.
With the aim of stopping the problem at its roots, Aloy continues to investigate the origin of these machines and her own existence until she ends up discovering that she was created from the DNA of Elisabet Sobeck, a scientist who spent her life investigating the form of use technology to reduce global environmental impact. We can know her through different audio and text records that we find in the main adventure and as we progress, it becomes clear that Aloy will continue with Sobeck's ideals to focus on protecting the world and its inhabitants from the evil of machines.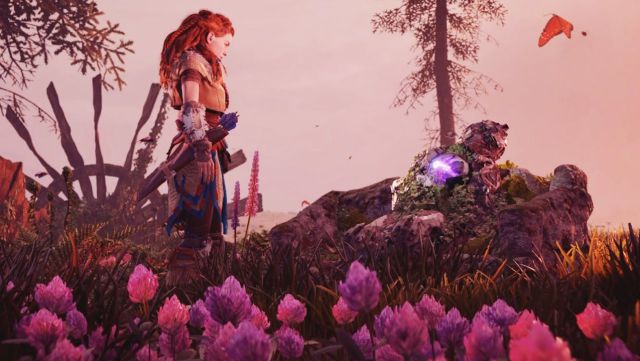 Finally it manages to stop, at least temporarily, the aforementioned virus that made them more dangerous and aggressive. However, in a shot that we find in the post-credits scenes of the game we can discover how HADES (the AI ​​that was previously a subordinate function of GAIA and that served as a failsafe extinction protocol for Project Zero Dawn) drops a beam of reddish light that rises violently in the sky and travels until we meet again with Sylens, a character whom we believed to be an ally for most of the adventure.
Hello, old friend, do you remember me? We still have so much to discuss… so much that you never revealed. Your masters, for example. The ones who sent the signal that woke you up. Knowledge has its prize, don't you think? OK lets start". With these words from Sylens, the adventure of Horizon Zero Dawn definitely concludes, showing us a plane in which a gigantic machine waits to be awakened to once again sow chaos in the world.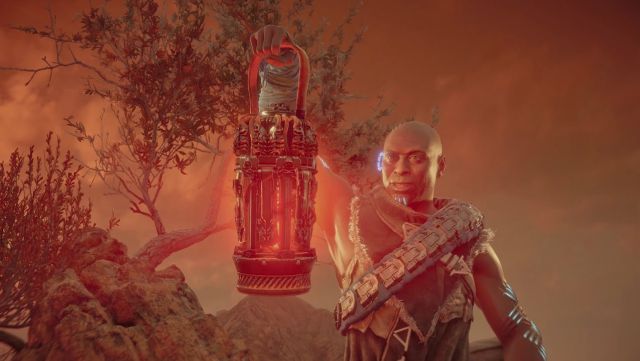 A new adventure; What do we know for now?
With this open ending, it is clear that the machinations of HADES and Sylens are not over, so evil will be unleashed once more and the conflict we experience in Horizon Forbidden West is likely to be on an even greater scale. The title itself tells us that Aloy will travel to the "Forbidden West", so a totally new map will be available for us to explore. As indicated from the official PlayStation blog: "" Horizon Forbidden West continues the story of Aloy as she moves west into the distant future of the United States to challenge a majestic, but dangerous frontier, where she will face impressive machines and new mysterious threats. "
We do not have too many details about the new scenarios that we will visit, but thanks to the images that have been shared from Guerrilla we can verify that we will travel with Aloy to the sea, to find there great structures of the past as ruins like a collapsed bridge . As confirmed by the game's director, Mathijs de Jonge, this new territory stretches from Utah to the Pacific coast, making it a "slightly larger" map than the one visited in Horizon Zero Dawn.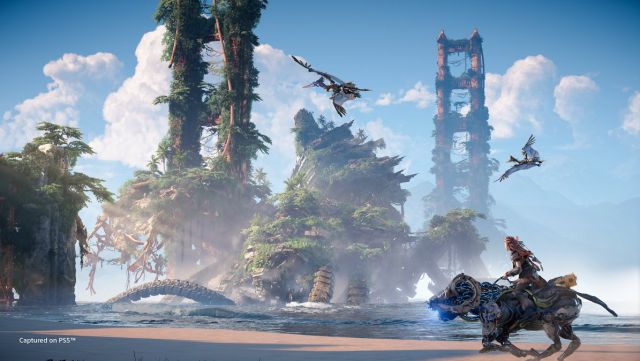 Aquatic environments will play a leading role in this sequel and for the first time Aloy will be able to dive thanks to a respirator that we have seen appear in one of the promotional images. The earth is an environment that we already dominate, but what about the air? Flying robotic dinosaurs invite you to think that Aloy might be able to climb on his back and explore the sky, in addition to having a rapid transportation method to cross the vast territory that is sensed for Forbidden West. It is too early to know for sure, but we would like it to finally be the case and for innovation in this regard.
As for enemy machines, it is logical to think that we will find a good handful of new original designs. In fact, we have already been able to see some thanks to trailers and captures shared by Guerrilla, among which a species of turtle with moss and vegetation on its back and some gigantic mammoths that seem to be controlled by a tribe that uses them to transport themselves (detail that we extract as a result of seeing the constructions in the shape of houses that they carry on their backs). Of course, if the gameplay takes us underwater we can expect to find robotic crocodiles out there, since not everything will be pleasant walks through a beautiful and deadly world.
Aloy's new story, a next-gen experience
We know that on a graphical and technical level, Horizon Forbidden West will not disappoint us. If it is not delayed, it will arrive during the first stage of life of the new generation of consoles and in principle it will be exclusive to the PlayStation ecosystem, so we can only play it on PS4 and PS5. It is likely that a port will also come to PC later, as is the case with Horizon Zero Dawn, but it is too early to tell:
"To reassure some users, releasing an AAA title for PC does not necessarily mean that all games are now coming to PC. In my opinion, Horizon Zero Dawn was a perfect fit in this particular case," said Herman Hulst, Head of PlayStation Worldwide Studios. Regarding the next-gen version of Forbidden West and the benefits it will have, the game director, Mathijs de Jonge, specified in a recent development journal: "With the PS5 SSD, there will be practically no loading screens. In an open world game like Horizon Forbidden West, if you open the map and fast travel from one extreme to the other, or reboot from a checkpoint, it will be super fast. When you start the game, you'll be right there in the action. "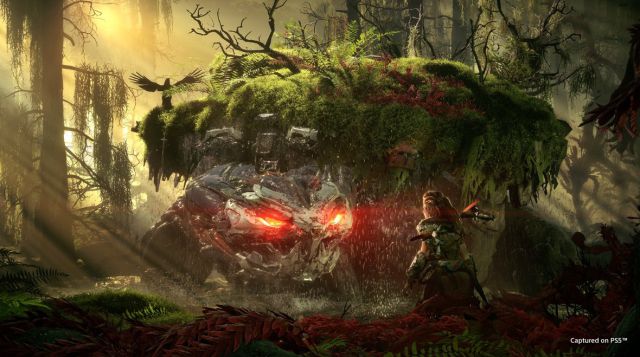 We hope that the PS4 version also lives up to expectations and although it does not reach the level of the new generation, it does make clear the good know-how of Guerrilla Games in this area. Of course, we would like to be able to feel this sequel much more polished and fluid in general, since in the original we find certain bugs, invisible walls and other problems that so many years later we hope will be solved and the new work that comes to us is even more ambitious than the first.
Horizon Zero Dawn was published on February 28, 2017, so almost four years have passed since that time. In the absence of knowing a specific launch date to mark our calendars with that appointed day, we maintain our hopes that it will not be delayed beyond this year 2021. The complications in the development processes of various titles derived from the global pandemic that still still very active have already caused some delays and changes in the teams and their dynamics. However, until the moment in which PlayStation and Guerrilla Games speak, we will continue listening to the magical track of the OST of the title that they shared a few weeks ago and delighting us with each new bit of information that they release in relation to the new and promising adventure of Aloy.