We review all the confirmed events for the biggest Japanese video game fair of the year. There will be announcements and great news.
Tokyo Game Show 2020 is about to start. The fair with the greatest impact and prestige of video games in Japan will be held from September 24 to 27 exceptionally online due to the health crisis of COVID-19, but that will not prevent the deployment of media, companies, video games and digital conferences at the level of what we are used to.
Many things have been promised, including surprises, so we are going to provide you with the schedules of all the digital conferences with their exact hours below so that you do not miss anything.
Tokyo Game Show 2020 – All lectures live
There are many companies that have confirmed their presence in this TGS 2020 online; Highlights: Bandai Namco, Microsoft, Koei Tecmo, Level-5, Cygames, Konami, Square Enix, Sega / Atlus, Spike Chunsoft, Tencent Games, miHoYo, GungHo Online Entertainment, D3 Publisher and Happinet.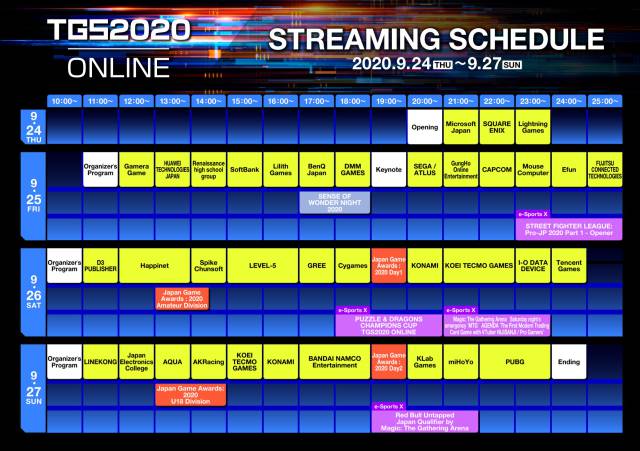 Of all of them, as we will see below, some have confirmed their own conference, while others such as Square Enix and Koei Tecmo will even add live streams with playability of their video games, talks and other reasons for meeting their community to their coverage. For example, from Capcom we will have a two-hour streaming dedicated exclusively to Resident Evil 8 Village, as well as another of the recently announced Monster Hunter Rise, one of the big releases of next year for Nintendo Switch.
And speaking of Nintendo, neither the Kyoto firm nor Sony have confirmed their presence at the Tokyo Game Show, so we will not see their name reflected in any of the fair's events below.
24th September
Opening Ceremony Opening: Forerunner! TGS 2020 – 13:00 (CEST)
Xbox Tokyo Game Show Showcase – 14:00 (CEST)
Square Enix – 15:00 (CEST)
Lightning Games – 16:00 (CEST)
September 25th
Gamera Game Now! – 05:00 (CEST)
Huawei AppGalery – 06:00 (CEST)
Reinassance High School Group – 07:00 (CEST)
SoftBank – 08:00 (CEST)
Lilith Games – 09:00 (CEST)
BenQ Japan – 10:00 (CEST)
Sense of Wonder Night 2020 – 10:00 (CEST)
DDM Games – 11:00 (CEST)
Keynote: The Future Touches Gaming First – 12:00 (CEST)
SEGA / Atlus – 13:00 (CEST)
Gunho Online Entertainment – 14:00 (CEST)
Capcom Special Program – 15:00 (CEST)
Mouse Computer G-Tune— 16:00 (CEST)
Efun (new game) – 17:00 (CEST)
Fujitsu— 18:00 (CEST)
September 26
D3 Publisher – 04:00 (CEST)
Happinet Game Showcase – 05:00 (CEST)
Spike Chunsoft: Cyberpunk 2077 Night City Wire – 07:00 (CEST)
Level-5 Special Meeting— 08:00 (CEST)
GREE – 10:00 (CEST)
Cygames Special Sneak Peak – 11:00 (CEST)
Japan Games Awards – 12:00 (CEST)
Konami – 13:00 (CEST)
Koei Tecmo Games – 14:00 (CEST)
I-O Data Device – 15:00 (CEST)
Tencent Games – 16:00 (CEST)
September 27th
Linekong – 04:00 (CEST)
Japan Electronics College – 05:00 (CEST)
Aqua – 06:00 (CEST)
AKRacing – 07:00 (CEST)
Koei Tecmo Games – 08:00 (CEST)
Konami —09: 00 (CEST)
Bandai Namco (Sword Art Online and Scarlet Nexus) – 10:00 (CEST)
Japan Games Awards— 12:00 (CEST)
KLab Games – 13:00 (CEST)
miHoYo (Genshin Impact) – 14:00 (CEST)
PUBG Japan – 15:00 (CEST)
Closing ceremony: TGS 2020 Online Fan Meeting: Towards 2021 – 17:00 (CEST)
Conference breakdown | Gematsu