We review a dozen titles that we especially resort to in the summer to spend the holidays in a mainly agrarian and rural life.
We come to a particularly favorable time of year to embark on those adventures that have been pending for us during the first semester; especially those that require many hours ahead. Summer is synonymous for many of us at JRPG, but also to stop thinking for at least a few days and simply let ourselves go.
Farming games on console and PC have had a luster of special lucidity thanks to commercial successes that have penetrated deep into the independent scene; But not only there, but also on the part of large publishers with proposals that have brought together different styles and genres so that the agrarian idea is, in short, only the beginning.
In reality, few of the games we are going to quote below are strictly about a life on the farm; We do not intend to make a list of Harvest Moon and Stardew Valley clone games because the originals are already there, but a series of works whose rhythm, treatment of time and both mechanical and playable vision transport us to nature, making us the ones we use our own resources.
Another common denominator chosen is quality. Not all are outstanding, but they do have merits to be recommended because, if you like any of these, surely you will find the magic of the others. We will indicate, however, on which platforms you can find them and what their main assets are; Perhaps you will find here the title that will accompany you on the strangest vacations — surely — of our lives.
Story of Seasons: Friends of Mineral Town (Nintendo Switch, PC)
The return of one of the most beloved installments in the Harvest Moon saga is cause for joy. Those familiar with the Marvelous license, now under a different nomenclature due to a complex change in rights, will know that the original 2004 GameBoy Advance work became de facto one of the most versatile, profound and rewarding in the series in both portable and global territory.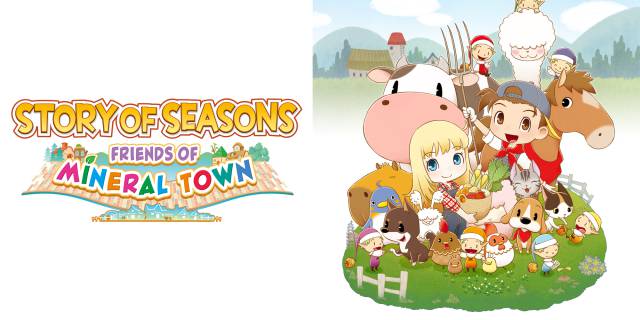 Story of Seasons: Friends of Mineral Town
And that's what we find with Story of Seasons: Friends of Mineral Town, a title already available on Nintendo Switch and PC adapted to all three dimensions with a precious style, designed to be enjoyed also in portable mode, capable of maintaining the aspects they did great to the original title both for its pace and for the economy, amount of playable options or how well balanced the time is in relation to the number of daily activities we can do. Despite its slow start, we believe that the addictive touch it presents shortly after starting will be enough hook for you to continue. For this summer of 2020, the remake more than meets expectations without being a technical revolution.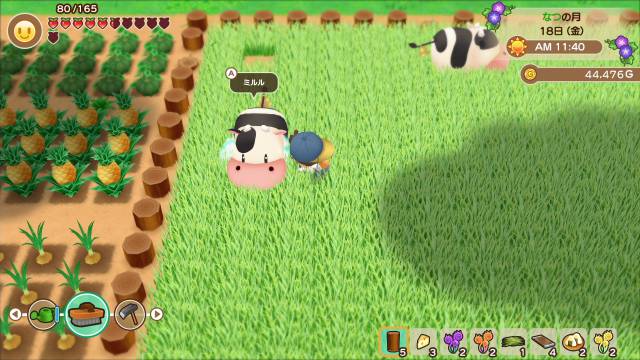 Story of Seasons: Friends of Mineral Town
Animal Crossing: New Horizons (Nintendo Switch)
What can we say about what is surely the best installment in the saga. He made himself beg, seven years apart from his last canonical appearance on Nintendo 3DS, but it was worth it. Animal Crossing: New Horizons is an extraordinary title for many reasons; It is not perfect, far from it, but its playable advances made us feel more than ever owners of ourselves. This time we arrived at a desert island, not a town with a town hall or a city full of places and neighbors. Here we start from scratch, with what that implies.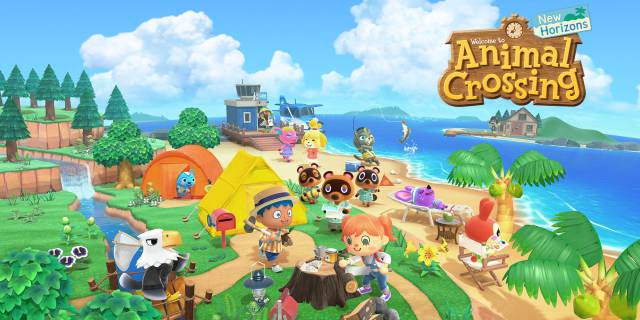 Animal Crossing: New Horizons
From the creation of a lance to a staircase to reach elevated areas, passing through the first mortgage to have a roof under which to sleep, the title sets out a few first hours where the feeling of progress is constant and where the best ideas of the series come together enlarged in ways we've never seen before. The introduction of a crafting table to make new objects and tools is a success, because it gives meaning to the collection of materials and does not limit it only to direct sales. Little by little we will see that the island has more of a town shape; that what used to be leaps with the spear are now paths treading a bridge. That when before we saw only trees in the distance, now we can glimpse homes, neighbors, businesses, activity.
Museum, the ability to swim and dive from this summer, constant content updates, temporary events … A lively video game that aims to last for years, which makes management much more pleasant thanks to the Nookophone, the Nook Miles and, for more inri, an artistic section that dazzles. Essential.
Stardew Valley (PC, PS4, Xbox One, Nintendo Switch, PS Vita, Smartphones)
Surely one of the biggest phenomena in management video games and the largest social component since The Sims. We are talking about a title that started with little noise, but its progressive release on other platforms, currently on all, has led the work developed by Eric Barone to convince more than 10 million players. It is on Nintendo Switch where it has a larger activity currently, but on PC it is where the news comes first and where, surely, it is better controlled if we use a keyboard and mouse.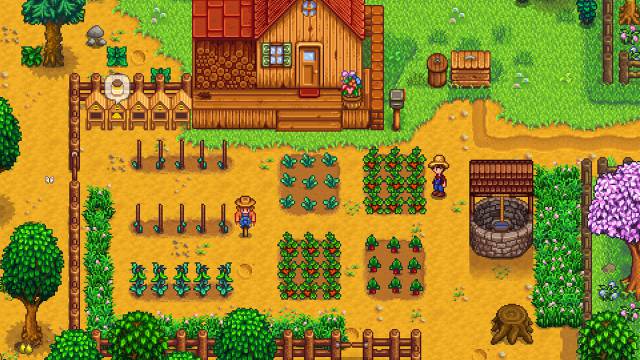 Stardew valley
Its playable variety is massive, to the point of being considered by many the best Harvest Moon of all time without the need to carry that name. Every day is different, you have total freedom to choose how and in what way. In fact, it's not just a farm management video game; agrarian and livestock life are just one more element. We have a greenhouse, a town with which to establish friendly and sentimental relationships, a history that continues to expand, businesses that grow more over the years thanks to updates, tools with options for improvement and an interesting role-playing touch.
If we add options such as fishing, mining, customization options … or that progress offers a reward for everything we do, we realize that Stardew Valley is not a conventional game, that it goes much further and becomes , surely, in one of the most important video games in the history of the independent scene. Your success is deserved.
Dragon Quest Builders 2 (PS4, PC, Nintendo Switch)
When the generation ends and we have to make a list of the so-called sleeper games, Dragon Quest Builders 2 will be there. It is not a role-playing game, but it does transfer that good work of the main saga with great touch and skill to turn all this into a sort of Minecraft with an interesting history, the designs of the unmistakable Akira Toriyama, gameplay based on construction and exploration plus a series of substantial improvements over the first part. It is a pleasure to immerse yourself in this sequel.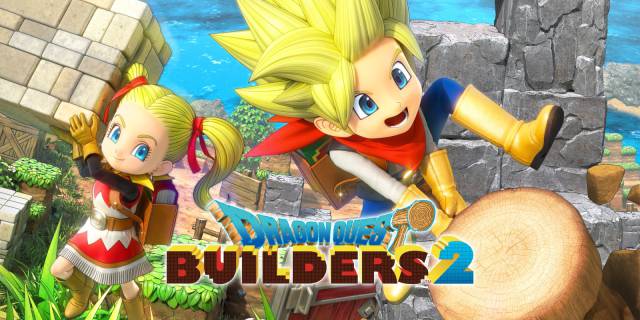 Dragon Quest Builders 2
We analyzed it last summer and, according to the hour meter, between Nintendo Switch and PS4 we have added more than 100 (and we are far from having finished it!). The positive is that Square Enix did not want to imitate the Mojang phenomenon or alternatives like Terraria, but instead opted for the role-playing component, including aspects that the community asked for as an exponentially expanded multiplayer mode and a really comfortable depth of construction.
It is a title that has details of quality of life, to which we can only attribute that its combat system is too simple. Now it is not your main concern. You have a management, combat, construction title or just enjoy environments to explore alone or in company. It is in summer when we enjoy it and it is now when we are going to return. Very well, a hypothetical Dragon Quest Builders 3 will have to do it to improve this delivery, almost excellent.
Summer in Mara (Nintendo Switch, PC; coming soon PS4 and Xbox One)
The Spanish video game scene has been able to respond to many genres in recent years, but Summer in Mara is surely the one that has done the best in the world of management simulators. After analyzing it, we realized that it is not so much a management title as a narrative adventure where its history, its universe and characters end up being above the gameplay itself. It is a work with defects, both playable and in structure, but it lends itself to be contemplated and enjoyed. It is beautiful, it is beautiful, and that beauty is felt from the first minute thanks to a Koa, protagonist, who grows up with us as players.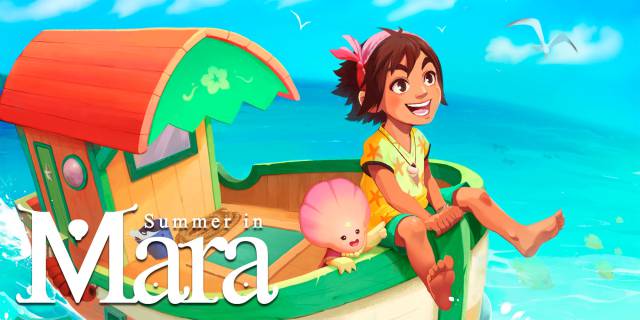 Summer in Mara
We have the possibility to manage our garden, trade with it, explore various islands and territories, do favors, complete missions, sail with our boat … It doesn't reinvent anything; in fact, there is no aspect where it excels excessively, but its arrival has been very well received among the public because it has personality, something very difficult to achieve in a market with so much competition, because its soundtrack and artistic section are of remarkable high , and because getting lost in this universe is something that we really liked. We hope that the updates and patches will correct some of its mechanics issues, give some of the messenger missions a spin, because it generally has the potential to be recommended above others on the list today.
My Time at Portia
Our relationship with My Time at Portia was initially one of love and hate. Horribly long loading times and somewhat confusing mechanics, but the truth is that currently it has little to do with the original product, although the port for Nintendo Switch still presents room for improvement. The title of Pathea Games is really ambitious in its proposal, because it leads us to own a farm in a town full of activity. The amount of options and possibilities it offers is overwhelming, very deep and coherent, without forgetting construction mechanics, mining exploration and a history that serves as an incentive to continue advancing, although it is of the least importance.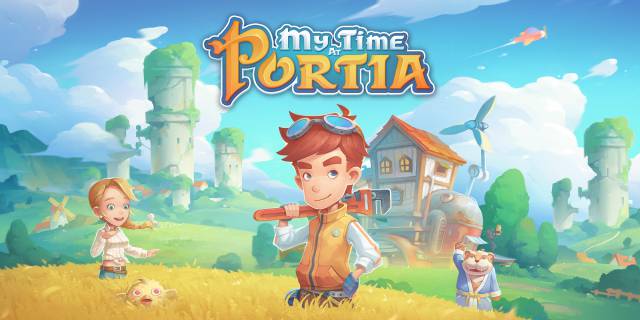 My Time at Portia
His camera is still very improvable, although his pace is increasing and, when we want to realize it, we have been doing dozens of hours watching our people move forward. Surely its greatest virtue is none other than the construction options and how easy it is to enter it – despite the fact that, as is usually the case in the genre, the first hours are really slow by the recurring tutorials -, also for children, so we recommend it because its current price is moderate, the updates have significantly improved it and its quantity of content is more than enough to be playing for months before noticing that something repetitive begins to be done.
Yonder: The Cloudcatcher Chronicles (PS4, PC, Xbox One, Nintendo Switch)
We now turn to something slightly different, an exploration video game where nature itself is the protagonist. He forgets combat, focuses on making objects to justify his advancement and progress mechanics. The best of Yonder: The Cloudcatcher Chronicles is the relationship it establishes with nature, a very colorful world, with different environments, ecosystems and adventures, although somewhat limited. It is not the one we recommend the most on this list, but there are elements that we do not want to overlook because they have a special merit that we are not used to in productions that we could call "minor".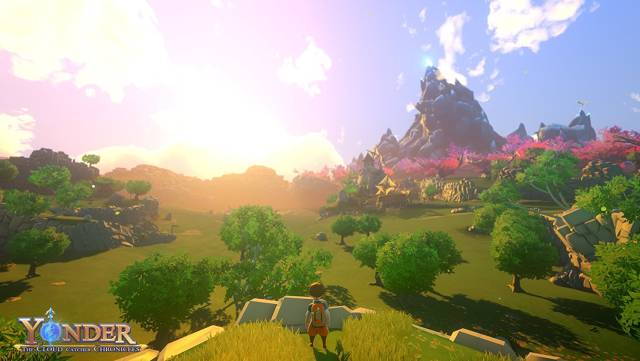 Yonder: The Cloudcatcher Chronicles
For starters, it has a comfortable, readable interface design that makes things a lot easier when it comes to exchanging items between backpack and inventory (especially commercially accessible). Another aspect is its location, with a very good Spanish translation. In turn, the atmosphere of the game is a box of surprises because there is always something new to explore. If you like to walk through different environments while making use of the resources that you are using along the way, we are sure that you will find the spark of an honest proposal, without fanfare, but that perfectly links each chapter and takes you from hold your hand to the end without implying preventing you from feeling free.
Moonlighter (PS4, Xbox One, PC, Nintendo Switch)
One of the best titles on the list? Let's remove the interrogatives. 2018 was an excellent year for the independent scene and we cannot forget that Moonlighter sealed its name in the history books for excellently executing what it was intended from the Spanish studio Digital Sun Games. It was successfully funded on Kickstarter with the pretense of being, first and foremost, an adventure. We started as a grocer, but we ended up being a brave explorer through a story where there is no lack of mysteries, where game mechanics abound in dungeons where instead of role-playing we have to keep an eye on our inventory. Its management is simply brilliant, intuitive, and easy to navigate.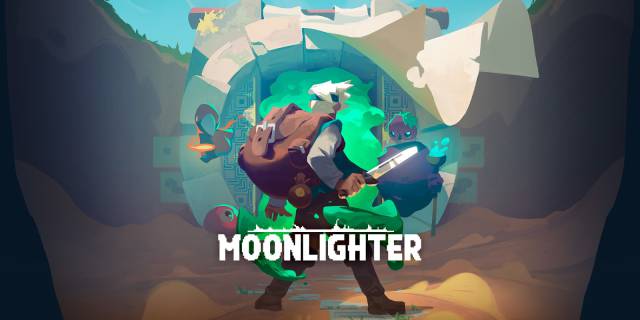 Moonlighter
Although everything starts in an agrarian environment, in reality what the management of our store and the town, in general, are rather a means and not an end. We can also talk about how good it looks on both television (PS4, Xbox One, PC and Nintend Switch) and portable mode, exclusive capacity of the latter. Little can we reproach Moonlighter, we really liked that a dungeon game dared to introduce the management of a town with so much success, without fanfare, where the work of a studio full of talent stands out. We want to know what they have in store for the future.
Little Dragons Café (PS4, Nintendo Switch and PC)
It is no coincidence that he is related to Harvest Moon. This Little Dragons Café, released a couple of years ago on PS4, Nintendo Switch and PC, is created by Yasuhiro Wada, father of the aforementioned series, a title that successfully mixes the mechanics of the farming genre together with a tender story where we have than tame a dragon. His endeavor to tell a story and be rather a kind of fable is only half achieved, as it is still a work intended for the younger audience. Not surprisingly, that does not prevent it from being enjoyed, especially if we have little ones at home, who are the ones who are going to see it more attractive.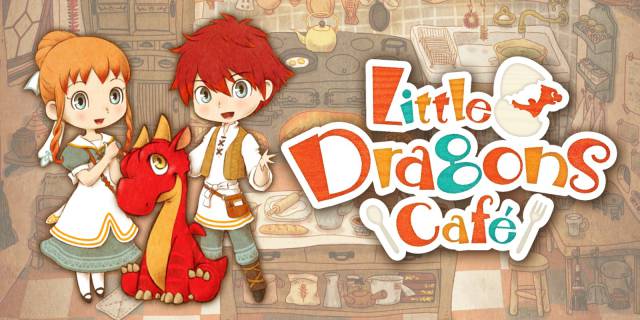 Little Dragons Café
Its visual section is very successful, with good finishes and a color palette that is obvious. At a playable level we have two main tasks: on the one hand, to collect all the materials and ingredients necessary for our business, a cafeteria; on the other, to ensure that the customers who arrive are more over time and their relationship with our establishment is sufficient for them to return the next day.
We also have a garden to collect, plant various types of plants and a formula for progress that does not require excessive time to see the reward. A remarkable game, in short, designed primarily for children and somewhat limited if we are looking for a more complete experience.
Farm Together (PS4, Xbox One, PC, Nintendo Switch)
We finish with a little surprise that is more than what it seems. Farm Together is not your typical mobile game poorly adapted to consoles, but a title designed thoroughly to satisfy lovers of simulation video games on the farm. No more no less. Behind the title are not strangers, but the Spanish studio Milkstone Studios (White Noise or Ziggurat). From the first minute we are welcomed to life in the country. Crops, harvests, management of our animal park and a very arcade philosophy.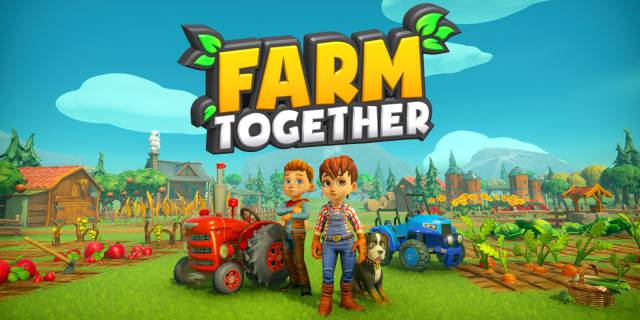 Farm together
Aesthetically it is modest, but it does not need to be even realistic. Its translation to the three dimensions gives it visual richness because, with the passing of the hours, we better appreciate the changes. In addition, little by little we are seeing that what was initially just a farm ends up becoming a theme park with options not only for management, but for creation. We found it very addictive at the time, with a fast pace that does not take tens of hours to make considerable progress in our territory. Additionally, their online community is moderately active, an added opportunity to visit other people's creations and inspire us to do something different with ours. Don't look for a story, because for that we have other better examples; Neither is a close relationship with animals, but a project based on gameplay that gives you much more than what it asks for.