The latest issue of GameInformer magazine previews new details for the long-awaited Ember Lab video game, available in 2020 for PS5, PS4 and PC.
Ember Lab has shared new details about Kena: Bridge of Spirits through the latest issue of GameInformer magazine. The video game, presented this June in the framework of the State of Play dedicated to PlayStation 5, will reach "in the coming months" as one of the great exponents of the independent scene for PS5, PS4 and PC. We now know more about its duration, history, and how it will squeeze out Sony's next-gen hardware.
In a special report from said medium, after speaking with the development team, they reveal that Kena: Bridge of Spirits will take advantage of the console's SSD memory to reduce load times almost completely; so much so that it will take just two seconds from when we click on the game from the menu until we see the home screen. This third-person action-platformer adventure will feature a free update for those who purchase it on PS4; but it will be on PS5 where it has a better technical performance, better textures and a greater load of data in less time.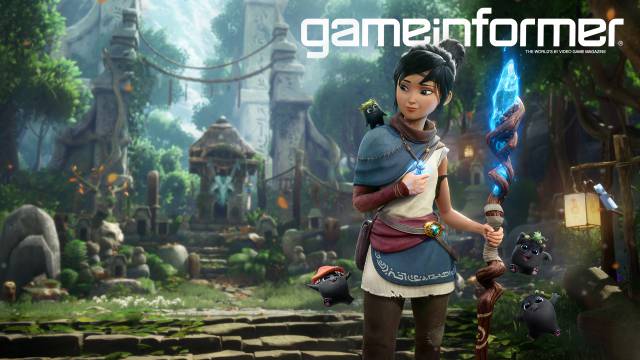 Kena: Bridge of Spirits | GameInformer
Kena: Bridge of Spirits will go on sale "in the coming months"
An example is the creatures called Rot, beings that we get to know as we progress in history. There are a total of 100, a very high number that on PS5 can be loaded – and viewed – in full on screen. On PS4, for its part, the simultaneous loading of these little black beings will not be simultaneous.
The controller is another point of interest for Ember Lab with Kena: Bridge of Spirits. The DualSense, which has haptic feedback and adaptive triggers, will be a peripheral capable of favoring the general immersion of the adventure. As they explain, we will feel the sensations of holding and using a bow, as well as when the Rot brush or collide with the body of the protagonist. In addition, they will help when solving the puzzles.
Finally, the story. Kena: Bridge of Spirits will narrate an adventure of recovery, of search. Kena, the name of this young woman, must free these spirits trapped in a limbo between the real world and the world of the dead. The objective is to discover what keeps them attached to death.
Kena: Bridge of Spirits will not go on sale at full price, but at reduced price. There will be a difficulty mode designed for those who are looking for a greater challenge and its duration will be enough for us to finish it in about a weekend.